The Zesty Italian Meatball Casserole is a delightful blend of Italian flavors and American comfort food. It brings together the classic appeal of meatballs with a rich marinara sauce and hearty pasta. This dish offers a comforting, family-friendly meal that's perfect for gatherings and cozy dinners.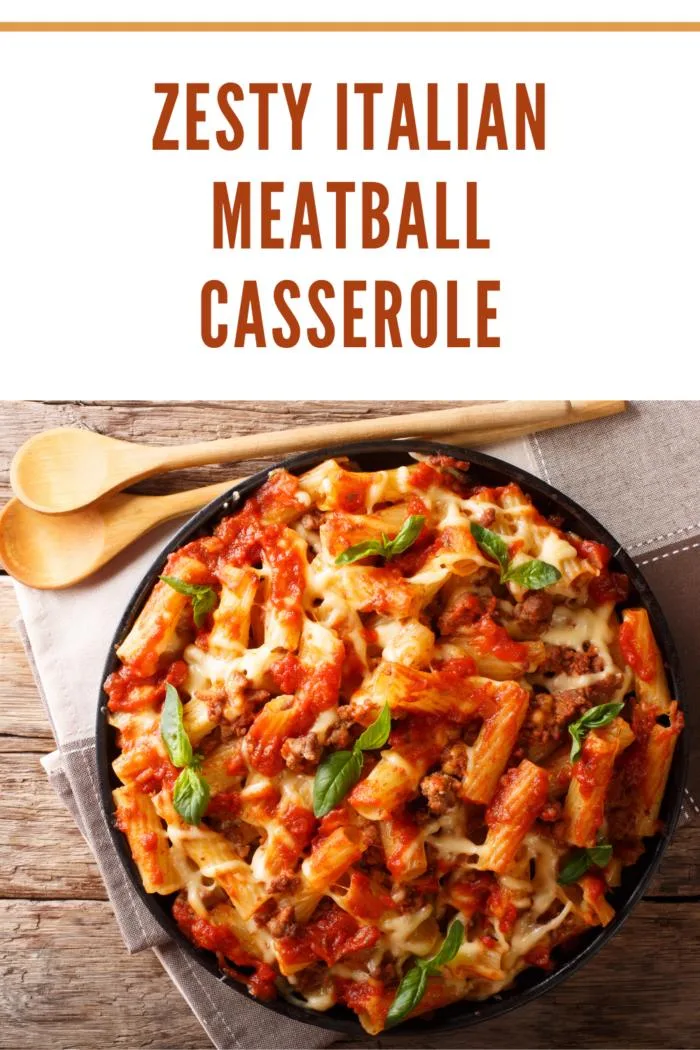 Zesty Italian Meatball Casserole
Prep Time: 25 minutes
Cooking Time: 30 minutes
Servings: 6
Ingredients
2 cups ziti (180g)
Kosher salt, to taste
1 pound (450g) ground round
1/2 small onion, finely chopped
1/4 cup (30g) panko breadcrumbs
2 cloves garlic, finely chopped
1 large egg
Freshly ground black pepper, to taste
1 tablespoon canola oil
1/4 cup (60ml) dry red wine
1 (24-ounce) (680g) jar marinara sauce
4 cups flat-leaf spinach, stems discarded, leaves torn
3 tablespoons fresh flat-leaf parsley, plus more for garnish, chopped
3 tablespoons fresh basil, plus more for garnish, chopped
8 ounces (230g) fresh small mozzarella balls/bocconcini
How to Make Zesty Italian Meatball Casserole
Step 1 – Preheat and Prepare Preheat the oven to 350°F (175°C). Lightly grease a 2-quart (1.9-liter) baking dish.
Step 2 – Cook the Pasta In a large pot of boiling, salted water, cook the ziti until al dente, following the package directions.
Step 3 – Prepare the Meatballs In a mixing bowl, gently combine the ground round, chopped onion, panko breadcrumbs, chopped garlic, egg, a pinch of salt, and black pepper. Shape the mixture into 16 meatballs.
Step 4 – Sear the Meatballs Heat canola oil in a large skillet over medium heat. Add the meatballs and cook, turning occasionally until they are browned on all sides, approximately 6-8 minutes.
Step 5 – Add Wine and Sauce Stir in the dry red wine, gently scraping up any brown bits from the skillet. Then, add the marinara sauce, spinach, chopped parsley, and basil. Bring the mixture to a simmer.
Step 6 – Combine Pasta and Meatballs Remove the skillet from the heat and fold in the cooked pasta, ensuring it's well-coated with the sauce and meatballs.
Step 7 – Assemble and Bake Transfer the flavorful mixture to the prepared baking dish. Top it with the fresh mozzarella.
Step 8 – Bake to Perfection Bake until the cheese has melted, and the edges are delightfully bubbly, approximately 25-30 minutes.
Step 9 – Let it Rest Allow the casserole to stand for 10 minutes, which will help the flavors meld together.
Step 10 – Garnish and Serve Just before serving, garnish with fresh parsley and basil, adding a burst of color and freshness to your Italian masterpiece.
Expert Tips
For a more intense flavor, try using Italian sausage instead of ground round.
Don't overmix the meatball mixture; this ensures a tender and flavorful result.
Feel free to experiment with different pasta shapes like penne or rigatoni for a unique twist.
Storage and Leftovers
Refrigerate any leftovers in an airtight container for up to 3 days. Reheat in the oven or microwave until heated through.
FAQs for the Recipe
Q1: Can I use a different type of pasta? A1: Absolutely! Penne, rigatoni, or any pasta of your choice will work wonderfully.
Q2: Can I make this ahead of time? A2: Yes, assemble the casserole and refrigerate it. Bake just before serving to maintain its freshness.
Q3: What can I serve as a side dish with this casserole? A3: A simple salad, garlic bread, or roasted vegetables complement this dish beautifully.
Alternate Names for the Recipe
Italian Meatball Pasta Bake
Ziti and Meatball Casserole
Mozzarella Meatball Delight