YumEarth is my kiddo's absolutely favorite lollipop! YumEarth sent me a bag of Organic Lollipops for review, which come in 8 flavors, including Razzmatazz Berry, Wet-Face Watermelon, TooBerry Blueberry, Sour Apple Tart, Pomegranate Pucker, Mango Tango, Strawberry Smash, and Very Very Cherry.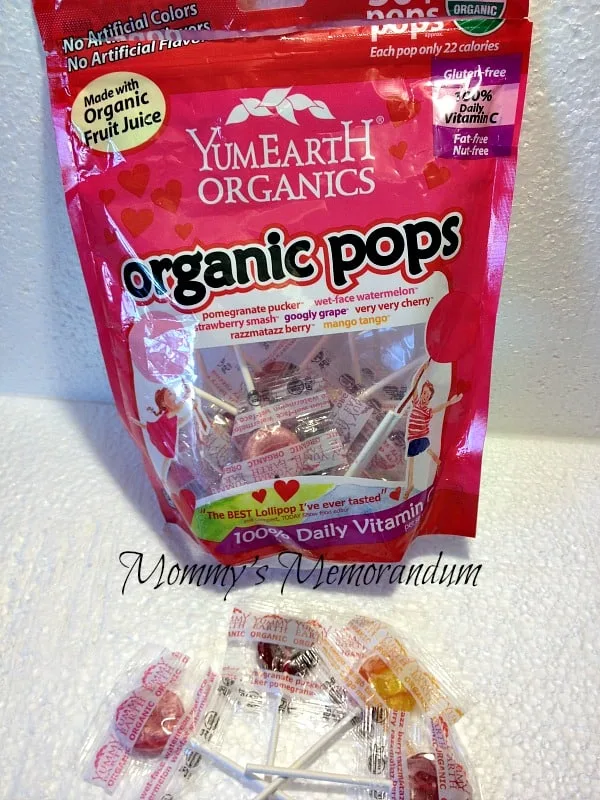 YumEarth products are made with all-natural ingredients and contain no artificial flavors, colors, or major allergens such as nuts, gluten, or dairy. They are 100% vegan, tree nut-free, GMO-free, peanut-free, soy-free, wheat-free, MSG-free, and no corn or corn syrup. With outstanding taste and all-natural ingredients, it's no wonder YumEarth is the number one organic candy company in the United States.
YumEarth has a product line that goes beyond lollipops; they offer grocery pouches and bulk candy to gourmet bags of YummyEarth Organic Candy Drops, Lollipops, Gummy Bears, and Sour Worms. Recently launched is YumEarth Naturals. This part of their line is all-natural featuring Sour Beans and Gummy Bears. The product line offers 22 unique flavors.
My kiddos are fascinated by the colors. YumEarth Lollipops have no artificial dyes, 100% natural flavors, and real fruit extracts. PLUS! As a mom, I love that each lollipop provides 100% of the daily Vitamin C and less than 70 calories each!
If you haven't experienced YumEarth, their products can be found at a variety of stores, including Toys R Us, Whole Foods, Meijer, and Publix nationwide. In addition, YumEarth Organics Fruit Snacks at Costco Northwest and in 7,000 Walgreens. Watch for YumEarth to appear in Target too!
Don't want to leave the house? No problem, YumEarth products are also available through their website at www.yummyearth.com.