Over the past few years, we've come across many tattoo trends. We have seen some of the creative to some of the quirkiest tattoos. Tattooing is something which we are quite fond of. We often get a tattoo done to remember someone close to our heart. On the contrary, some people love getting tattoos done all over their bodies. There are a couple of living examples worldwide who have covered almost 90% of their body with tattoos.
Tattooing is not just putting ink on your skin. It is making memories live forever with you. People tattoo illustrations of their children, spouse, pets, names, etc. Apart from these, there are creative tattoos, abstract tattoos, designer tattoos, etc. People rush to book appointments at their cities' best tattoo artist shops. It's always an exciting event that gives us an immense adrenalin rush.
We are now almost halfway through 2019 and have explored some of the latest tattoo trends this year. Have you ever wondered what's new about tattoos every year? What trends do tattoo artists set for tattoo lovers across the globe? There is a long list, but here we have cut it short to some of the current trends.
Before we discuss some of the best tattoo trends of this year, ask yourself what can be this year's trend? Have you ever thought of something that might be the following year's tattoo trend? As you keep on exploring your ideas, allow us to illustrate the current tattoo trends. Here are the top 10 tattoo trends of 2019.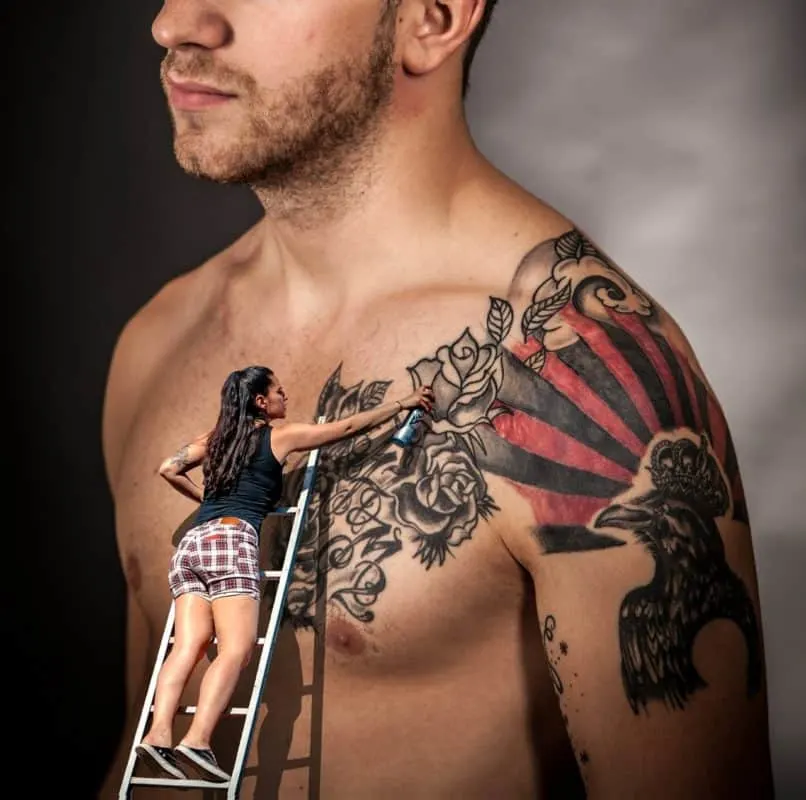 What's New in the Latest Tattoo Trends?
X-Ray Tattoos
We all have more or fewer ideas about flower tattoos. What if there is more to it, and this is the current trending tattoo idea. The x-ray effect is a brilliant addition to the creativeness of tattooing. The best tattoo shop artists have incorporated this trend pretty well into their work. You can see loads of x-ray tattoos around you by now. Have you got one, or are you planning to get one soon?
Barbed Wire Tattoos
This is precisely not a new trend by the revival of an old pattern. Barbed wire tattoos were the trend of the 1990s. It did fade out with time by the beginning of 2000, but now it's again back in the race. You will see at least one person among twenty tattoo lovers with a barbed wire tattoo. Celebrities have also fallen under the trap of this artistic tattooing beauty.
Inner Ear Tattoos
The most daring tattoos done by people were eyeball tattoos. With time, it is no more something new to talk about. The current trend lies with inner ear tattoos. Tattoo artists are putting their best effort into bringing out fantastic tattoo designs in the inner ear.
Fine-Line Face Tattoos
The fine-line face tattoos are simple but attractive. A lot of celebrities have opted for this current trend. It is subtle and edgy at the same time. It delivers a bold statement by itself. If you want to enhance your style statement, this is the perfect tattoo.
Disney Tattoos
The famous British tattoo artist, Jordan Baker, was the first person to introduce this tattoo. It went viral within a few hours, and tattoo lovers went mad for it. What made our childhood memorable is now a trend. Tattoo artists are tattooing Disney characters. You name your favorite character, and they will ink it in your desired place.
Sticker Tattoos
The entire credit for sticker tattoos goes to Sergey Shanko. This famous tattoo artist invented something that we never thought of. Sticker tattoos give the most realistic sticker feel. The fantastic white outline popping around your tattoo makes it more attractive.
Gory Tattoos
Gory tattoos have been in the trend for years. It is still in the unknown for reasons, and tattoo lovers are drooling over it. It might frighten an ordinary person, but tattoo lovers enjoy these tattoos.
Color Realism Micro Tattoos
Remember the time when we used to doodle in our books and copies? All those micro designs and original characters are now inked in your skin. Micro tattoos are back in trend again. Even though it is a staple for most tattoo lovers, many people opt for color realism micro tattoos as their first ink on the skin.
Jawline Tattoos
Quite similar to fine-line face tattoos, jawline tattoos are in trend for this year. There are a variety of styles and designs available for you. These tattoos can make your entire appearance look completely different.
Mixed Media Tattoos
This year, the mixed media tattoos are the leaders, dominating the tattoo trends this year. Various styles incorporated with graphic designs can make the entire tattoo look jaw-dropping.
If you are a hardcore tattoo lover, you must follow the trends mentioned above. It is always the trending factors that keep us ahead of others.