Do you have gaps between your front teeth or crooked teeth, and you want to have a healthy bite and bright smile, but only the thought of colored brackets and traditional metal braces frightens you? You can take a deep breath and relax because there is another solution for this issue – cosmetic braces. There are other alternatives, like if you choose to get your crown fitted by the Dentist in Williamsburg, that can help address gaps in teeth, says Smiles of Williamsburg.
With smooth surfaces, these braces are designed for comfort, so there will be no snagging or tearing of the soft tissue in your mouth. They are made of ceramic or transparent material and are very durable. The color of your natural teeth will match the brackets of cosmetic braces, so you can be sure they will be less apparent than traditional ones. Most people will not even notice that you have braces, so this is a perfect choice for adults who want to avoid the stigma of wearing dental appliances developed in their childhood.
Benefits of Cosmetic Braces
Although many people believe that cosmetic braces come only with aesthetic benefits, the truth is they bring more advantages than you can even imagine. Of course, the main reasons people turn to dentists and ask for cosmetic braces are crooked, crowded, or otherwise misaligned teeth, but by wearing this dental appliance, you can also improve your oral health.
So, you will be able to straighten your teeth and resolve your cosmetic concerns, but at the same time, you will be able to clean your teeth much easier. Another reason why people think about wearing this type of braces is because they have gaps between the teeth they want to reduce. Except for the visual appeal, these gaps can cause food particles to be trapped between your teeth, and soon you will have to deal with dental plaque. This can cause gum disease and cavities, and these problems lead to tooth loss.
Luckily, the gap between your teeth can be reduced by cosmetic braces, which will lower the risk of the above-mentioned oral health problems. Sure, besides wearing cosmetic braces, you will have to be fastidious in your dental hygiene at home and regularly check your dentist to keep your teeth in good condition for a long time.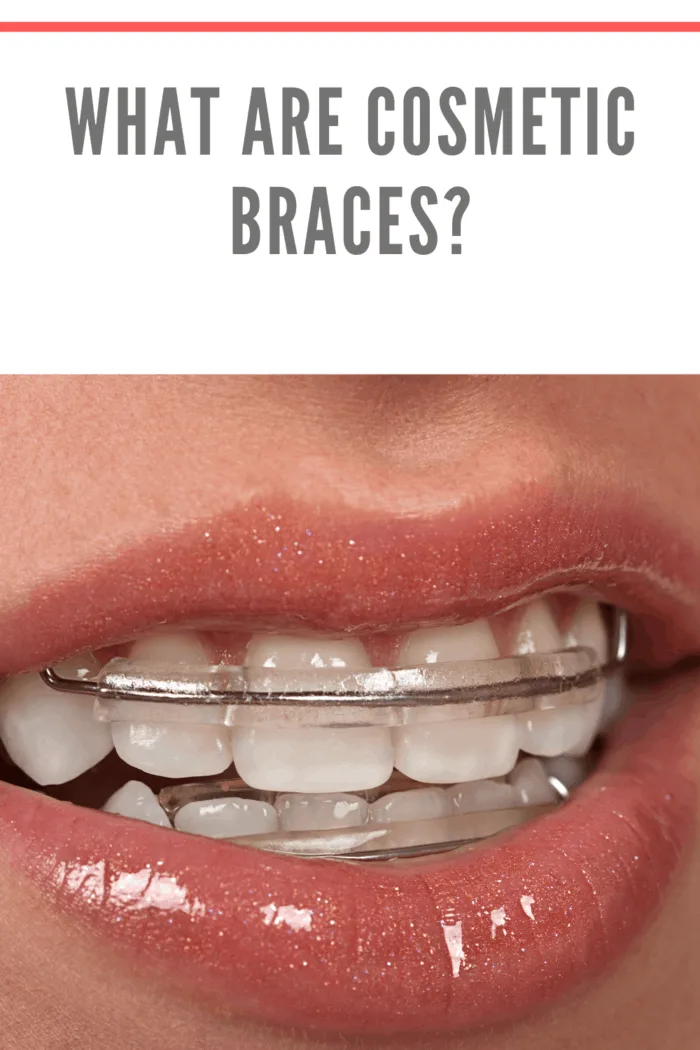 Orthodontic vs. Cosmetic Braces
As you can see, there are many different reasons why people need to wear braces. However, cosmetic reasons like uneven teeth are not the only problems people are dealing with. Dentists usually fit these cosmetically-pleasing braces and alignments, but there are other situations where expert advice from orthodontists is needed.
Orthodontic braces are prescribed in cases where there are physical problems like facial pain, headache, speech impediments, or temporomandibular joint disorder (TMJ) caused by misalignment of the teeth and jaw. Also, orthodontic braces are recommended in cases of underbite and overbite.
As you can see, the dental issues that are related to aesthetic problems can be easily resolved with cosmetic braces. In contrast, for the more complex ones, you should visit orthodontists who are experienced in helping kids, teenagers, as well as adults get a perfect smile.
Types of Cosmetic Braces
There are various cosmetic braces available on the market. Depending on your needs and budget, you can choose fixed or removable ones. No matter which type you choose, you can be sure that your ceramic braces will be barely noticeable.
While the fixed cosmetic braces are made of ceramics, the removable ones are entirely transparent. Depending on the type you choose, the time needed for straightening varies. The fixed braces will need around twelve to eighteen months, while some removable ones can give you desired results within a half year already.
It is essential to understand that the duration of the process depends on the type of problem the patient has and the specific teeth straightening needs. Sometimes, children and adults face more serious oral issues, and braces cannot be an adequate solution. Considering all this, it is very important to visit a dentist first because only the specialists can determine whether you need cosmetic braces or not and which type will better suit your needs.
Does Health Insurance Cover Cosmetic Braces?
Since cosmetic braces are not necessary, most health insurance plans do not cover them. Straightening teeth to improve the personal appearance of kids and adults is usually not a part of the insurance that includes orthodontia.
However, if you or your child have problems with chewing or jaw misalignment and need orthodontic braces, your dental plan will most probably provide coverage. Determining whether the reason for braces is medical or cosmetic will define if your dental insurance will pay for it or not.
For more info about braces, visit StarSmilez Blog.