Get Ready to Sparkle at Kings Dominion's Spectacular Fourth of July Celebration! 🎆
Experience a red, white, and blue extravaganza like no other at Kings Dominion's thrilling Fourth of July Celebration! Join us as we light up the night sky and create unforgettable memories with a dazzling display of fireworks, live entertainment, and heart-pounding rides. Get ready for an explosive experience that will leave you breathless and filled with patriotic pride!
Spectacular Fireworks Display : Prepare to be awestruck as our expert pyrotechnicians set the sky ablaze with a mesmerizing fireworks extravaganza! From brilliant bursts of color to thunderous booms that resonate in your chest, our fireworks show will leave you spellbound. Bring your loved ones and find the perfect spot to witness this breathtaking display of patriotic pyrotechnics that will light up the night and your heart.
Live Entertainment: Groove to the rhythm of the nation as our talented performers take the stage to deliver an electrifying show. Dance to the beats of live music, be amazed by mind-bending magic acts, and let our skilled artists entertain you with incredible displays of acrobatics and stunts. From heart-pumping concerts to captivating street performances, we have something for everyone in the family to enjoy.
Thrilling Rides for All: Immerse yourself in the excitement of our world-class rides that will have you screaming with delight. Take on the twists and turns of roller coasters that defy gravity, plunge down water slides that offer a refreshing escape, and challenge your friends to a race on go-kart tracks. Kings Dominion offers a plethora of exhilarating attractions for thrill-seekers of all ages, ensuring everyone has a blast this Fourth of July!
Festive Atmosphere: Feel the patriotic spirit come alive as Kings Dominion is transformed into a festive wonderland. Adorned with colorful decorations, American flags fluttering in the breeze, and joyful laughter filling the air, our park creates the perfect setting for an unforgettable celebration. Whether you're savoring mouthwatering treats, shopping for souvenirs, or capturing Instagram-worthy moments, our Fourth of July atmosphere will make you proud to be an American.
Delicious Dining Options: Indulge your taste buds with a wide array of delicious dining options to satisfy every craving. From classic all-American favorites like hot dogs, burgers, and barbecue to international cuisine that delights your palate, Kings Dominion's dining offerings are sure to leave you wanting more. Treat yourself to a festive feast that perfectly complements the festive spirit of the day.
Don't miss out on the grandest Fourth of July celebration in town! Mark your calendar and join us at Kings Dominion for an unforgettable extravaganza of fireworks, live entertainment, thrilling rides, and a festive atmosphere that will leave you with memories to treasure. Book your tickets now and celebrate the nation's birthday with an explosion of fun at Kings Dominion!
🎆 Kings Dominion's Fourth of July Celebration: Ignite Your Independence! 🎆
Our Kings Dominion Star Spangled Celebration Review
We are loving summer and the longer days. The kiddos just got back from Camp Grandma and Grandpa's. Li'l Man has a week in Robotics Camp and then we are off to Doswell, Virginia to kick off our Fourth of July celebration at our favorite amusement park, Kings Dominion.
I cannot believe we have lived in Virginia for almost two years and didn't know Kings Dominion existed. It's one of the best things to do in the Richmond, Virginia area. We love it so much even my husband doesn't complain about the drive!
Kings Dominion is celebrating July 4th all weekend long with live entertainment, fireworks, special offers and more in a Star Spangled Celebration, taking place at Kings Dominion 7/2-7/4.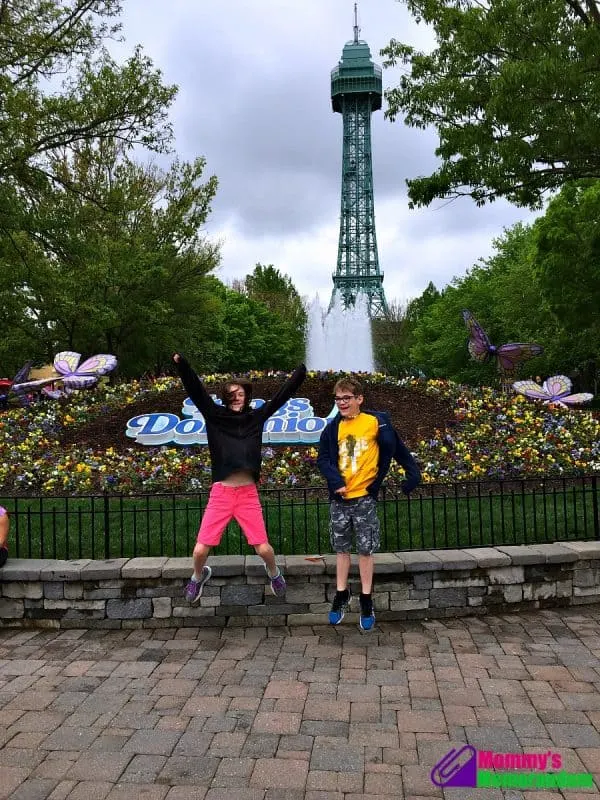 Plus – all active and retired military personnel get FREE admission to the park! Military who qualify for the free admission ticket include but are not limited to active military, retired military, and veterans with honorable or medical discharge. Either a DD 214 or government issued ID will be accepted.
I love this country and I'm loving that Kings Dominion will start each day with a live performance of the National Anthem. I might have to bring my tissues because it makes me cry. every. time.
Of course, my kiddos don't think it's a July 4th celebration without fireworks. This year Kings Dominion has expanded their display, with even MORE fireworks than in previous years. I'm so excited…they Memorial Day Celebration at Kings Dominion had fireworks and they were amazing! I can't wait to see the sky light up with the Fourth of July fireworks.

You can see a full schedule of events taking place during the Star Spangled Celebration here. Li'l Man is most looking forward to meeting active military and thanking them for their service!
We have been to Spring Bloom where We Ate our Way through Four Countries Under the Eiffel Tower, and the Memorial Day Celebration, where we visited Soak City. They were each fantastic events that had us looking forward to our next visit. You'll want to join us for the Kings Dominion Star Spangled Celebration, as well as some of the other upcoming events/festivals at the park, including KidsFest (7/16-7/24), BBQ and Brewfest (8/6-8/21), and Great Pumpkin Festival (9/19-10/30).
"Disclosure: This post is sponsored by Cedar Fair Entertainment Company in conjunction with Blog Meets Brand, and I have been compensated for my participation. All opinions are my own."