Indulge in the tantalizing blend of creamy pistachio pudding, fluffy marshmallows, tangy pineapple, and nutty crunch—a taste sensation in every bite!
Introducing Watergate Salad: A Sweet Delight for Your Taste Buds!
Are you ready to tantalize your senses and embark on a flavor adventure like no other? Look no further than the sensational Watergate Salad!
Immerse yourself in a symphony of heavenly flavors and textures with our exclusive Watergate Salad. It's a delightful combination of luscious ingredients to make your taste buds dance joyfully!
Experience the Perfect Harmony: Our Watergate Salad is crafted with love and care, blending creamy whipped topping, fluffy marshmallows, tangy pineapple, and delectable pistachio pudding mix. Every bite is a perfect balance of sweet and nutty, leaving you craving for more!
Nutritious and Refreshing: Not only is our Watergate Salad an absolute treat for your palate, but it's also packed with healthy goodness. Fresh pineapple adds a burst of tropical flavor, while pistachio nuts provide a satisfying crunch and a dose of beneficial nutrients. Indulgence never felt so guilt-free!
Versatile and Irresistible: Whether you're hosting a family gathering, planning a special occasion, or simply treating yourself to something extraordinary, Watergate Salad is the perfect choice. Serve it as a side dish, a refreshing dessert, or a stand-alone delight—it never fails to impress!
Elevate Every Celebration: Brighten up your parties and celebrations with the vibrant green hues of our Watergate Salad. Its eye-catching appearance and incredible taste will make it the star of any table, leaving your guests asking for the secret recipe!
Unforgettable Sweet Bliss: Dive into a world of culinary wonder with Watergate Salad. Let the creamy, fruity, and nutty symphony enchant your taste buds and create unforgettable moments for you and your loved ones. Prepare to be captivated!
Don't miss out on this extraordinary culinary experience. Call now to order your own Watergate Salad and embark on a journey of taste sensation. Get ready to savor the magic!
This Watergate salad recipe is easy and a delicious treat!
You may know this recipe by a different name, as each region seems to refer to it as something different:
Green Goddess
Pistachio Delight
Shut The Gate Salad
Green Goop
Green Fluff
Green Stuff
Golden Gate Salad
I'm not sure why salad is part of the name; it's more of a dessert than a salad. The only thing "green" is the pistachio pudding.
It's one of the quickest to prepare desserts, making it perfect for unexpected company, or to make on a whim to satisfy the sweet tooth.
A co-worker at work brought it in one day; I had totally forgotten about it, so I am sharing here to bring back this blast from the past!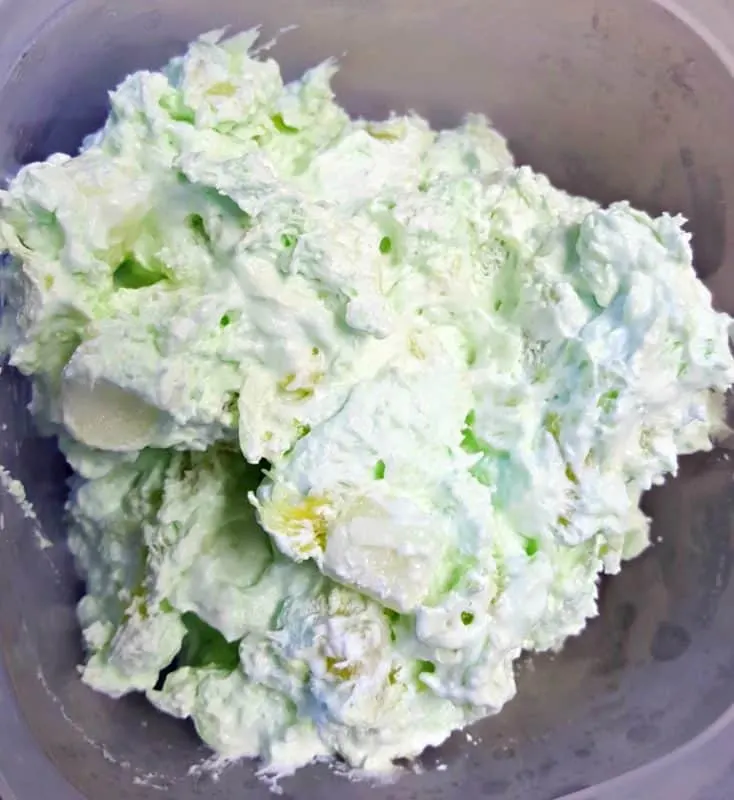 Watergate Salad Recipe Ingredients:
1 can (20 oz.) crushed pineapple in juice, undrained. (You can also use mandarin oranges)
1 pkg. ( 3.4 oz.) Pistachio Flavor Instant Pudding.
1 cup Miniature Marshmallows.
1/2 cup chopped Pecans. (Nuts are optional)
1-1/2 cups thawed Whipped Topping.
Watergate Salad Recipe Directions:
Combine first 4 ingredients in large bowl.

Stir in COOL WHIP.

Refrigerate 1 hour.
Easy!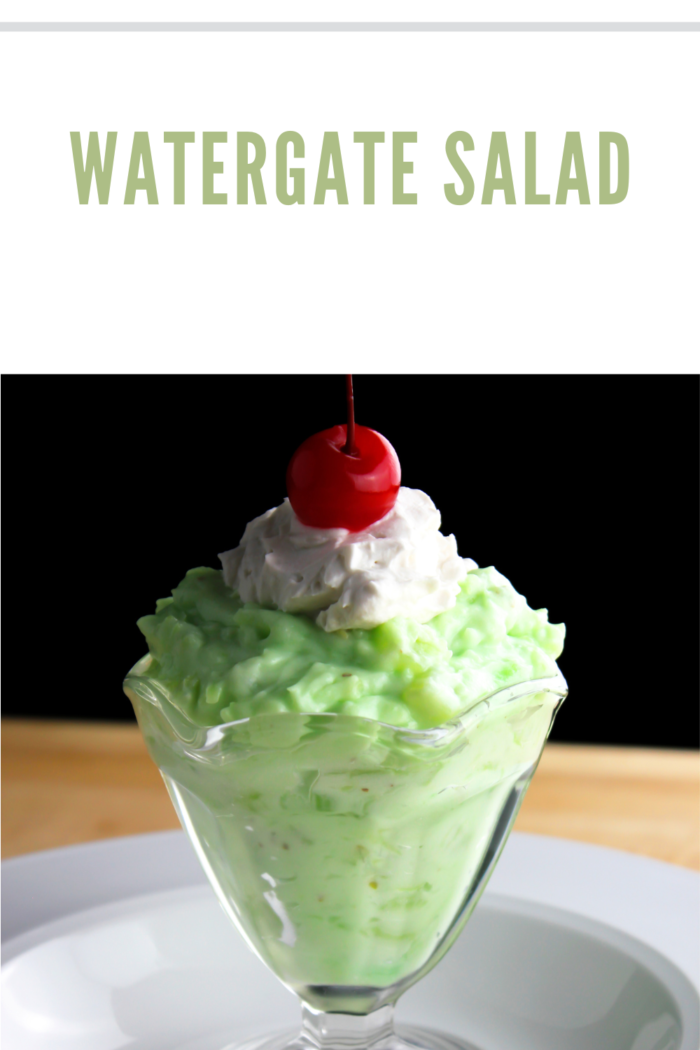 Urban Legends Surrounding Watergate Salad
There are many urban legends on where it got its name. I don't pretend to know the answer.
The origins of the name "Watergate Salad" are steeped in urban legends and tales that have been passed down through generations. While there is no definitive historical account, two popular urban legends stand out:
The Watergate Hotel Connection: According to one legend, the name "Watergate Salad" emerged during the infamous Watergate scandal in the 1970s. It is said that a chef at the Watergate Hotel in Washington, D.C., created the salad during that period. The scandal, which involved the break-in at the Democratic National Committee headquarters located in the Watergate complex, captured the nation's attention. As a result, this creamy and indulgent salad earned its name as a playful reference to the scandalous events of that time.
The Kraft Foods Story: Another urban legend suggests that the recipe for the salad was printed on the packaging of Jell-O Pistachio Pudding Mix, a popular product by Kraft Foods, which was known for providing creative recipes on its packaging. According to the legend, this particular recipe included ingredients like marshmallows, pineapple, and whipped topping, forming the basis of the Watergate Salad. The inclusion of the name "Watergate" was allegedly a marketing ploy to capture the public's interest and create intrigue around the dish. The Introduction of Pistachio Pudding and Kraft's Recipe: The legend suggests that in 1975, Kraft Foods introduced a new product: Jell-O Pistachio Pudding Mix. As part of their marketing strategy, Kraft published a recipe called "Pistachio Delight" on the packaging of the pudding mix. This recipe included ingredients like marshmallows, pineapple, and whipped topping, which are similar to those found in Watergate Salad. It is speculated that this recipe, with its unique combination of ingredients, inspired the creation of Watergate Salad.
The Denver Post's Recipe and the Watergate Hotel Sous Chef: On June 27, 1976, The Denver Post's Empire Magazine published a recipe for "Watergate Salad." According to the rumor, the recipe was believed to be a creation of a sous chef at the Watergate Hotel. The timing of the recipe's publication coincided with the Nixon Presidential Scandal, which heightened public curiosity and speculation about any connection between the salad and the scandal.
The "Watergate Cake" Connection: In an advice column called "Anne & Nan" published on October 9, 1997, Anne Adams and Nan Nash-Cummings reported an alternate theory. They mentioned a similar dessert called "Watergate Cake" that shares most of the same ingredients as Watergate Salad. According to their account, the name "Watergate Salad" could have been inspired by the earlier creation of Watergate Cake, and the name carried over to the salad due to their shared ingredients.
Helen Keller's "Golden Gate Salad": In an intriguing twist, it has been claimed that Helen Keller, the renowned author and activist, published a recipe in 1922 that closely resembles Watergate Salad. Keller's recipe, called "Golden Gate Salad," featured canned diced pineapple, nuts, marshmallows, whipped cream, and other ingredients. Although the name is different, the similarity of ingredients and the mention of "Golden Gate" have led to speculation that Keller's recipe might have served as an early inspiration for Watergate Salad.
It's important to note that these stories are widely circulated but lack concrete evidence. The true origin of the name "Watergate Salad" may remain a mystery forever. Nonetheless, these urban legends have contributed to the whimsical and memorable aura surrounding this delightful dessert.