As the season gets cold, it can be tempting to get rid of your fashion sense and grab anything that can make you warm. So, what clothing item can make you warm during winter? The answer is simple. It is your jacket.
Unfortunately, jackets can appear unfashionable. They're incredibly thick. That is why many people refuse to wear jackets, even though it's cold outside.
Fortunately for you, we are here to help. Nowadays, there are a lot of various forms of jackets that you can wear while still being fashionable.
Whether you choose to buy one or purchase a lot of various jackets, these coats are bound to keep you warm during the cold months.
Nowadays, looking cool while staying warm is in fashion during winter. You won't look great if you're cold. A high-quality winter jacket is one item of clothing that you do not want to ignore during winter.
There are tons of winter jackets out there, from ones made to fight the extreme cold to the stylish ones.
Here are the top 8 fashionable jackets to wear for the coming winter.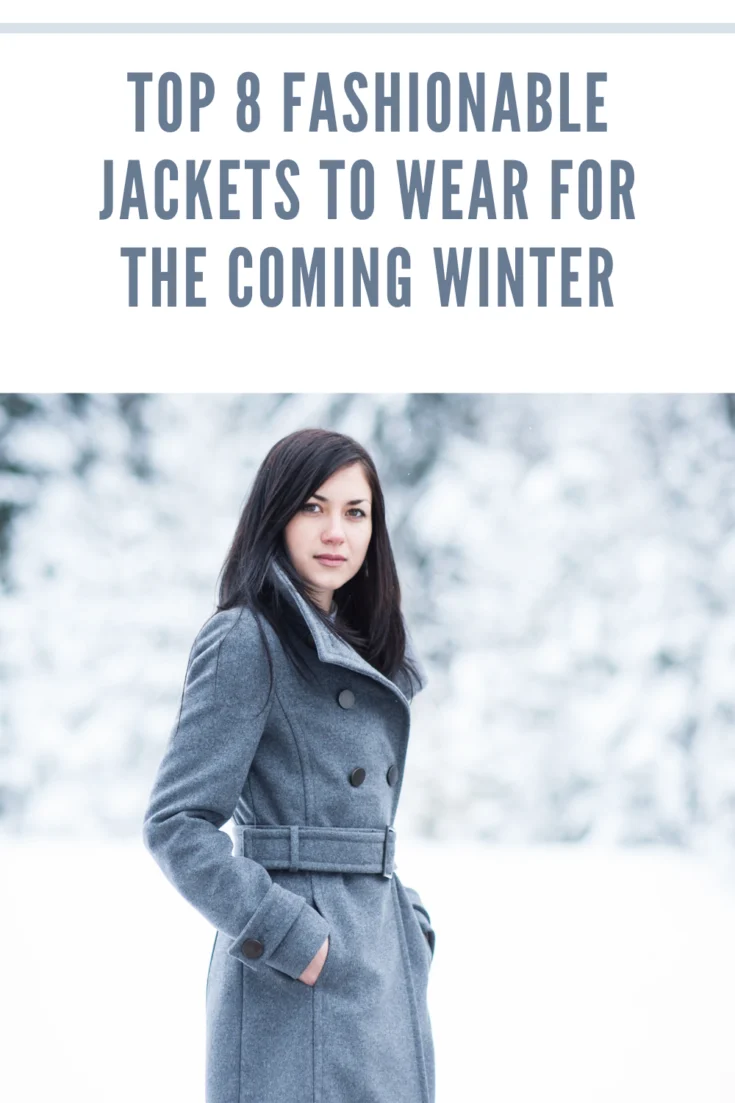 Cape Coat
If you wear a cape coat, you'll feel like you are wearing a comfortable and warm blanket. However, it is a lot more stylish than that.
The unique style of a cape coat stretches back to medieval times. However, it is still well-known today. The feminine design covers the shoulders before it drapes down. It sometimes produces a bell-shaped silhouette.
This look is ideal for a woman who likes a polished appearance beyond the regular button-front coats. A cape coat will still make you look fashionable, even if you wear a face mask.
All you've got to do is pair the coat with long sleeves for additional warmth. You should also use a top handle or clutch bag since shoulder bags will not work.
Military Coat
Nowadays, the military coat is a fashionable reinterpretation of the traditional military coats for men. It features a fitted waist and bust. It also includes metal buttons and double-breasted closure.
The design is strong and feminine. In addition to that, military coats will not make you look like a marshmallow. This is typically the case if you wear a bulky jacket.
Military coats can make people look sexy. This can be extremely hard to achieve during winter. The hourglass and structured silhouette of the military jacket make it one of the most flattering designs out there.
In addition to the look, military coats also feature thick fabric to guarantee that you still feel warm during the cold winter season. Pick a length and a color to fit you, and you will love wearing this type of jacket every winter.
Chesterfield Coat
If you are looking for a slimming and long jacket that will still fit every layer underneath, you should opt for a chesterfield jacket.
This jacket will help keep you warm during the cold season. It also provides elegance and comfort. Chesterfield jackets are tailored overcoats with a column-like and slim silhouette and blazer-like lapels.
You can wear a chesterfield jacket during the day or the night. However, you've got to ensure you leave the front open. This will help provide other people a chance to see what fashion you're hiding underneath the jacket.
Pea Coat
A pea coat is a classic type of jacket for both women and men. Initially, sailors wear this type of jacket to fight the cold breeze in the ocean.
Nowadays, a pea coat is improved to make it highly fashionable while providing the warmth you need. It features a double-breasted front. Usually, it ends simply below the hip.
Pea coats go well with any outfit you wear. You can wear a pea coat with pants. This will help you offset its short length. If you want to provide your style with multiple dimensions, try to wear a contrasting sweater.
Parka and Anorak Coat
Parka and anorak coats usually end at the thighs. In addition to that, they are also loose. Anoraks generally include a drawstring waist.
These jackets are made from waterproof and thick material. Both styles include zip closures and hoods. Traditionally, parka and anorak coats are khakis and army green tones. This adds a bit of masculinity to the look.
The style is ideal for urban and casual looks. You can also pair it with boots and skinny jeans. Pick a waterproof parka for colder days and an anorak during a warm day.
Raincoat and Mac
Nowadays, raincoats are far different from what they used to be before. They are a lot better today. They are fun and fashionable.
Wrap and Belted Coat
This is the jacket style for you if you want to wear something that looks like a gown. Wrap and belted coats include an additional material at the front that enables the closure to overlap for extra warmth.
Then, you can tie a thick fabric at the waist to help define your shape. This will help achieve a polished and feminine look.
Trench Coat
A trench coat is a crucial piece of clothing for every person out there. This simple outfit has become a classic for men and women all around the globe.
You should buy a trench coat today if you don't own one right now. It is a weather-proof and lightweight jacket ideal for transitioning in and out of winter. Aside from that, you should also buy a hand sanitizer to help prevent diseases during winter (tips from Today.com).
Conclusion
Many people refuse to wear jackets because they believe it is ugly and unfashionable. However, that isn't the case today. As mentioned above, there are tons of different jackets out there that can help you achieve a stylish look while still keeping you warm during winter.