In this increasingly competitive world, most people find it challenging to opt for a suitable career. Now with the COVID-19 pandemic affecting the world's economy, the employment rates are all-time low. In this crisis, the economy's existing sectors are facing a financial downturn; hence, it's challenging to find a high paying job.
Due to diminishing current opportunities, it's better to dive into flourishing fields that provide a successful career.
Hence, you will find the healthcare sector on the top of the list.
The demand for healthcare professionals is significantly increasing for all the obvious reasons.
The current pandemic and aging baby boomers are putting pressure on the system, resulting in a shortage of resources and healthcare workers.
Therefore, stepping into this field could be an incredible career choice.
The diversity of this sector is encouraging more people to opt for this field.
Surprisingly, healthcare is not limited to patient care, as a lot is happening behind the scenes.
Hence, you can take administrative roles of devising policies by opting for a career in public health.
It might not allow you to work as a frontline worker, but you will have enough power to make a difference in people's lives.
You will be taking initiatives to improve the efficacy of health services while serving your community.
If you think that you might be better at helping your community members, than its better to opt for this career.
Enroll yourself in an online mph program rather than delaying this decision due to Covid-19.
With the integration of technology, online learning has become more advanced, convenient, and flexible.
The following are the top five careers in public health: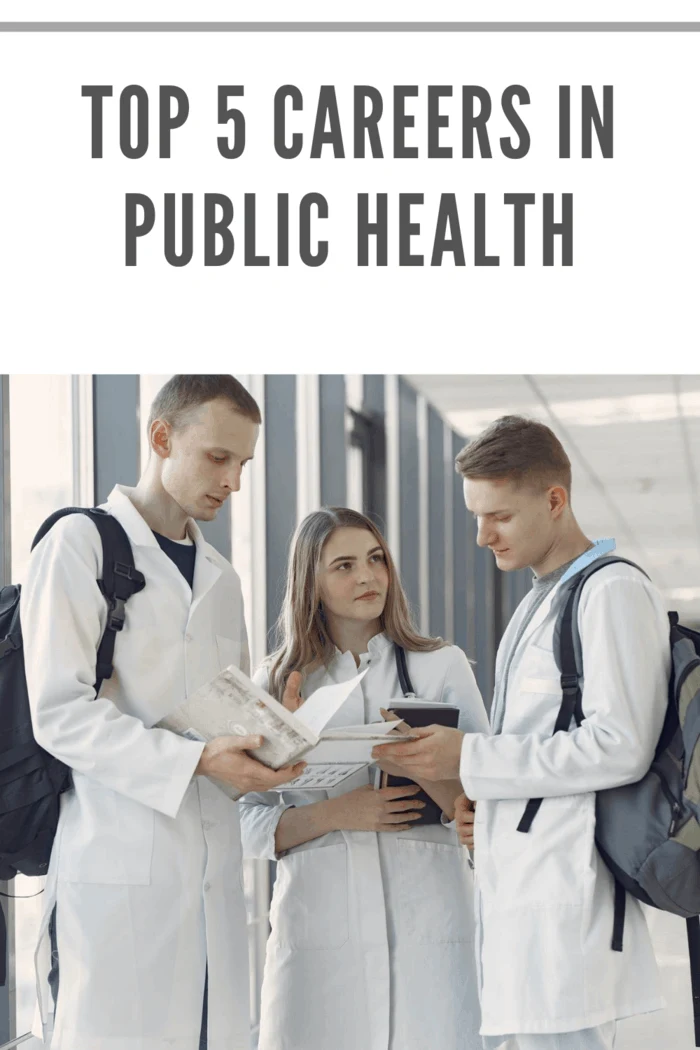 Public Health Attorney
Are you passionate about the law?
You might have heard of legal attorneys, but the profession of public health attorney is also on the rise.
They work with local, state, and national legislatures to devise policies and pass laws to ensure public health standards.
Besides, it lets you play the role of the social activist as you will get to work as an advocate for patients and victims.
As an attorney, you can encompass the following duties:
Conduct research on law and public health matters.
Focus on equal distribution of health facilities to people who can't afford it.
Interpret laws in public health.
Counsel clients about legal rights and obligations.
Pursue lawsuits against organizations that violate health standards.
Working environment:
Unlike healthcare workers, you won't have to work in hospitals and clinics.
You might be working for a government agency, non-profit organization, or a traditional law firm.
Salary:
Undoubtfully, attorneys are highly educated and well-paid.
The median salary is $118,160, but the competition is pretty intense.
At the same time, the job growth in this sector is 8%.
Healthcare Administrator
As hospitals and healthcare institutes are expanding, they need someone to oversee the daily administrative operations.
Healthcare managers hold the bag for facilitating medical services, monitoring budgets, and updating health records.
They have in-depth knowledge of medical terminologies and regulations, but their role is beyond patient care.
Hence, work responsibilities include:
Keep medical records and all office supplies in stock – test kits and lab coats.
Ensure department comply with healthcare laws and regulations.
Coordinate with doctors and nurses to identify problems.
Involve yourself in generating healthcare policies to improve the delivery of health services.
Keep contact with healthcare equipment suppliers.
Working Environment:
Health administrators render their services in public health facilities and private organizations. You can work in hospitals, healthcare, outpatient clinics, and centers.
Salary Prospects:
On average, you can earn $96,000 annually, and it is likely to increase as soon as you gain more experience and expertise.
Health And Safety Engineer
If you are into machines and design, consider this to be the perfect career option for you.
Medical engineers are responsible for designing machinery and systems to improve human health and prevent diseases.
Likewise, they also ensure the correct development of equipment infrastructure to close doors for any risk of injuries or infections.
As a health engineer, you will be performing the following duties:
You have to inspect various facilities for hazardous conditions.
Ensure that people are following safety protocols when using the equipment.
Investigate accidents and take preventive measures.
Check plans for new machinery to ensure they meet safety requirements.
Verify employee safety programs.
Working Environment:
Public health engineers spend the majority of their time in office and laboratories.
They also travel with the public to research in this field.
Similarly, the local government, state, and private organizations also have a high demand for these professionals.
Salary:
It depends on the experience, education, and skills of engineers, but the title of 'engineer' projects high salaries.
On average, you can earn $86,000 and enjoy 9% growth prospects.
Epidemiologist
Are you curious about how different diseases spread?
Many people want to know about what causes the disease and want to delve into prevention ways.
You can begin your career as an epidemiologist as these people study conditions and analyze the reason behind the outbreak.
In short, you will be working as disease detectives to predict outbreaks and deploy preventive measures beforehand.
Work responsibilities include,
Train and educate policymakers about disease prevention protocols.
Evaluate the practices of local and private hospitals.
Inspect epidemics and provide extensive reports.
You have to design and implement clinical research trials.
Improve medical research methodology.
Working Environment:
As an epidemiologist, you will be working in medical facilities – hospitals, laboratories.
Otherwise, you can also work at the Center for Disease Control (CDC).
Salary:
With public health as a growing field, epidemiologists' demand is also likely to increase by 5%, and for now, they can earn up to $70,000 annually.
Public Health Project Manager
For those who like thinking outside the box and are creative, the career of a public health project manager is the perfect option.
They oversee a broad spectrum of projects within healthcare organizations.
It allows you to help communities by ensuring persistent health standards.
You will have the following responsibilities:
You have to develop quality assurance procedures.
Delegate responsibilities to all members.
You have to find ways to improve the efficiency of projects
and allot specific time for meetings.
Motivate people so that they can work towards achieving the goal
We are creating project budgets.
Working Environment:
If you prefer public jobs, you can join hands with the state to develop health projects to betterment the system.
You can also work in private hospitals and corporations.
Salary:
On average, you can make $60,000 annually, and as soon as you progress, the salary will also increase.
Conclusion
The incredible benefits and opportunities in the healthcare sector are no surprise to anyone.
However, this is not enough when making a career choice; you have to opt for something which aligns with your interests.
Fortunately, the versatile career options can give you a large scale to explore fields like public health, where you can become an administrator or an attorney.
Skim through the options above and see which is the right fit for you!