Vacationing as a family is an exciting thing. Exploring new places, experiencing different things, and spending quality time together are all part of what makes it so special. Weeks, months, or even years of planning are behind each trip. Whether it's deciding where to go, things to do, or adventures to take, there are countless details to cover before packing up.
An important part of the planning process is your family's safety. And while you can't always plan for everything that might happen, it never hurts to take extra steps to prepare. You'll never regret looking out for your family, and knowing you've been proactive will bring everyone peace of mind throughout your vacation. Here are some things to consider.
Touch Base With Family and Friends Back Home
Even though one of the draws of a vacation is to get away from it all, it's important that you don't forget to stay in touch with someone back at home.
Whether you're making a video call from the deck of your Transatlantic cruise ship or sending a quick text to check in with Grandma, keeping in regular contact will assure your family and friends that you're safe, healthy and where you're supposed to be.
Be sure to update your contacts if you're heading into an area with limited or no service, letting them know when you will be in touch again. Don't forget to provide them with contact information for where you're staying and your travel itinerary as well.
Stay Vigilant
One of the most important things you can do for your family on vacation is to make sure you stay present and make smart decisions. Unfortunately, it's all too easy to get caught up in the trip's fun and excitement, and when this happens, chances are your guard will go down.
This doesn't mean you need to spend your entire vacation looking over your shoulder and expecting the worst at every turn. But what does it mean? Be smart about where you store your money, devices, and other valuables. Leave expensive jewelry at home—tone down the touristy look, which can make you an easy target.
And while these are basic tips, they're important to remember. Be sure to secure your accommodations once you're inside (and when you leave for the day.) Use caution when tapping into public Wi-Fi, especially if you need to check in on your bank account, make money transfers, or access your email.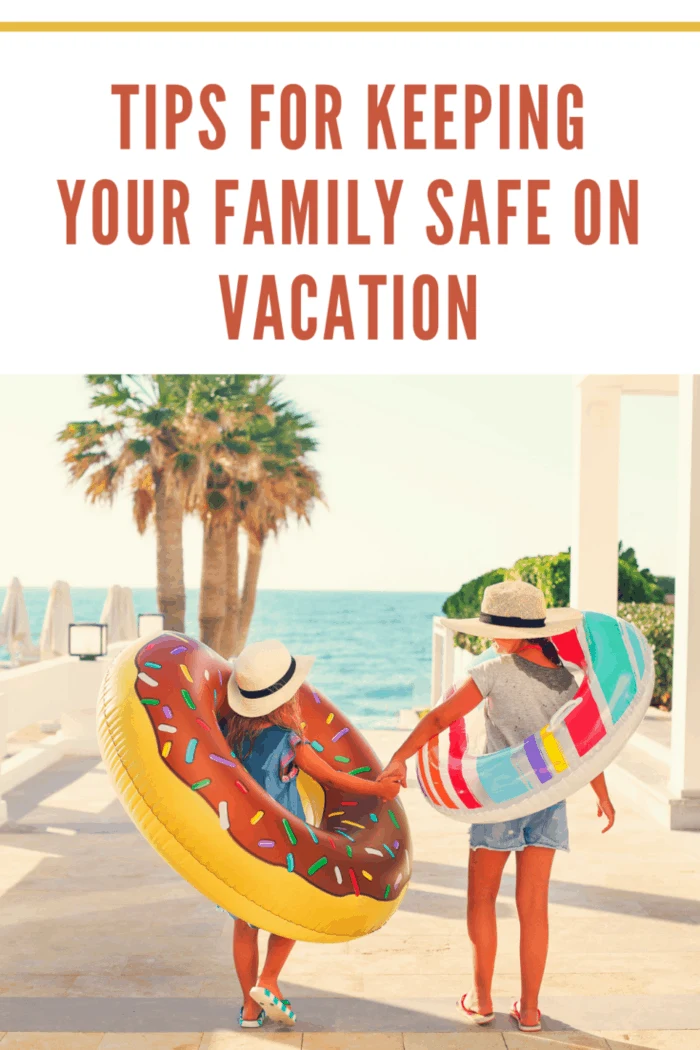 Protect Your Personal Documents
Keeping your family's personal documents safe and secure is a must no matter where you're traveling. Passports and other forms of photo identification, medical records, and social security cards are all incredibly important.
Don't forget to make hard copies or save scanned documents on your computer or device. This will ensure you have access to these documents when and if you need backup in the event your originals become lost, damaged, or stolen.
Before heading out on your trip, consider purchasing a travel document organizer. This is the perfect way to keep your family's passports, photo IDs, health insurance, and social security cards safe while also providing a location for credit cards, traveler's checks, and cash. Don't forget to include hard copies of your reservations and rental car confirmations as well.
Prioritize Health and Safety Together
Looking out for your health is always important. However, when you're on vacation, this might have a little different feel than your everyday routines do.
There's more to health and safety on vacation than eating healthy foods, staying hydrated, and incorporating movement into each day. Focusing on the big picture is essential.
For example, it could be that you go over dangerous plants or insects with your children before heading out into the wilderness for a hike or discussing what to do in the event you become separated or encounter larger wildlife, such as a mountain lion or a bear. It is a must to make sure everyone has their own backpack containing first aid supplies, high-energy food and drink, a compass, and rescue-related items.
Your family's safety during vacation is paramount. And with proper planning and resources, you'll have the peace of mind that you have done your part.
---
Resources:
https://www.celebritycruises.com/destinations/transatlantic-cruises
https://www.theinvisibletourist.com/how-to-not-look-like-a-tourist/
https://travel.state.gov/content/travel/en/international-travel/before-you-go/travelers-checklist.html