Sometimes you don't necessarily want to do a full renovation project on your home, but you want a change. You might not want to take on a huge project because you have other things going on, or maybe it's a budget issue.
At the same time, you might feel like the look and feel of your home are a little stale, and you could use some change.
Luckily, there are options according to thisoldhouse.com—no matter what your budget is.
A lot of these tips and ideas can be done in a weekend (or less), so you can spend time enjoying your handiwork.
Here are some great ways to change it up on a budget.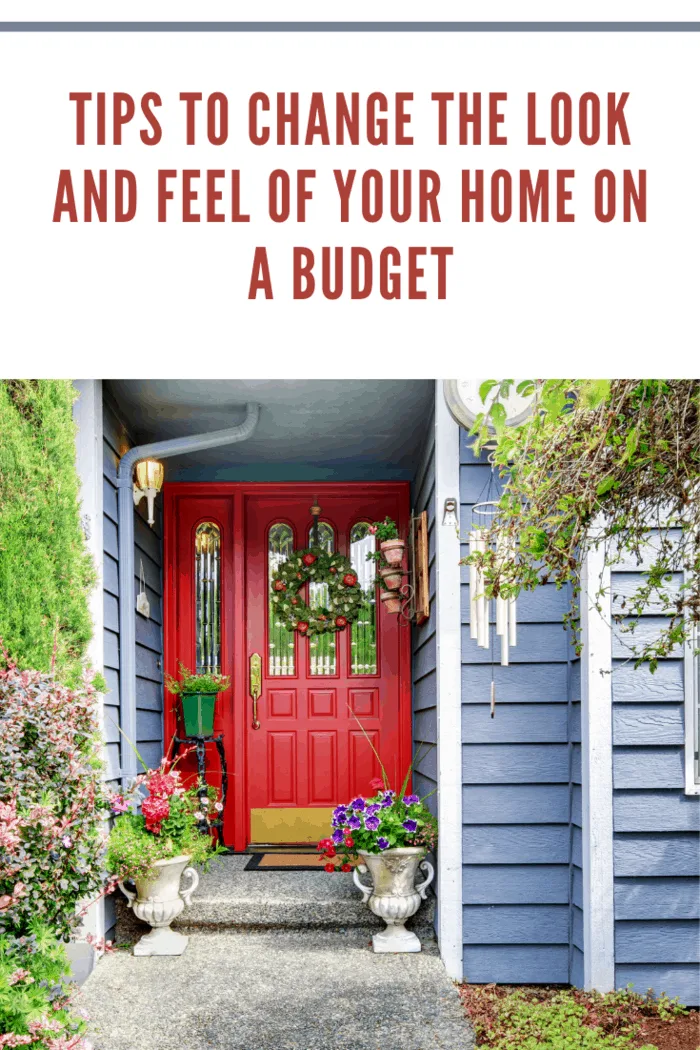 Deep Cleaning
Ok, deep cleaning your house may not be your idea of a good time, but it's one that can change the look of your space and how you feel about it.
Did you know deep cleaning can have positive effects on your state of mind?
First, you might consider bringing in professionals.
For example, has it been months or even longer since your carpets and rugs have been cleaned?
Call a professional company to breathe new life into your floor coverings.
You can even find a rug cleaner that does repair and restoration work as well.
Along with the floor coverings, think about cleaning drapes, furniture, and other places where dirt and dust accumulate, but you might not clean routinely.
Of course, clearing out the clutter can make an impact on your home's appearance as well.
Even if you don't tackle all the decluttering at once says wisebread.com, pick one small project every day or week to take on and alleviate clutter.
Paint Your Front Door
Painting your front door can instantly add curb appeal from the outside according to the diynetwork.
If possible, you might paint the interior side of your front door as well. You'll be surprised how far this small update can go.
To take it a little further, re-do your home's front entryway altogether.
On the exterior, clean up any clutter, replace or add a welcome mat, and put a wreath on your front door.
If you're feeling particularly handy, change your door hardware to give it an update.
Change Kitchen and Bathroom Hardware
If you change the hardware on your front door and find that you like what you see, you might be motivated to move onto changing the hardware elsewhere in your home.
The kitchen cabinets are a good starting point.
Hardware doesn't have to be expensive and changing it is one of the easiest home projects you can find.
You might also change the hardware on your bathroom cabinets.
If it needs it, change the hardware on your interior doors for a modernized update.
Add Crown Molding
If you ever watch real estate shows you've probably seen potential home buyers commenting on crown molding.
It makes a big difference in the aesthetic of a room.
Crown molding brings the eye upward, making ceilings look higher.
It adds architectural interest, and it's a good way to add distinction to a room.
If you don't have any, or if your crown molding is somewhat basic and blah, take some time to replace it.
You don't even necessarily have to use wood.
There are moldings made of foam and coated in hard plaster that you can cut easily with a handsaw and no power tools.
Create a Gallery Wall
Chic rooms almost always have gallery walls these days.
If you've spent any time browsing Pinterest, you've probably seen it.
A gallery wall is a collection of art or photos in different frames, or maybe on canvases.
A gallery wall is a focal point, and it's easy to do.
You can buy frames from nearly any big box store, and print out your favorite photos or art prints.
If you do a little digging, you can find different layouts for gallery walls that will give you step-by-step instructions on how to arrange and hang them.
Swap Light Fixtures
Finally, light fixtures are a place our eyes tend to automatically go to in a home, and they're also one of the areas that can date a space most quickly.
If you have some time this weekend and a bit of electrical knowledge, think about swapping out a light fixture or two in your house suggests BuzzFeed.
If you don't think you can tackle it on your own, you can hire an electrician for a few hours of their time.
You may also enjoy these decorating tips to make your home unique and stylish.
---
Resources: