Our Tiny Trinkets Candle Review.
Candles burn often at our house. I love the ambiance they create in a room. My family loves the aroma, and each individual has their own favorite scent.
Tiny Trinkets Candles are The Divine Miss M's infatuation. We chose a Frosted Cupcake scent because, let's face it, who doesn't love cupcakes? When the candle was revealed from the impeccable packaging, we all cooed at the fun details that truly set this candle apart from others. It was these details that mesmerized Miss M.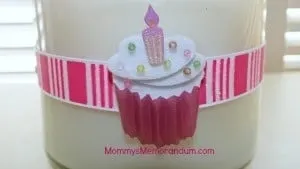 The candle is in a jar similar to Yankee Candles brand. I love the jars because when the candle is gone there is always something to put in them–we love S'mores in a Jar especially. Beyond the jar, Tiny Trinkets Candles makes it personal with adorable embellishments, like the cupcake in the picture above. The frosting on the die-cut is sparkling and the "sprinkles" tiny beads. It's a great touch and looks fantastic over the grosgrain ribbon.
The details don't stop just around the jar's middle, they carry up to the lid.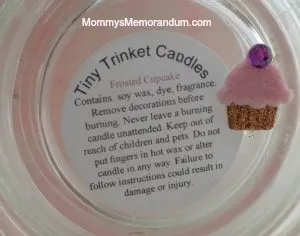 A small, glittering cupcake is attached, drawing attention to the ingredients: soy wax, dye, fragrance, as well as the instructions, which include "remove decorations before burning". This brings us to this…The Divine Miss M refuses to allow the removal of the decorations.
So? We whiff our candle. We drool over the scent…oh, my! it's delicious!
We admire the swirls of color and sparkle that shimmers on the top of the candle. We love double-wicks and sigh at the cuteness overload.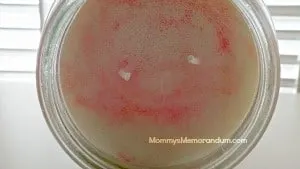 I have even tried to convince her we need to burn the Tiny Trinkets Candle because nestled somewhere in that soy wax is a trinket! She's enjoying the beauty of this candle far more than the prospect of finding the foil wrapped charm–even though it could be worth of up $500!!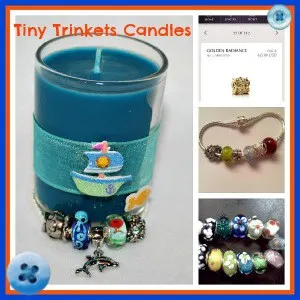 Tiny Trinket Candles and don't skimp on the trinkets. Even though they're tiny, the trinkets are Pandora brand or other popular brand charms! With your first order, Tiny Trinkets Candles will also include a free charm bracelet!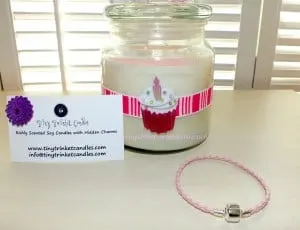 While you may miss Valentine's Day, Tiny Trinkets Candles is a great gift if you're looking to give someone more than just a pretty piece of jewelry. It's double-duty fun!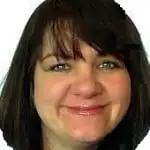 Julee is a quirky, dorky, North Carolina Transplant with an appetite to taste the world, meets its desserts and blog about them. When she's not behind the computer you can find her playing with her family, reading a good book and celebrating the little things.
Disclosure of Material Connection: I received one or more of the products or services mentioned above for free in the hope that I would mention it on my blog. Regardless, I only recommend products or services I use personally and believe will be good for my readers. I am disclosing this in accordance with the Federal Trade Commission's 16 CFR, Part 255: "Guides Concerning the Use of Endorsements and Testimonials in Advertising.".Julee Morrison