Indulge in Sweet Perfection with Tidbits Meringues!
Introducing Tidbits Meringues – the delicate, melt-in-your-mouth treats that will sweep you away into a world of pure bliss! These heavenly confections are meticulously crafted to bring you the ultimate dessert experience. With Tidbits Meringues, every bite is a moment of sheer delight!
Immerse Yourself in Flavorful Euphoria
Tidbits Meringues are an exquisite fusion of lightness and flavor, guaranteed to captivate your taste buds. Picture this: a crisp, airy exterior giving way to a luscious, velvety center that simply melts on your tongue. Their master bakers have perfected the art of creating these little bites of joy, making each meringue a miniature masterpiece.
A Kaleidoscope of Tempting Varieties
Explore a vibrant assortment of Tidbits Meringues, carefully handcrafted to cater to your unique cravings. From classic flavors like vanilla and chocolate to innovative creations like zesty lemon and tangy raspberry, there's a meringue for every palate. Indulge in the captivating burst of flavors and experience the joy that only Tidbits Meringues can bring.
Elevate Any Occasion with Tidbits Meringues
These ethereal delicacies aren't just for personal enjoyment. They're the perfect accompaniment to elevate any gathering or celebration! Impress your guests with an irresistible dessert table adorned with an array of Tidbits Meringues. Whether it's a wedding, birthday, or special event, these delightful treats will leave a lasting impression on everyone's hearts.
Handcrafted with Love, Quality, and Care
At Tidbits Meringues, they take pride in their commitment to excellence. Each meringue is meticulously crafted using the finest ingredients, ensuring unparalleled quality and freshness. They believe in the power of handcrafted goodness, and their artisans pour their passion into every batch, infusing each meringue with love and care.
Treat Yourself or Surprise a Loved One
Indulge in the divine experience of Tidbits Meringues and discover a world of sweet enchantment. Whether you're treating yourself to a moment of self-care or surprising a loved one with a delectable gift, Tidbits Meringues are the perfect choice. Elevate your taste buds, create unforgettable memories, and share the love, one delicate meringue at a time.
Taste the Pure Joy of Tidbits Meringues Today!
Tidbits Meringue Review
Tidbits are fun Meringue Cookies without the work.
With less than two calories per meringue Tidbits and ZERO net carbs per serving (10-pieces), they are light, delicious treats for those on a KETO diet, people with diabetes, or anyone who just loves a delightful tasting snack!
All Tidbits meringue bites are gluten-free, soy-free, cholesterol-free, Non-GMO, Sugar-Free, and Lactose-free. It's the freedom of snacking without the additives and the guilt.
Meringue is my jam.
I love it on pie but the idea of Meringue Cookies collided with my taste buds while I lived in Miami.
They melt in your mouth.
They have the texture of a cloud.
That's exactly what Tidbits remind me of.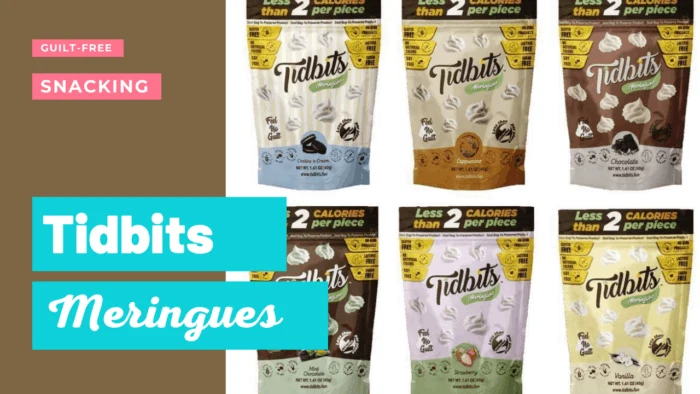 I think Tidbits are amazing, and without embarrassment can admit I've eaten entire BAGS (40 meringues per bag) alone.
I can't help it.
The flavors, texture, and taste are incredible–cappuccino, cotton candy, cookies and cream, vanilla, chocolate, mint chocolate, caramel, and strawberry.
Are you drooling yet?
Bid farewell to unhealthy snacking. Bite-Sized deliciousness for everyday snacking and launched Diabetic and KETO lines.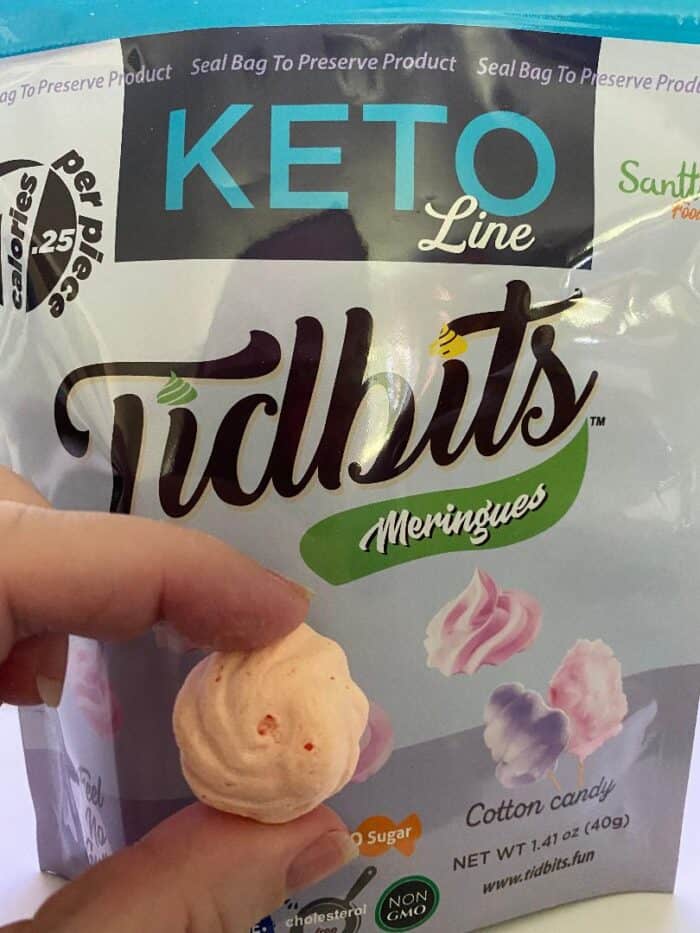 We all enjoyed the Tidbits Cotton Candy Meringues.
They were like getting cotton candy from the Fair.
There is a crisp crunch and the flavor of cotton candy just melts in your mouth.
Definitely one of our favorites.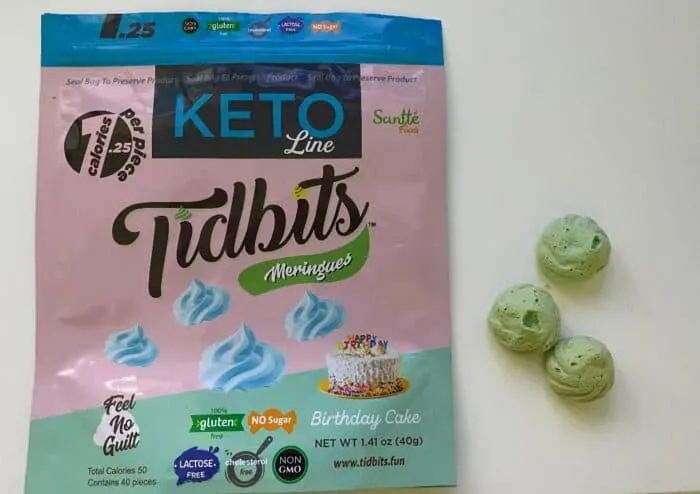 I am a fan of all things "birthday cake" and these Tidbit Birthday Cake Meringues did not disappoint.
The color was not what I expected–they are sort of an ugly green, but that has nothing to do with flavor.
I at the whole bag by myself.
They were just too good to share.
MacKenzie is a barista so she was really excited to see the Cappuccino flavored Tidbits.
She wanted to be the first to taste them and instantly she was in love with them.
Overall, my family enjoys snacking with Tidbits meringues.
There are so many flavors to satisfy the craving.
They are crisp, sweet, and a guilt-free way to enjoy snacking.
FAQs about Tidbit Meringues
Q: What are Tidbits Meringues? A: Tidbits Meringues are delicate, melt-in-your-mouth treats that are crafted with precision and care. They are light, airy confections with a crisp exterior and a velvety center, providing a delightful texture and flavor experience.
Q: What flavors do Tidbits Meringues come in? A: Tidbits Meringues come in a variety of flavors to suit different preferences. The assortment includes classic flavors like vanilla and chocolate, as well as more adventurous options such as zesty lemon and tangy raspberry. The flavor selection aims to cater to a wide range of taste preferences.
Q: Are Tidbits Meringues suitable for special occasions? A: Absolutely! Tidbits Meringues are an excellent choice to elevate any special occasion or gathering. Whether it's a wedding, birthday, or any other celebration, these delicate treats will add a touch of elegance to your dessert table and leave a lasting impression on your guests.
Q: What makes Tidbits Meringues special? A: Tidbits Meringues stand out due to their exceptional quality and craftsmanship. They are carefully handcrafted using premium ingredients, ensuring a superior taste and texture. Each meringue is a work of art, made with love and attention to detail to provide a truly delightful experience.
Q: Can I gift Tidbits Meringues to someone? A: Absolutely! Tidbits Meringues make for a wonderful and unique gift. Surprise your loved ones with a box of these heavenly treats, and they are sure to be delighted. The beautiful presentation and exquisite flavors make them a perfect gift for birthdays, anniversaries, or any special occasion.
Q: Are Tidbits Meringues gluten-free? A: Yes, Tidbits Meringues are gluten-free, making them suitable for individuals with gluten sensitivities or dietary restrictions. However, it's always recommended to check the product packaging or consult with the manufacturer for specific dietary information.
Q: Where can I purchase Tidbits Meringues? A: Tidbits Meringues can be purchased at select gourmet food stores, specialty bakeries, or through our official online store. Check our website for a list of authorized retailers or to place an order online.
Q: How should I store Tidbits Meringues? A: To maintain their freshness and delicate texture, it is best to store Tidbits Meringues in an airtight container in a cool, dry place. Avoid exposing them to heat or moisture, as it may affect their quality. Enjoy them within a reasonable time frame for the best taste experience.
Q: Are there any allergens in Tidbits Meringues? A: Tidbits Meringues may contain allergens such as eggs and nuts. It is important to review the ingredients list and allergen information provided on the packaging or consult with the manufacturer if you have any specific dietary concerns or allergies.
Q: Can I request custom orders or bulk purchases of Tidbits Meringues? A: Yes, some providers may offer custom orders or cater to bulk purchases of Tidbits Meringues for special events or corporate gifting. It's advisable to reach out to the manufacturer or authorized retailers directly to inquire about any custom or bulk order options available.