Get Ready for Adventure with THE SUPER MARIO BROS. MOVIE! now on Digital.
Calling all gamers and animation enthusiasts! Nintendo and Illumination Entertainment proudly present the most thrilling and action-packed animated film of the decade: THE SUPER MARIO BROS. MOVIE! Prepare to embark on an extraordinary journey alongside your favorite characters from the iconic Super Mario universe!
Unleash Your Imagination: Dive headfirst into the magical world of the Mushroom Kingdom, where anything is possible! Witness the beloved Mario brothers, Mario and Luigi, spring to life like never before. With stunning visuals and cutting-edge animation, this movie will transport you to a land of wonder, excitement, and countless surprises!
Unforgettable Characters: Join forces with Mario, the heroic plumber with a heart of gold, and his loyal brother, Luigi, as they team up to rescue Princess Peach from the clutches of the dastardly Bowser. Encounter fan-favorite characters like the mischievous Toad, the lovable Yoshi, and the unpredictable and hilarious duo, Wario and Waluigi! Get ready for an all-star cast of unforgettable characters that will keep you laughing and cheering throughout the entire film.
Epic Quests and Breathtaking Action: Buckle up for a wild adventure filled with thrilling quests and epic battles! Watch as Mario and Luigi jump, slide, and power-up their way through treacherous landscapes, discovering secret tunnels, and facing off against menacing enemies. With intense action sequences and heart-pounding moments, THE SUPER MARIO BROS. MOVIE will keep you at the edge of your seat, eagerly awaiting the next twist in the story.
Catchy Tunes and Nostalgic Vibes: Relive the magic of the Super Mario franchise with an incredible soundtrack that will have you humming along to familiar tunes! From the iconic main theme to the cheerful melodies of the Mushroom Kingdom, the music in this animated spectacular will transport you back to the golden age of gaming and fill you with a sense of nostalgia that will warm your heart.
A Universe of Possibilities: Explore an expansive world brimming with creativity, imagination, and surprises at every turn. Witness the legendary power-ups, from the Super Mushroom to the Fire Flower and beyond, as they come to life in dazzling detail. Immerse yourself in the vibrant colors and captivating landscapes that make the Super Mario universe an absolute joy to experience.
Get Your Game On: Get ready to grab a bag of popcorn, gather your friends and family, and experience the adventure of a lifetime on the big screen! THE SUPER MARIO BROS. MOVIE promises to be a cinematic event that will delight fans of all ages, combining the magic of Nintendo's iconic franchise with Illumination's expertise in animated storytelling.
Don't miss out on this animated extravaganza! Mark your calendars and prepare for an unforgettable journey with THE SUPER MARIO BROS. MOVIE – the ultimate celebration of gaming, friendship, and pure fun. Get ready to jump into action, because this is an adventure you won't want to miss!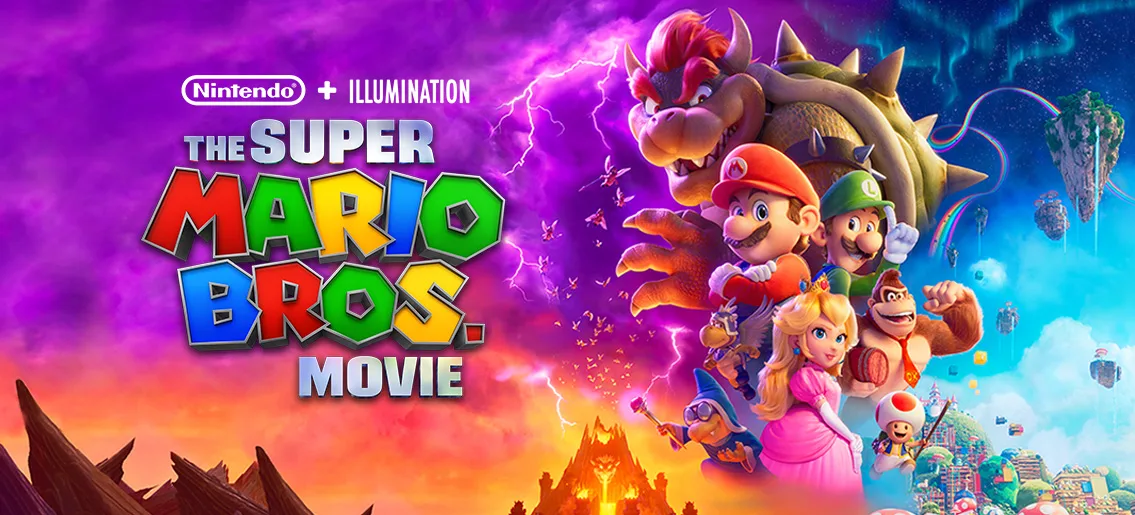 THE SUPER MARIO BROS. MOVIE Synopsis
In the animated spectacular, THE SUPER MARIO BROS. MOVIE, audiences are transported to the whimsical and action-packed world of the Mushroom Kingdom. The film follows the iconic Mario brothers, Mario and Luigi, as they embark on an epic quest to save Princess Peach from the clutches of their arch-nemesis, Bowser.
As the story unfolds, Mario and Luigi must navigate treacherous landscapes, encounter colorful characters, and face off against dangerous enemies. With their courage, wit, and a little help from their friends, including the mischievous Toad and the lovable Yoshi, the brothers overcome obstacles, uncover hidden secrets, and discover the true power of friendship.
Along the way, the brothers encounter the unpredictable and hilarious duo, Wario and Waluigi, who add a comedic twist to their journey. Together, they embark on an unforgettable adventure filled with heart-pounding action, breathtaking visuals, and a captivating storyline that will keep audiences of all ages on the edge of their seats.
As Mario and Luigi jump, slide, and power-up their way through the Mushroom Kingdom, they must harness the legendary power-ups, such as the Super Mushroom and Fire Flower, to aid them in their mission. From traversing perilous platforms to navigating underwater realms, the brothers demonstrate their bravery and determination, inspiring viewers to believe in the power of resilience and teamwork.
THE SUPER MARIO BROS. MOVIE is not only a celebration of the iconic video game franchise but also a love letter to fans worldwide. With its catchy tunes, nostalgic vibes, and stunning animation, the film captures the essence of the beloved Super Mario universe, bringing it to life on the big screen in a way that has never been seen before.
Get ready for an extraordinary cinematic experience that will immerse you in a world of magic, adventure, and pure fun. THE SUPER MARIO BROS. MOVIE is a must-see for fans and newcomers alike, promising to deliver an unforgettable journey that will leave you with a smile on your face and a desire to embark on your own heroic quests.
FILMMAKERS: Cast: Chris Pratt, Charlie Day, Anya Taylor-Joy, Keegan-Michael Key, Jack Black, Seth Rogen, Fred Armisen, Sebastian Maniscalco, Kevin Michael Richardson, Khary Payton, Charles MartinetProduced By: Chris Meledandri, Shigeru MiyamotoWritten By: Matthew FogelDirected By: Aaron Horvath, Michael JelenicABOUT UNIVERSAL PICTURES HOME ENTERTAINMENT: Universal Pictures Home Entertainment (UPHE – www.uphe.com) is a unit of Universal Filmed Entertainment Group (UFEG). UFEG produces, acquires, markets and distributes filmed entertainment worldwide in various media formats for theatrical, home entertainment, television and other distribution platforms, as well as consumer products, interactive gaming and live entertainment. The global division includes Universal Pictures, Focus Features, Universal Pictures Home Entertainment, Universal Brand Development, Fandango, DreamWorks Animation Film and Television and Awesomeness. UFEG is part of NBCUniversal, one of the world's leading media and entertainment companies in the development, production and marketing of entertainment, news and information to a global audience. NBCUniversal owns and operates a valuable portfolio of news and entertainment networks, a premier motion picture company, significant television production operations, a leading television stations group, world-renowned theme parks and a suite of leading Internet-based businesses. NBCUniversal is a subsidiary of Comcast Corporation.