Unleash Your Inner Genius with the Ant-Man and the Wasp: Quantumania Disc Spinner Craft! 🔬🕷️
Calling all aspiring inventors and fans of Dr. Hank Pym! Get ready to bring the Quantum Realm to life with our exciting Disc Spinner Craft inspired by the brilliant mind behind it all. Dive into the world of Ant-Man and the Wasp: Quantumania as you create your own spinning discs, just like the ones used by our favorite heroes!
Who Is Dr. Hank Pym?
Dr. Hank Pym is a fictional character in the Marvel Comics universe. He is a brilliant scientist and inventor who is known for his work with size-changing technology and as the original Ant-Man. Dr. Pym has also taken on other superhero identities, such as Giant-Man, Goliath, and Yellowjacket. He plays a significant role in the Marvel Cinematic Universe, portrayed by actor Michael Douglas.
Disc Spinner Craft Highlights:
✂️ Step-by-step Instructions: Easy-to-follow instructions to create your own Disc Spinner craft at home.
🎨 Customization Galore: Personalize your spinners with colors and designs that reflect your unique style.
🔧 Hands-on Fun: Explore the principles of motion and mechanics while crafting your very own spinning discs.
⚡️ Unlock Your Imagination: Let your creativity soar as you imagine epic adventures in the Quantum Realm.
How to Get Your Ant-Man and the Wasp: Quantumania Disc Spinner Craft: 🔍
Gather the crafting materials listed.
Follow the step-by-step instructions and watch your Disc Spinner come to life!
Spin, twirl, and let your imagination soar as you embark on Quantum Realm adventures!
Embrace Your Inner Inventor and Enter the Quantum Realm Today!
Don't miss this chance to bring the brilliance of Dr. Hank Pym to your own fingertips. Let the Ant-Man and the Wasp: Quantumania Disc Spinner Craft inspire your inventiveness and take you on a thrilling journey through the Quantum Realm. Join the ranks of the genius heroes and unlock a world of endless possibilities!
Step into the Quantum Realm and Create Your Own Disc Spinner Craft Now!
Click the link below to access the craft instructions and embark on your own Quantum-sized adventure. Get ready to spin, invent, and explore like never before! Don't wait—start crafting your Disc Spinner today!
You might also enjoy these Ant-Man and the Wasp: Quantumania Free Printable Activity Sheets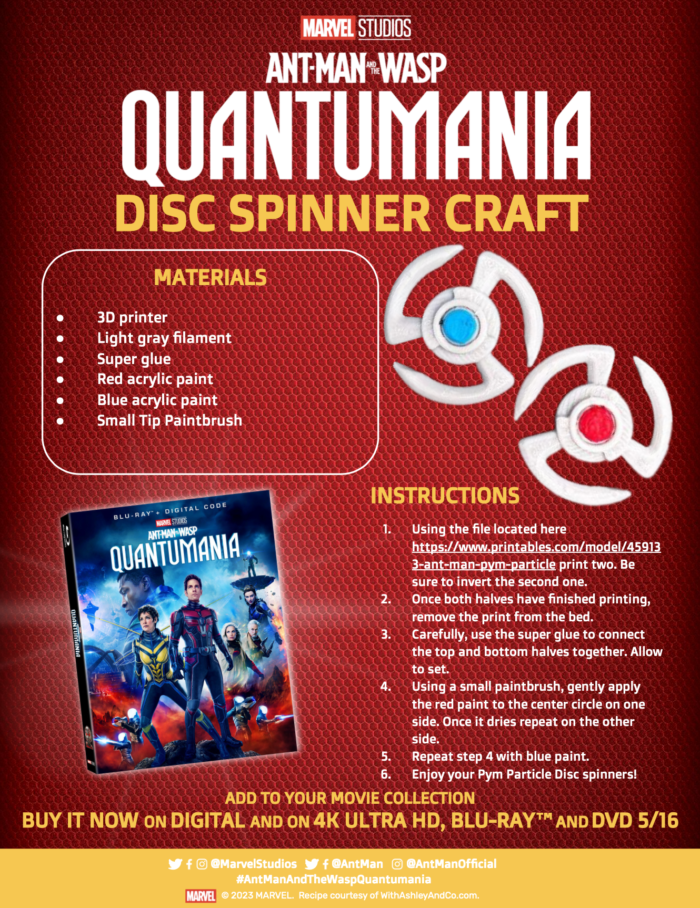 AAnt Man and the Wasp Quantumania Disc Spinner CraftMTWQ_BloggerCraftInstructions2

Don't Forget to Catch "Ant-Man and the Wasp: Quantumania" on Digital and Blu-ray!
After enjoying the mind-bending activities, make sure to watch the epic film itself! Join Scott, Hope, and their incredible family on the big screen as they take on Kang the Conqueror in their most daring adventure yet. Available on Digital and Blu-ray, this action-packed movie will leave you on the edge of your seat!
But wait, there's more! Blu-ray purchases include exclusive bonus content like deleted scenes, a gag reel, and director commentary!
You can also watch this movie on Amazon Prime.