Mark those calendars, Thanksgiving Point's 14th annual Easter Eggstreme is scheduled for Saturday, April 7, in the Electric Park from 10 a.m.-3 p.m. The event includes Utah's largest egg hunts for children up to 12 years old and a variety of Easter-centered activities for families.
Hunts with thousands of Easter eggs will be every half hour between 11 a.m. and 1 p.m. New from years past, each hunt will be open to all children ages 12 and younger, but segmented into age group areas to ensure all have a fair opportunity to enjoy the experience.
Eggstreme activities include a bean bag toss, ring toss, inflatables, pony rides, crafts, relay races, face painting, the Chick-Fil-A cow and Easter Bunny, live baby animals at Farm Country, kiddy cow train rides, and others.
Advance ticket price until March 31 is $7 per child (12 years old and younger), $4 for adults and no charge for children 2 years old and younger. Admission includes unlimited participation in activities and one egg hunt. Admission the week of and at the door is $9 per child and $4 for adults. Thanksgiving Point members are $6 for children and $3 for adults at any time.
Concessions are available during the event, and Harvest Restaurant will feature an elegant Easter brunch from 10 a.m.-2 p.m. for an additional cost.
It is highly recommended to purchase Easter Eggstreme tickets in advance to avoid lines on the day of the event. Tickets to Easter Eggstreme can be purchased at any Thanksgiving Point venue or at www.thanksgivingpoint.org. Easter Eggstreme is sponsored this year in part by Chick-fil-A and Sam's Club.
We have gone for the past three years. We absolutely LOVE it. Here is a memory from 2010, when even the bitter cold wouldn't keep the kiddos away!
Growing up, I remember warm Easters. I remember heading outside with all the hard boiled eggs colored in bright hues and hiding them over and over while my siblings and cousins searched. Then we'd trade the role of the hider. It went on for hours. It was warm…or did I already mention this?
Here is a picture of me all gussied up for Easter when I was two.
I'm thinking my memory, though old and muddled, is correct–check out the length of that dress on me! Holy Smokes!
Okay, now we are fast forwarding 39 years (or so) to Easter 2010.
We went to Thanksgiving Point for the giant Easter Egg Hunt. We were the first ones through the gate and therefore there was no lines, so to speak at any of the activities. First thing we did was get our faces painted.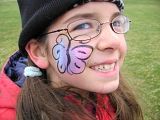 The Beauty Queen went with a pink and purple butterfly. It took up her ENTIRE cheek, which pleased her tremendously!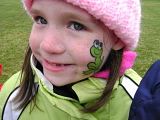 The Divine Miss M went with the Frog theme. We all cooed over how adorable her frog is!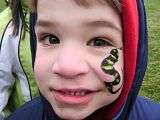 Li'l Man went all out with the "BOY THEME" and opted for a snake. Ick!
What is the one common factor in all these pictures…yup! They've all got on their coats and hats. Why? Because it was COLD!
You would think that the temperature would start to thaw after 10 AM. This would be incorrect.
To prove my point. Here we are in line for the Tractor Ride.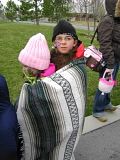 We've gone from sweatshirts covered in winter coats and hats to adding a layer of warm Mexican Blanket..
As you can see from this next picture. It did NOT help. There's Li'l Man–left out in the cold so his sisters can be warm. You'll notice "The Divine Miss M" is crying and The Beauty Queen, she's getting ready to complain how cold it is.
The Easter Egg Hunt, which is what we came for, is still thirty minutes from starting so at this point we headed to the car. Everyone put on another layer of socks. The Divine Miss M put on another sweatshirt and a sweater (five shirts total). We ventured back out to stand on the edge of the field.
For fifteen minutes we stood on the edge of the field watching them pile Easter Eggs on to it. We also listened to the announcement after announcement of the "rules"…no pushing, no shoving, no parents on the field. Then it was time to let the kiddos have at it.
They ran like lightning they implemented their strategies. Li'l Man went hog-wild. He let nothing stand in his way. The Beauty Queen was right behind him, excited she could pick up three eggs in one hand. The Divine Miss M, my most polite child, would kneel to pick up eggs, but if someone else showed up, she'd move to the next open egg.
Li'l Man and The Beauty Queen did relatively well. The Divine Miss M on the other hand scored a total of five eggs.
We had fun.
We did what we came to do.
When it was all over, there were no whines of the temperature it was an utter joy and giddy giggles at the fun they had!
This year, I hope it's like the Easter's of my childhood…you know…WARM!
Disclosure of Material Connection: I received one or more of the products or services mentioned above for free in the hope that I would mention it on my blog. Regardless, I only recommend products or services I use personally and believe will be good for my readers. I am disclosing this in accordance with the Federal Trade Commission's 16 CFR, Part 255: "Guides Concerning the Use of Endorsements and Testimonials in Advertising."