This post is brought to you by Tessemae's All Natural.
Tessemae's All Natural Green Goddess dressing is a popular salad dressing and condiment produced by Tessemae's, a company known for its commitment to creating healthier and natural food products. Please note that product information may have changed since then, so it's a good idea to verify the current details from a reliable source.
Tessemae's All Natural Green Goddess dressing is generally characterized by being made with simple, recognizable ingredients and containing no artificial additives, preservatives, or high-fructose corn syrup. It's typically dairy-free, gluten-free, and suitable for individuals following various dietary preferences or restrictions.
The ingredients in the dressing often include a blend of fresh herbs like basil, parsley, and chives, combined with garlic, lemon juice, and other flavor-enhancing components. The resulting flavor profile is usually tangy, herbaceous, and refreshing, making it a popular choice for salads, dipping sauces, and as a topping for various dishes.
Keep in mind that product formulations and availability can change over time, so I recommend checking Tessemae's official website or contacting their customer service for the most up-to-date information about their Green Goddess dressing.
Tessemae's All Natural Green Goddess Dressing
It's almost summer and at our house, that means we are firing up the grill and fixing food packed with flavor. This easy recipe was inspired by our partner Tessemae's All Natural Green Goddess dressing.
Summer is really a time when I focus on feeding my family wholesome ingredients. Tessemae's All Natural fits into this idea as a natural food company from Annapolis Maryland. Their line of 25 marinades and condiments, are all USDA organic, gluten-free, non-GMO, vegan and Whole30 approved. You won't find any added sugar or xantham gum…ever…in their bottles. It's just clean, fresh dressings, marinades, and condiments with real ingredients and no preservatives.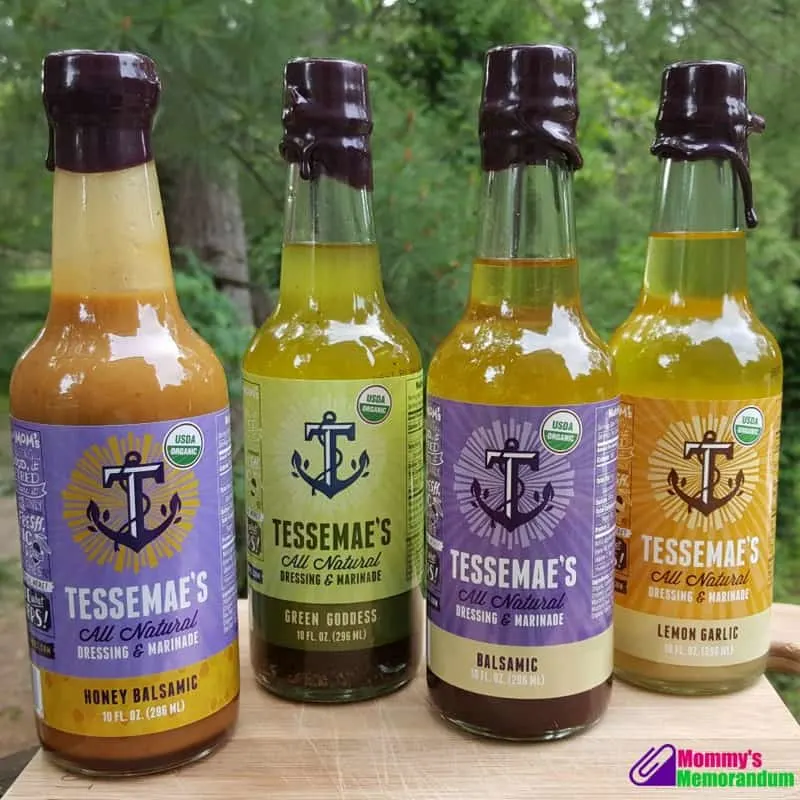 When I read how the Vetter brothers, Greg, Brian and Matt, launched the brand in 2009 at their local Whole Foods Market in Annapolis, Maryland, using the simple recipe their mom used throughout their childhood. It took me back to the homemade salad dressings my Grandma Jana use to make. I loved all the flavors and how it really made my salad pop with taste.
Tessemae's All Natural is committed to healthy eating and living, it's, in fact, the core of their mission: to provide simple, yet delicious food to consumers made with real ingredients.
My husband is our Master Griller and he out did himself on this Green Goddess Chicken.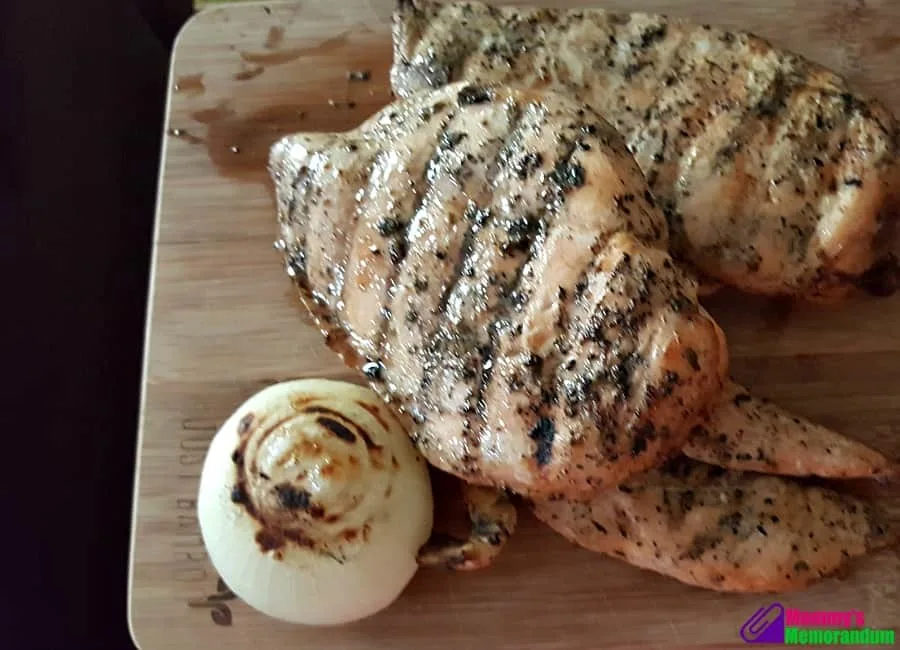 The recipe is crazy easy.
Tessemae's All Natural Green Goddess Grilled Chicken
History of the Dish: The Green Goddess dressing has a rich culinary history that dates back to the 1920s. It was originally created at the Palace Hotel in San Francisco to honor the hit play "The Green Goddess." The dressing typically features a base of mayonnaise, sour cream, anchovies, tarragon, chives, parsley, and other seasonings. In this modern twist, Tessemae's All Natural Green Goddess dressing provides a healthier and convenient version for marinating and grilling chicken.
Different Versions: While the classic Green Goddess dressing traditionally contains dairy and anchovies, Tessemae's offers an alternative version that is dairy-free, gluten-free, and suitable for various dietary preferences. This recipe focuses on utilizing Tessemae's All Natural Green Goddess dressing as a marinade and sauce.
Ingredients:
4 boneless, skinless chicken breasts (approximately 600g)
1 bottle (approx. 10 oz) Tessemae's All Natural Green Goddess Salad Dressing (approximately 295 ml)
Directions:
Gently pound the chicken breasts using a meat tenderizer to ensure even thickness.
In a 13″x9″ pan, pour enough Tessemae's All Natural Green Goddess dressing to cover the bottom.
Place the pounded chicken breasts in the pan, arranging them over the dressing.
Pour the remaining contents of the bottle of Tessemae's All Natural Green Goddess dressing over the chicken breasts.
Cover the pan with a lid or plastic wrap and refrigerate for at least 6 hours or overnight, allowing the flavors to meld.
Preheat the grill to medium-high heat.
Remove the marinated chicken breasts from the pan, allowing excess dressing to drip off.
Grill the chicken breasts until the internal temperature reaches 165°F (74°C), ensuring they are cooked through.
Serve the grilled chicken hot, garnished with fresh herbs if desired.
Expert Tips:
Pounding the chicken breasts helps them cook more evenly and allows the marinade to penetrate effectively.
Reserve a small portion of the dressing before marinating to use as a drizzle or sauce when serving.
If using wooden skewers, soak them in water for about 30 minutes before grilling to prevent burning.
Storage and Leftovers:
Store any leftover grilled chicken in an airtight container in the refrigerator for up to 3-4 days.
Use the leftover chicken in salads, sandwiches, wraps, or as a protein addition to pasta dishes.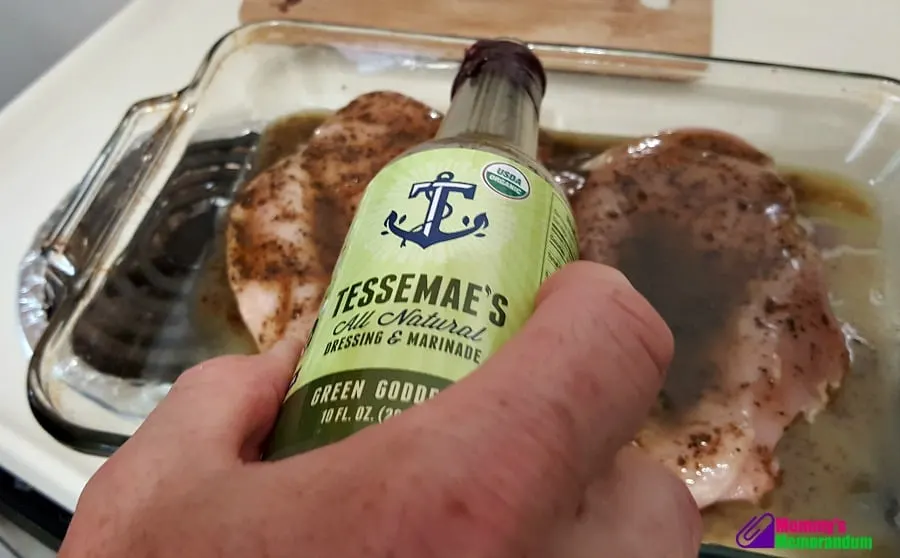 The chicken was incredibly moist, loaded with flavor, the kiddos each begged for seconds and then "can we have it again, tomorrow?"
Tessemae's All Natural is also a delicious dressing for salads.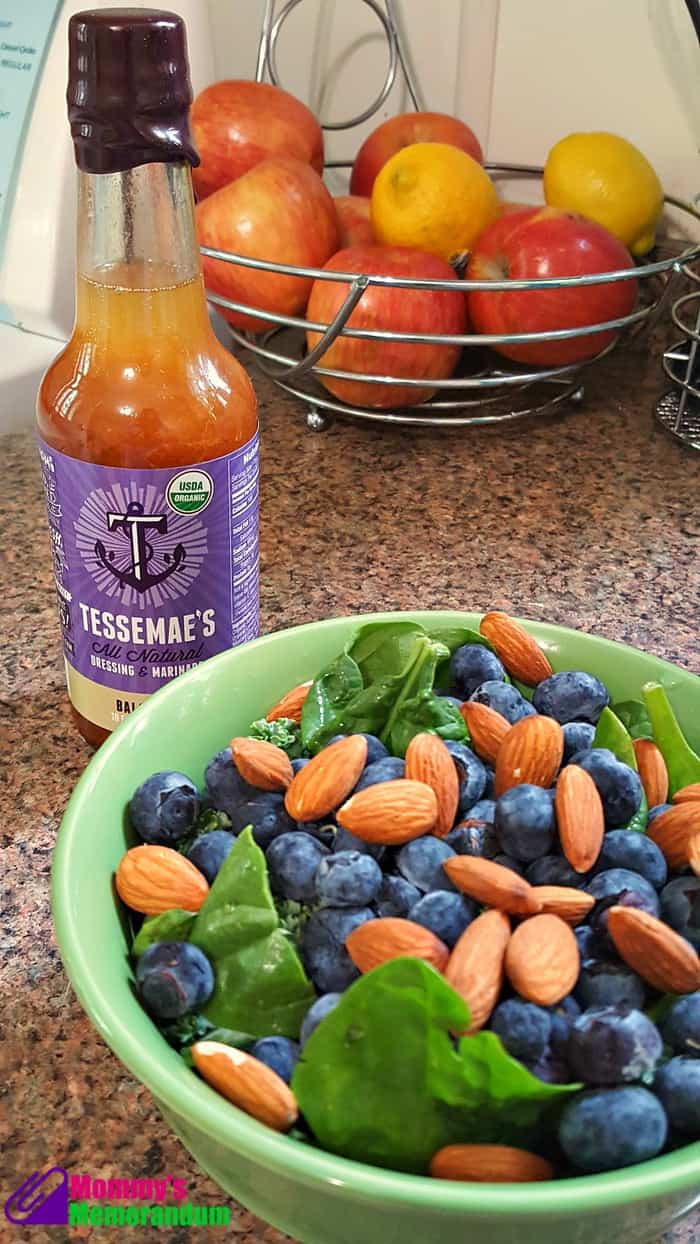 A little goes a long way in flavor…just drizzle it on.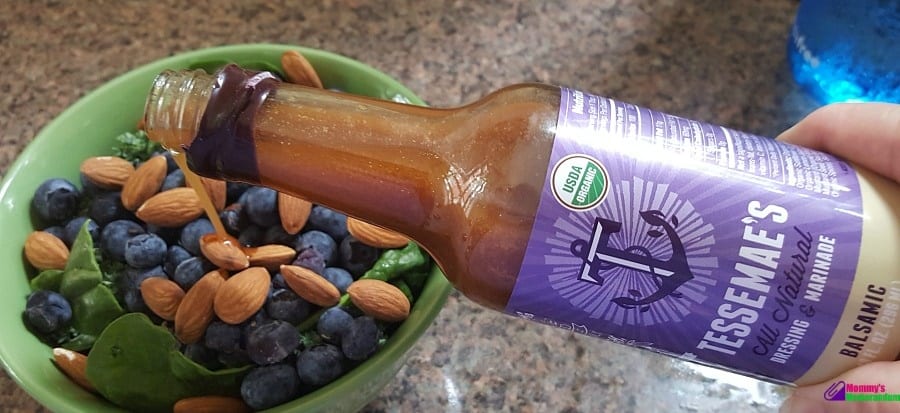 My favorite is the Tessemae's All Natural Balsamic drizzled over kale, spinach, fresh blueberries, and almonds! Mmmm!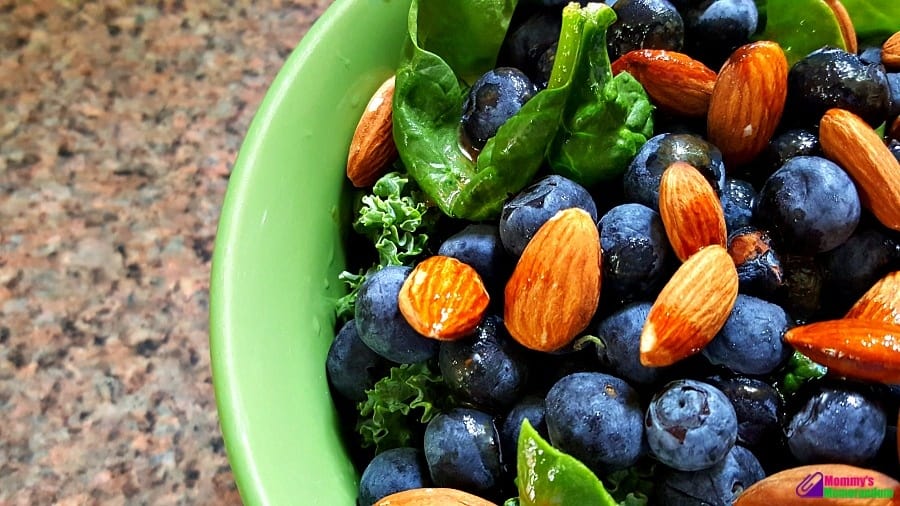 There are so many possibilities for flavor with Tessemae's All Natural Dressings and Marinades.
Find your flavor at Whole Foods Market, Publix, and Kroger near you. All prod­ucts are also avail­able for pur­chase directly from Tessemae's at tessemaes.com
FAQs:
Q: Can I use other types of Tessemae's dressings for this recipe? A: While this recipe specifically highlights the Green Goddess dressing, feel free to experiment with other Tessemae's dressings as marinades to create diverse flavors for your grilled chicken.
Q: Can I grill the chicken indoors? A: Yes, you can use a stovetop grill pan or an indoor electric grill if outdoor grilling isn't possible.
Q: Can I freeze the marinated chicken? A: It's recommended to marinate the chicken before grilling rather than after freezing. Marinating frozen chicken may affect the texture of the meat.
Q: Is Tessemae's All Natural Green Goddess dressing available internationally? A: As of now, Tessemae's products are primarily available in select stores in the United States and for online purchase through their official website.
Conclusion:
Tessemae's All Natural Green Goddess Grilled Chicken is a delightful and easy-to-make dish that showcases the modern take on a classic dressing. Marinating the chicken in Tessemae's Green Goddess dressing infuses it with a burst of fresh flavors, making it a perfect addition to your repertoire of healthy and flavorful meals. Enjoy the succulent and aromatic results while savoring the convenience and quality of Tessemae's All Natural products.