Baby Shark's Big Show! Super Shark is now on DVD! Kids can watch the new movie in style with this adorable shark costume craft.
Dive into BABY SHARK'S BIG SHOW! SUPER SHARK with this festive shark costume craft!
The newest chapter of Baby Shark is now available on DVD!
How to Make a Super Shark Costume!
To make your own super shark costume, you'll need:
Blue Hoodie
Light Blue and Yellow Craft Foam
Template (below)
Scissors
Hot Glue
String Or Ribbon
Directions:
Use the template to cut a fin and mask out of light blue craft foam.
Cut the seashell out of yellow craft
foam.
Take your glue gun and carefully attach the fin to the back of the hood on your blue hoodie and the
seashell to the front of the mask.
Poke holes in the side of the mask and add string, ribbon, or elastic cord to secure the Super
Shark mask to your face.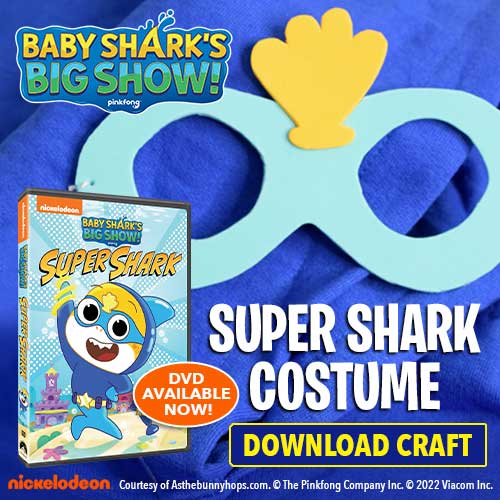 Baby Shark's Big Show! Super Shark! DVD Available Now
Fans of Baby Shark's Big Show! Get ready! Paramount Home Entertainment and Nickelodeon Home Entertainments just released NEW super-powered adventures with Baby Shark and his friends in Baby Shark's Big Show DVD! Super Shark!
This exciting DVD features eight exciting episodes and three bonus shorts from Nickelodeon's new preschool series Baby Shark's Big Show, co-produced with The Pinkfong Company, the global entertainment company behind the beloved children's brand Pinkfong.
You'll love swimming and singing along with Baby and his friends as they become superheroes, play on a game show, brave the dark depths of Wavey Jones' Locker, and more! It's epic adventures for all ages.Baby Shark's Big Show! Super Shark has a suggested retail price of $10.99.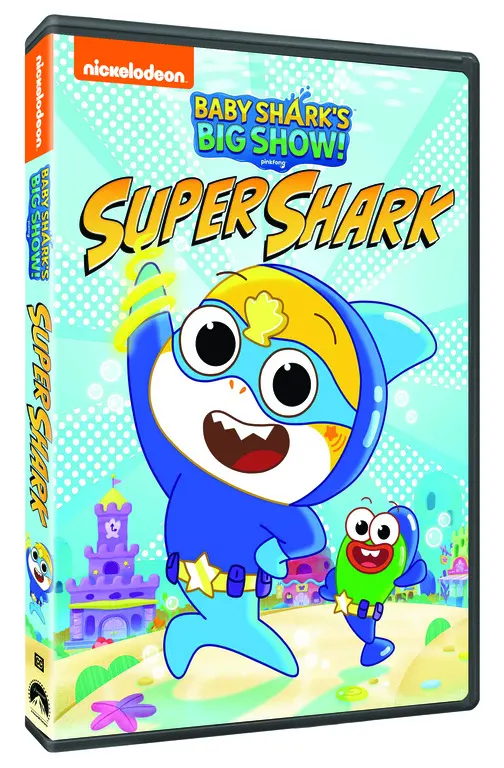 Baby Shark's Big Show! Super Shark episodes:
Captain Kelp
Shark-Off
The Show Must Flow On
Baby Mayor
Sink or Swim
Shadowland
Wavey Jones' Locker
Rocky-Bye
Special Features:
Knock It Off
Goldie's Lock
Chore Song
Baby Shark's Big Show! Super Shark synopsis:Baby Shark and William set out to be superheroes Super Shark and Captain Kelp! Can they save playtime? Join the duo and find out! Plus, swim along for additional exciting adventures in Carnivore Cove! Baby Shark's Big Show! Super Shark fast facts:Street Date: February 1, 2022 Catalog: 191329212462 (US), 191329212486 (CN) Running Time: 1 hr 36 min Special Features Running Time: 9 min Audio: Dolby Digital English 5.1, French Stereo, Spanish Stereo U.S. Rating: Not Rated C.N. Rating: G U.S. M.S.R.P.: $10.99 CN M.S.R.P.: $12.99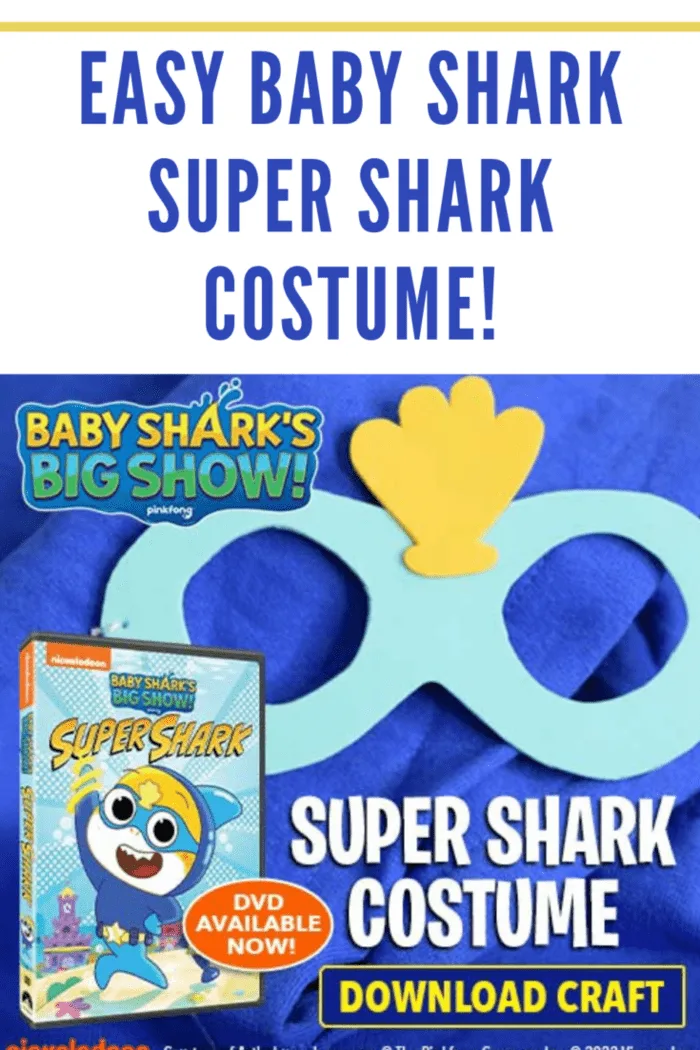 Baby Shark super shark Costume

About Nickelodeon
Now in its 42
nd
year, Nickelodeon is the number-one entertainment brand for kids. It has built a diverse, global business by putting kids first in everything it does. The brand includes television programming and production in the United States and worldwide, plus consumer products, digital, location-based experiences, publishing, and feature films. For more information or artwork, visit
http://www.nickpress.com
. Nickelodeon and all related titles, characters, and logos are trademarks of ViacomCBS Inc. (Nasdaq: V.I.A.C.A., V.I.A.C.).
About Paramount Home Entertainment
Paramount Home Entertainment (P.H.E.) is part of Paramount Pictures Corporation (P.P.C.), a global producer and distributor of filmed entertainment. P.P.C. is a unit of ViacomCBS (NASDAQ: V.I.A.C.; V.I.A.C.A.), a leading content company with prominent and respected film, television, and digital entertainment brands. The P.H.E. division oversees P.P.C.'s home entertainment and transactional digital distribution activities worldwide. The division is responsible for selling, marketing, and distributing home entertainment content on Paramount Pictures, Paramount Animation, Paramount Television Studios, Paramount Players, MTV, Nickelodeon, Comedy Central, and C.B.S. and applicable licensing and servicing of certain
DreamWorks Animation
titles. P.H.E. additionally manages global licensing of studio content and transactional distribution across worldwide digital distribution platforms, including online, mobile, and portable devices and emerging technologies.