History has left us the legends, memoirs and rewards of women who were strong, stood up for their beliefs and pursued change. They are oridinary women, who did extraordinary things to create change.
On August 26th, 1920 the United States government accorded women the right to vote. Each year, the President of the United States designates August 26th as Women's Equality Day to commemorate this landmark decision.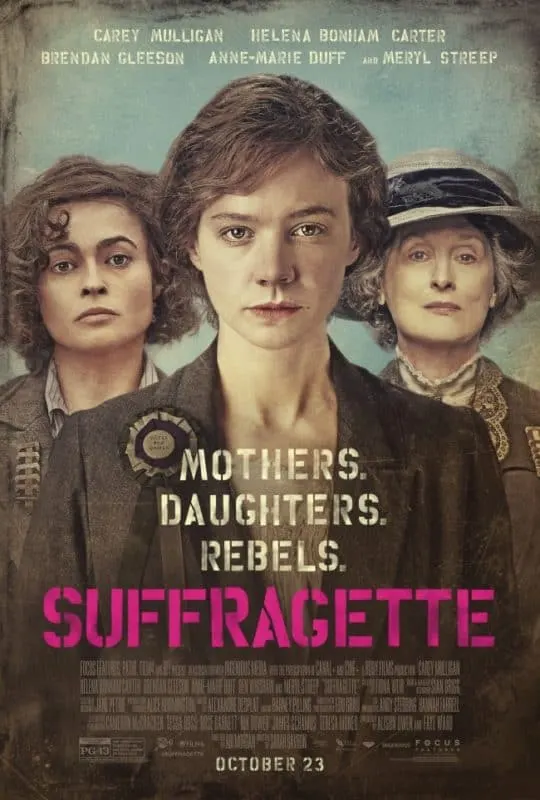 As you know, Focus Features' moving and powerful SUFFRAGETTE shines a light on women who risked everything for the right to vote, in early-20th century Britain. The cast includes Academy Award nominees Carey Mulligan and Helena Bonham Carter and three-time Academy Award winner Meryl Streep. The female filmmaking team includes producers Alison Owen (an Academy Award nominee) and Faye Ward (a Golden Globe Award nominee), Emmy Award-winning writer Abi Morgan, and BAFTA Award-winning director Sarah Gavron.
In celebration of the 95th anniversary of the historic moment for equal rights, the official U.S. theatrical release poster for SUFFRAGETTE was debuted today and I wanted to share it as a tribute to change and the women behind the change.
Watch the SUFFRAGETTE Trailer:
Suffragette OPENS October 23rd in NEW YORK and LOS ANGELES
Expanding across the country in the following weeks
Suffragette Story:
Academy Award nominees Carey Mulligan and Helena Bonham Carter, and three-time Academy Award winner Meryl Streep, lead the cast of a powerful drama about the women who were willing to lose everything in their fight for equality in early-20th-century Britain. The stirring story centers on Maud (played by Carey Mulligan), a working wife and mother whose life is forever changed when she is secretly recruited to join the U.K.'s growing suffragette movement. Galvanized by the outlaw fugitive Emmeline Pankhurst (Meryl Streep), Maud becomes an activist for the cause alongside women from all walks of life. When increasingly aggressive police action forces Maud and her dedicated fellow suffragettes underground, they engage in a dangerous game of cat-and-mouse with the authorities, who are shocked as the women's civil disobedience escalates and sparks debate across the nation. Inspired by true events, SUFFRAGETTE is a moving drama exploring the passion and heartbreak of those who risked all they had for women's right to vote – their jobs, their homes, their children, and even their lives. The film also stars Brendan Gleeson, Anne-Marie Duff, Ben Whishaw, Romola Garai, and Natalie Press. Produced by Academy Award nominee Alison Owen and Golden Globe Award nominee Faye Ward, SUFFRAGETTE is directed by BAFTA Award winner Sarah Gavron from an original screenplay by Emmy Award winner Abi Morgan.
Director: Sarah Gavron ("Brick Lane," "This Little Life")
Writer: Abi Morgan ("The Iron Lady," "The Hour")
Cast: Carey Mulligan, Helena Bonham Carter, Brendan Gleeson, Anne-Marie Duff, Ben Whishaw, Romola Garai, Natalie Press, Meryl Streep
For more information please visit: http://www.focusfeatures.com/suffragette