Introducing a book that will inspire, uplift, and remind you of the incredible power of a single individual. "They Stood Alone!: 25 Men and Women Who Made a Difference" by Sandra McLeod Humphrey is a captivating collection of true stories that will leave you in awe of the human spirit.
In this extraordinary book, Humphrey takes us on a journey through history, showcasing the lives of 25 remarkable individuals who defied the odds and stood up for what they believed in. From courageous activists to visionary leaders, each story is a testament to the immense impact one person can have on the world.
Prepare to be inspired as you delve into the lives of these incredible men and women. Discover the unyielding determination of Rosa Parks, whose refusal to give up her seat sparked a revolution. Learn about the unwavering perseverance of Mahatma Gandhi, who led India to independence through nonviolent resistance. Explore the brilliance of Marie Curie, who shattered gender barriers in science and became the first woman to win a Nobel Prize. These are just a few of the trailblazers whose stories will ignite your imagination and ignite the fire within you.
In "They Stood Alone!", Sandra McLeod Humphrey beautifully weaves together history, biography, and inspiration, presenting each story with care and respect. With her engaging storytelling style, she captures the essence of each individual, their struggles, triumphs, and the lasting impact they made on the world. Through these captivating narratives, you will find yourself immersed in the spirit of these extraordinary men and women, feeling their passion and determination leap off the pages.
"They Stood Alone!" is a book for all ages, as it teaches invaluable lessons of courage, resilience, and the power of one. Whether you are a student, a history enthusiast, or simply someone searching for inspiration, this book is a must-read. Its tales of bravery and selflessness will remind you that each of us possesses the ability to make a difference, no matter our background or circumstances.
So, join Sandra McLeod Humphrey on this captivating journey through history. Allow the stories of these 25 exceptional individuals to ignite your own passions and awaken your inner hero. "They Stood Alone!" is a testament to the power of the human spirit and a call to action for each of us to stand up and make our mark on the world.
Don't miss out on this extraordinary book. Get your copy of "They Stood Alone!: 25 Men and Women Who Made a Difference" today and be inspired to change the world.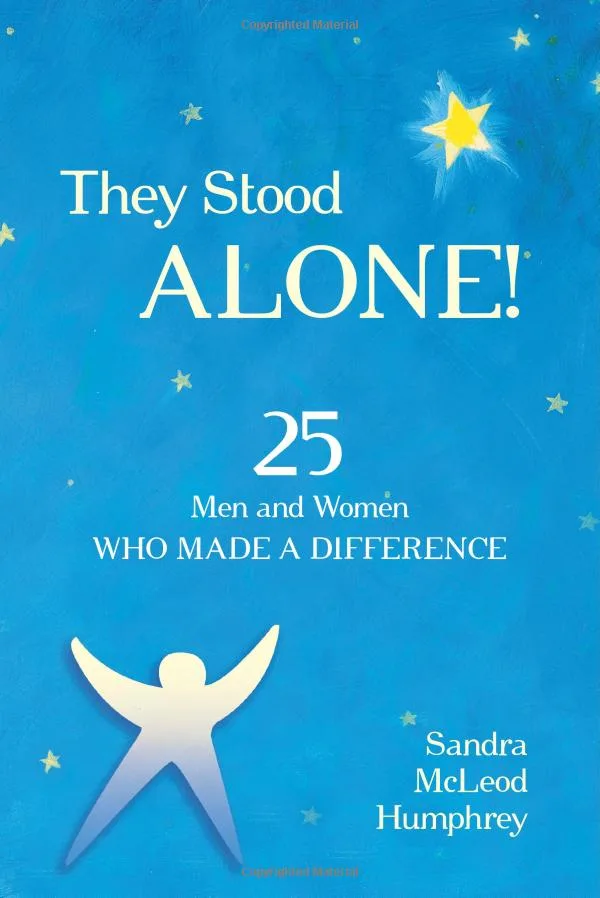 Our They Stood Alone Book Review
Don't you love a book that appeals to the whole family, offers adventure, and provides education? This is exactly what we discovered in They Stood Alone! 25 Men and Women WHO MADE A DIFFERENCE by Sandra McLeod Humphrey. This book wowed from Li'l Man (he's six) to my 85-year-old grandmother!
I believe every parent, at one time or another, stresses to their children that they truly can become and do anything they want in life. At our house, I share that it takes only 20 seconds of courage to stand up for what you believe is right, and the outcome might surprise them–it might even change the world. This book takes that lesson and proves it over and over–twenty-five times. I love that!
We enjoyed this book as a family. My husband appreciated the historical accuracy, and I loved how the people seemed to come to life as we read each sentence. It spawned conversation at bedtime, it sparked individual research.
One of the things that was really well done is the people highlighted here are all diverse…different backgrounds, different races, different accomplishments. My children were each inspired by someone different, and all are outstanding people to deem heroes.
We initially read this book word for word. We started with the title, which disclosed the person the story was about and read the facts. Then one night, we changed things up. I read the story, but didn't share the person. It made for an adventure as everyone started guessing the person. While many of my children had never heard of, many they were able to guess correctly like Christopher Columbus, Rosa Parks, Leonardo Di Vinici and Amelia Earhart. It made it even more fun.
Regardless of your age or education, this book is filled with incredible people who stood up for what they believed to be right. It's well worth the read. We're reading it for the second time and enjoying the opportunity to share what we each learned independently since the initial read!
About The Book (from the publisher):
Imagine…
Imagine this: For centuries everyone has believed that the sun and all the planets revolve around the earth. But by studying the old books and observing the heavens, you have concluded that the earth and all the other planets revolve around the sun. Your theory is so radical that you are hesitant to tell others about it. Your name is Nicolaus Copernicus. Although at first your beliefs are denounced and ridiculed, your observations are eventually proved correct. In time, you come to be called the founding father of modern astronomy.
Or imagine this: It's the early 19th century, and women have few legal rights. Married women can't own property, their wages belong to their husbands, and they don't even have the right of guardianship over their children. You know the laws are unfair, but as a young woman yourself, what can you do? Your name is Elizabeth Cady Stanton. You spend your life fighting for women's rights, and later many give you credit for being the architect and founder of the Women's Rights Movement.
Nicolaus Copernicus and Elizabeth Cady Stanton are just two of the twenty-five extraordinary men and women you will have a chance to meet in this inspiring book that explores and celebrates people who had the courage to follow their convictions, even when everyone around them said they were wrong. They were people of vision who saw life from a new perspective and were willing to question conventional wisdom. And their revolutionary breakthroughs changed and shaped the course of history.
Author Sandra McLeod Humphrey invites you to have the courage to stand alone too, hold on to your dreams, and follow your heart wherever it may lead. Like the twenty-five pioneers who lived before you, you too may someday make a difference!
Pick up your copy of They Stood Alone through Amazon.com or make it special with an autographed copy through kidscandoit.com.
**I received a copy of this book in order to facilitate an honest review. The opinions where expressed are my own and were in no way influenced by the sponsor. Others experiences may vary.