At our house holidays are paramount. The Divine Miss M loves them all! This year she is excited about St. Patty's Day since she found out both Mom and Dad have Irish roots. While the festivities primarily are home-based with a visit from mischievous Leprechauns, her Irish Pride will be on display Saturday, March 17 from head to toe.
After searching for St. Patrick's Day Costumes she found one that shows just how proud she is of those Irish roots.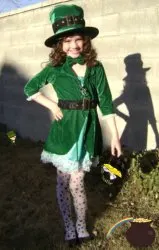 The costume was beyond our expectations when we put it on. It comes with the dress with has a layered look: a soft emerald green velour jacket with a crisscrossed front that overlaps a mint green silky dress accented with white lacy ruffles. A black "velvet" belt pulls it all together at the waist. The costume is complimented with a Green Velcro bow-tie and a fabric pot of gold that reads, "Li'l Irish Cutie" and a tall green "Leprechaun" hat.
While the entire ensemble is fun and truly a celebration of all things St. Patrick, we discovered just how versatile this costume really is.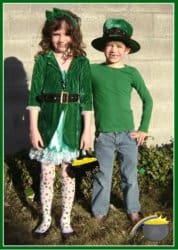 Li'l Man was feeling left out a wee bit, so we swapped the velcro bow tie out and used it as a headband, giving Li'l Man the Leprechaun hat. It was just as adorable and gave her a partner to accessorize with perfectly!
The costume was great for pictures and has added to the excitement of the celebration on March 17!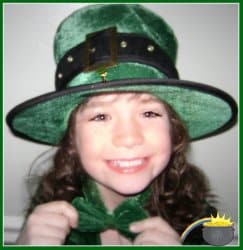 This costume offers versatility, fun and will make the celebration one that will make anyone proud to be Irish–if even only for the day! Visit Costume Super Center and discover the Leprechaun in you!
*I received the Leprechaun Girl costume through Costume Super Center in order to facilitate an honest review. The opinions, where expressed, are my own and were in no way influenced by the sponsor. Others experiences may vary.