Owning a Jeep Wrangler isn't simply about transportation. It's about a way of life. Something about a Jeep makes you feel free, adventurous, and full of vigor. Some automotive experts, like Reviewer Touch, will tell you that the passion for a Jeep can be found in almost all car lovers. The rugged, classic design and its power to take you anywhere on or off-road is enough the tempt anyone to take the plunge into the Jeep way of life.
The same can be said of its add-on features. You can do almost anything with a Jeep. There are no limits to the installs. It's just a matter of what you want to spend. You can add big mud-going tires (mudders), roof racks, LED lamps, winches, and even popup tents for your weekend adventures in the woods. There's no end to the interior add-ons either. From pistol holsters to robust GPS systems, custom leather seats, and powerful stereo systems, you can make your Jeep your favorite place on earth when not working and sleeping.
But if you're going to invest in a great-sounding stereo system for your Jeep, you'll want to go with only the best. Just a simple online search can lead you to a large variety of stores specializing in 4X4s, trucks, cars, minivans, and just about anything that rides on the road. From Jeep Wrangler stereo speakers available at Amazon to car stereos from CarToys.com, you should have no problem finding the perfect sweet-sounding stereo speakers for your pride and joy, Jeep Wrangler.
Here are 3 of the best speakers available on the automotive market today.
Rockford Fosgate 2-Way Coaxial Speaker System
Says Reviewertouch.com; if you're a Jeep lover, you may never have heard of this product since it might be better associated with a high-end automotive speaker. But if you're in the market for a primo Jeep Wrangler stereo speaker, nothing is said to beat the Fosgate. The Rockford Fosgate Prime r1675X2 Prime 6.75-Inch Full Range 2-Way Coaxial Speaker is rated at 45 watts Root Mean Square (RMS), and it is specially engineered as a brand new generation of factory replacement speakers for most Jeep Wranglers.
Consisting of two speakers and front grilles, the kit features integrated high-pass crossover and associated mounting hardware. The speaker consists of a vacuum polypropylene cone with a rubber surround, plus a silk dome flush mounted tweeter crossover.
Technical specs aside, these speakers are said to boast unimaginable sound quality that will keep you rocking even while negotiating some of the roughest off-road terrains. The speaker system is also said to be relatively affordable.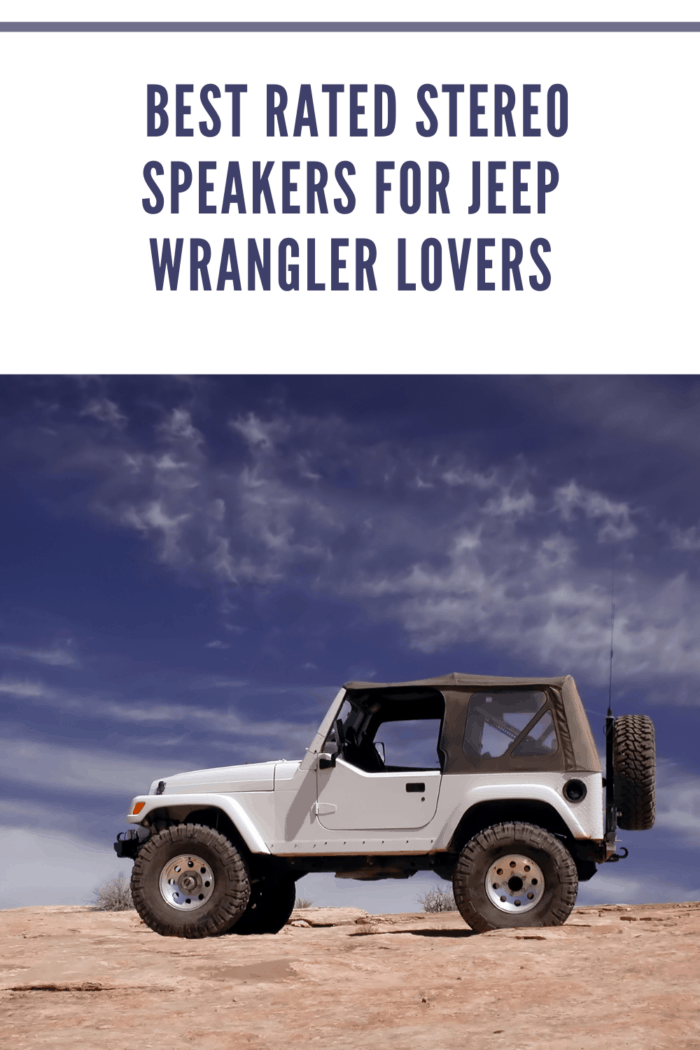 Jeep Wrangler Mopar JK Kicker Speaker
The JK Kicker Speaker is specially designed for Jeep Wranglers, as are all Mopar parts. This is said to be an exclusive audio system upgrade. It is also easy to install since the speakers can fit the existing Jeep wiring. As for the sound performance? It is excellent, if not outstanding, in terms of clarity and bass bottom.
The kit comes with a pair of speakers for both the right and left sides. Or they can be used as front and back speakers. They are designed for both the two-door and four-door Jeep Wrangler models. Each speaker weighs in at a rugged 6 pounds and measures 6.5 inches. It can handle 150 Watts RMS with 75 Watt continuous power handling at peak power.
The Mopar JK Kicker speaker system is said to be a huge upgrade from the original equipment manufacturer (OEM) speakers.
Pioneer TS-A1686R 4-Way Speaker System
Pioneer has been in the business of designing and manufacturing some of the best automotive stereo and speaker systems for decades. The Pioneer TS A1686R is said to be no exception. Designed to make your Jeep sound better than a live concert in one of the world's best concert halls, the Pioneer speakers feature a 6.5 multilayer mica matrix woofer outfitted with an elastic and rugged polymer surround that won't fail due to excessive heat, cold, or moisture. In other words, if you're driving your Jeep Wrangler through a stream in the Amazon Jungle, don't worry about your Pioneer speakers getting ruined.
The Pioneer kit contains two 4-way speakers and grilles, eight-speed clips, two foam rubber gaskets, an online registration form, etc. It can also handle a whopping 350 Watts RMS. Although they only come in black, at 4.6 pounds apiece, these Jeep Wrangler speakers are said to be both lightweight and highly durable.
Its state-of-the-art technology makes for an efficient speaker that can blast high clarity tunes for your next Jeep adventure, be it a trip to the local mega-mart or a week-long trek across the Sahara.