Camping. I'm not certain why I love it, but I do. We pack the car, drive hours to a remote area. We unpack the tent, which is usually a reminder of how hurried we were to leave last time, and set up camp.
The children gather firewood for a fire so we can cook dinner. They think it tastes amazing while camping, but if I serve the same meal at home, cooked by the modern-day convenience of a stove, they whine and turn their nose up.
We've camped a lot. We have stories to tell and places to remember.
Sometimes we have gone with other people. We've watched as people have set up tents big enough for a village and others who clearly borrowed the tent they are using and have no idea how to set it up. We like the tent set up to be easy–it's supposed to be part of the fun.
We partnered with Tribe to review their Provisions Adventure Tent II. It's a tent, that once you find out what it entails, you'll be camping more often. It's easy to set up and take down and might be the answer to making camping for everyone.
Let's find a spot to show you: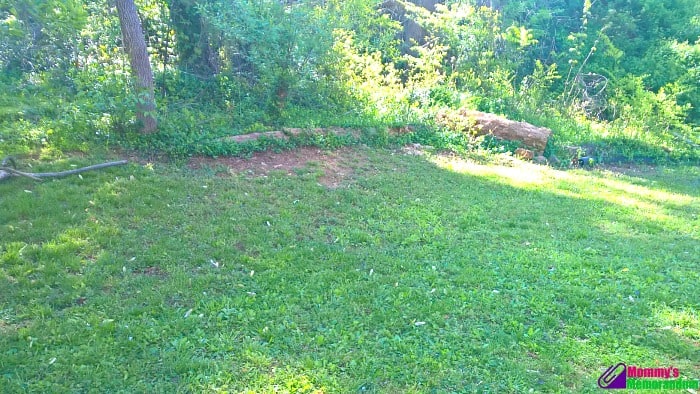 What you need to know about the Tribe Provisions Adventure II tent is that it weighs just five pounds. That makes it worthy of a backpacking adventure, but it also works for just camping if you like to pull the car up and set up the house.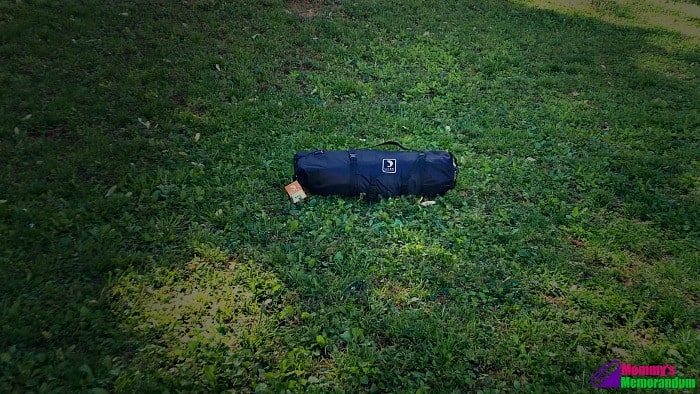 One of the great things about the Tribe Provisions Adventure Tent II is how compact it is. It includes a carrying bag that has built-in sections for tent stakes and poles, so they don't get lost, which trust me, is important. There is nothing like being six hours in the middle of nothing and realizing that little bag with the tent poles is sitting at home in your garage somewhere.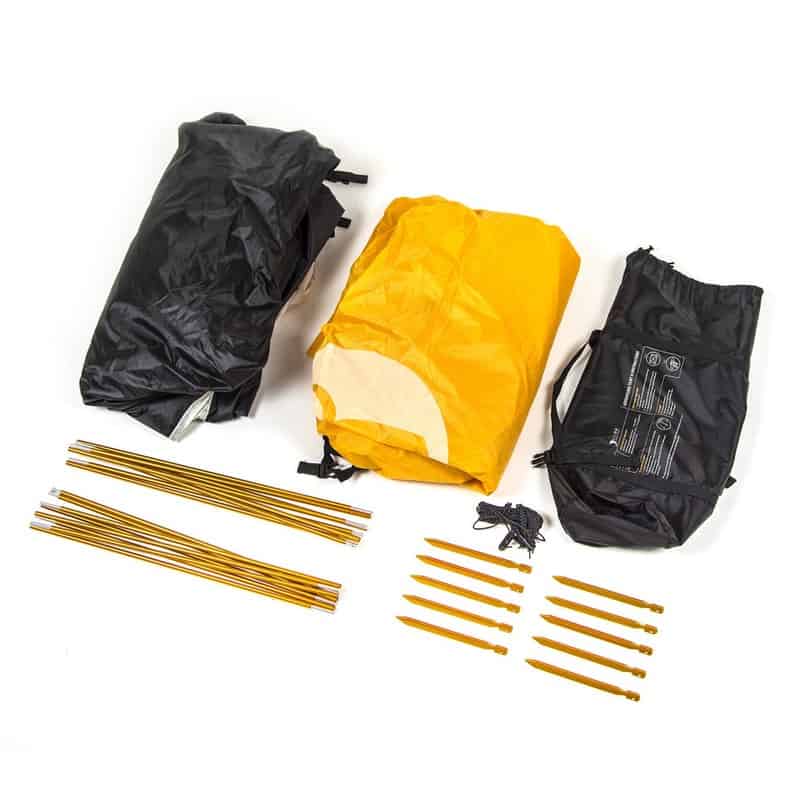 Here's what's included with the Tribe Provisions Adventure Tent II:
8′ x 4.5′ tent
Rain Fly
2 Poles
8 aluminum tent stakes
guy rope
storage bag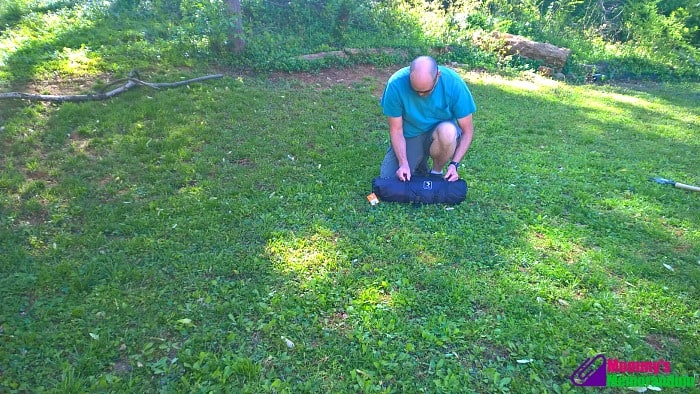 It's all contained in a bag about the size of a fold-up camping chair. It has a drawstring on one end to cinch the tent and contents inside. A unique feature is the tent bag has buckles on the outside where you can cinch down more, or attach items to it.
There is a Velcro and buckle pocket on the outside where you will find eight stakes, guy ropes, and a repair kit.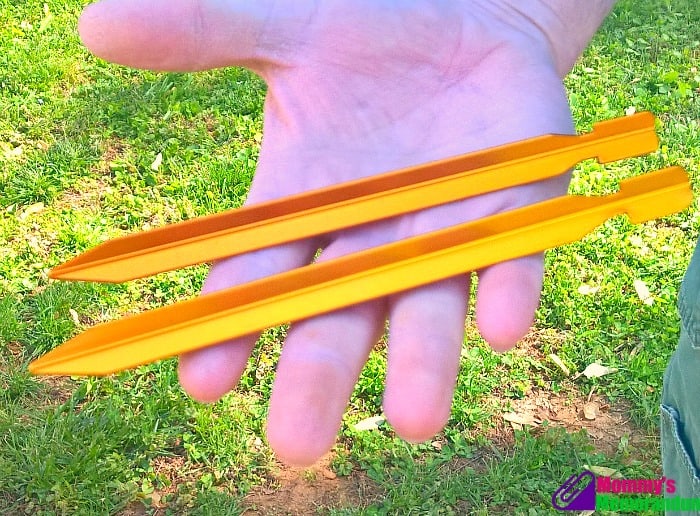 The tent comes with eight aluminum stakes. Each stake weighs 14 grams. They are extremely lightweight!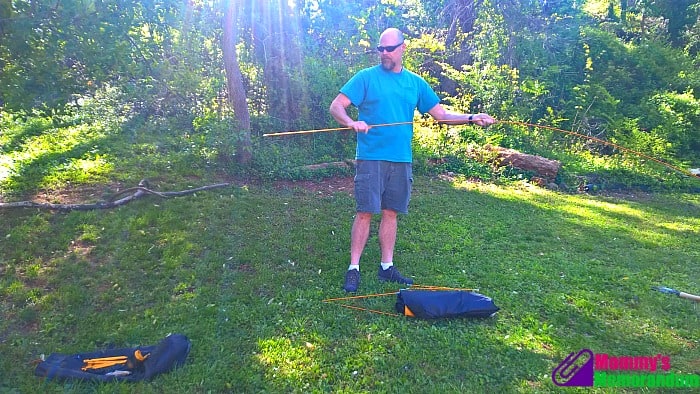 There are two poles included, making set up a snap.They are stored inside the bag in a dedicated pocket where you don't have to worry about them snagging on the tent. The poles lengthen by gently lifting and connecting to the pole segment before it.
The poles lengthen by gently lifting and connecting to the pole segment before it.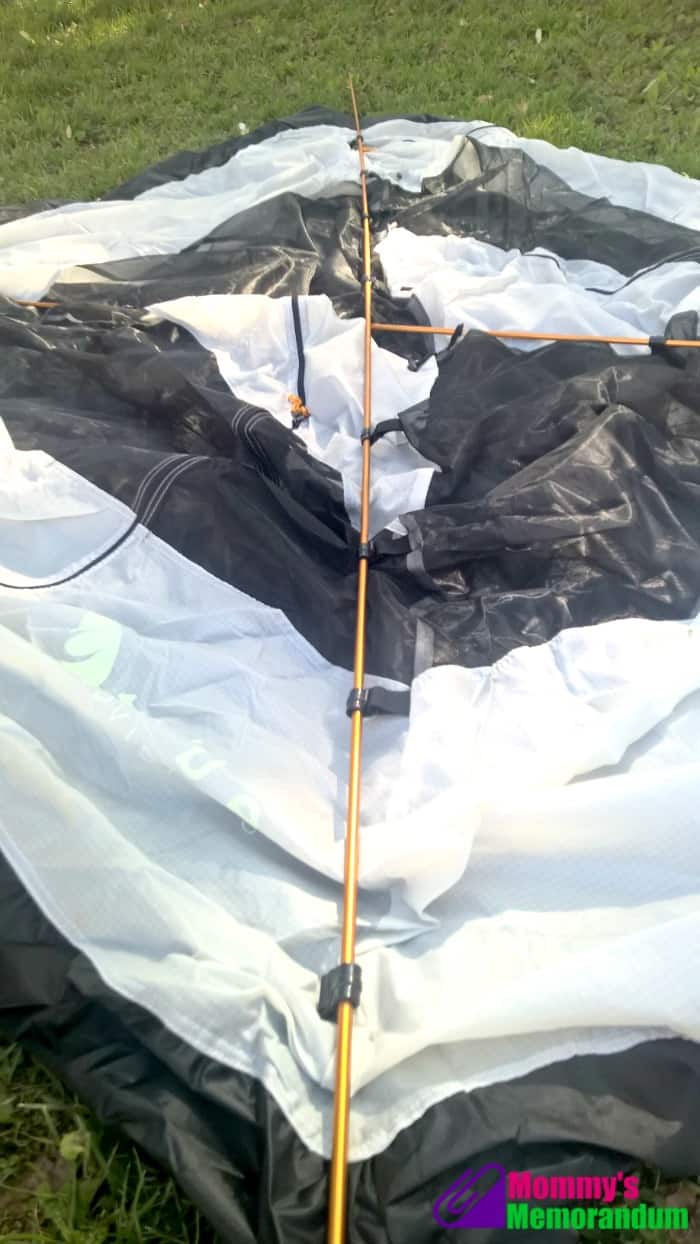 Once you have the two poles snapped together, we laid them in a criss-cross on top of the tent and snapped them in place with the attached clips.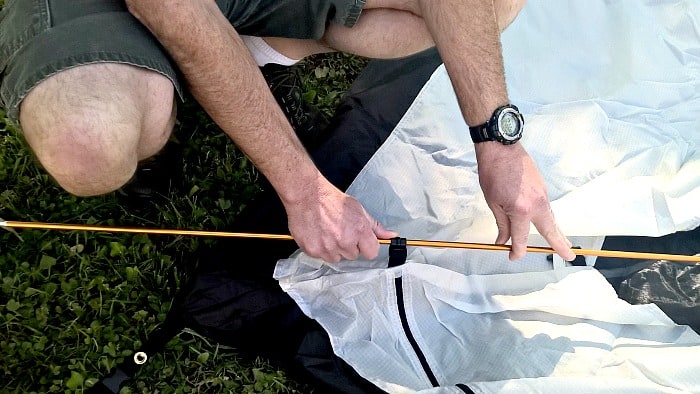 Once the poles are locked into place, they slide into a rivet at the four corners.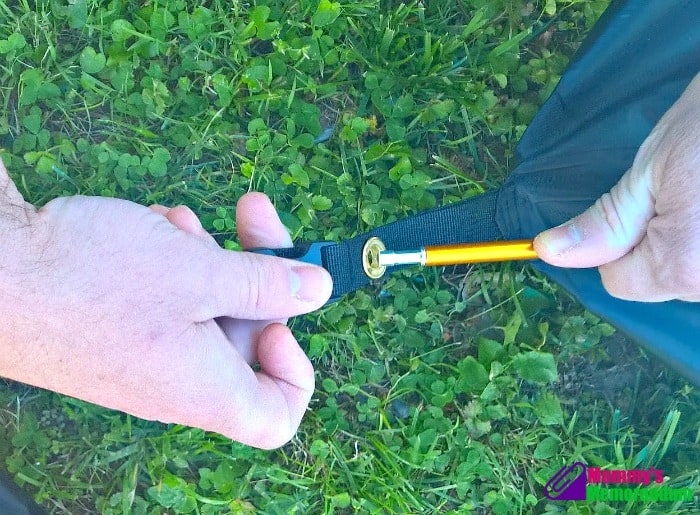 It took less than five minutes to set up, which means my 10-year old can set it up on his own.
Assembled the tent is built for two people. My husband is 6'2″ to give you an idea of its size–roughly 50″x84″x43″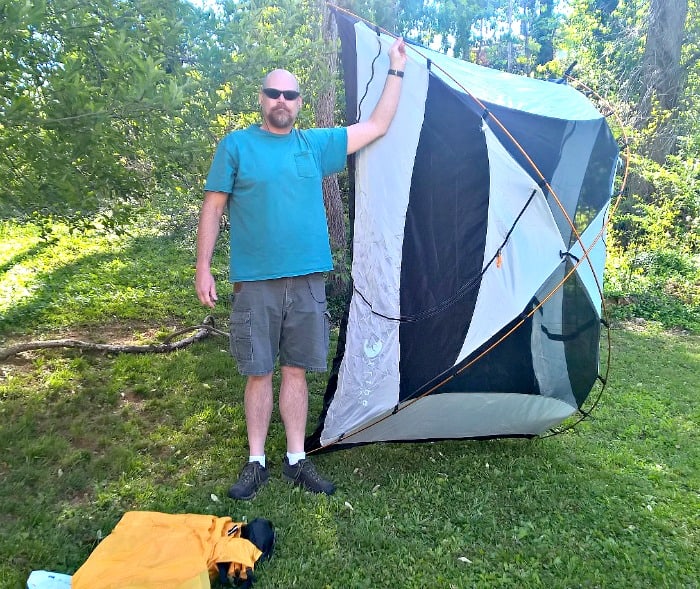 It's even stylish and attractive to look at.
We've gone camping a couple of times where the ground has been wet. The Tribe Provisions Adventure Tent II has a six-inch border around the edge of the tent, made from 210 D Oxford Polyester, that is waterproof. This keeps the water out so your bedding and you stay dry.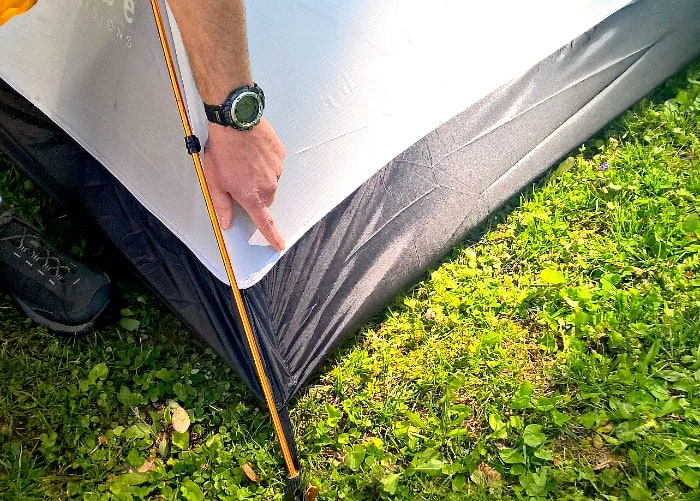 One of the smartest features of this tent is that it features dual doors. One on each side. They run about 2/3 the length of the tent. I love that there is no climbing over gear and people to get in or out of the tent. We did experience the zipper catching a couple of times, but nothing that detracts from the quality or performance of this tent.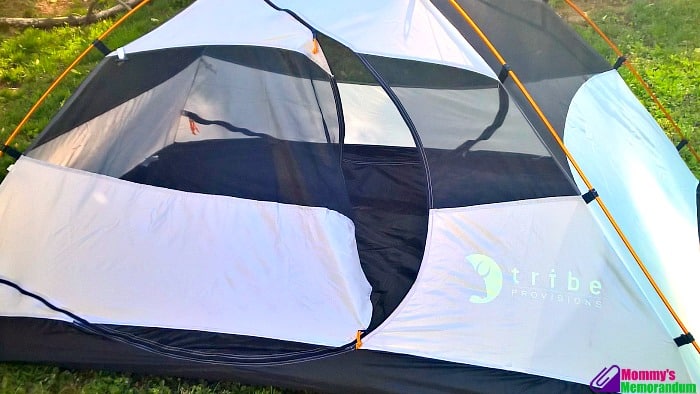 Inside the tent, there are two side pockets, a hook, and a ceiling pocket to keep small items out-of-the-way and easy to find. We will use the hook to hang a small lantern.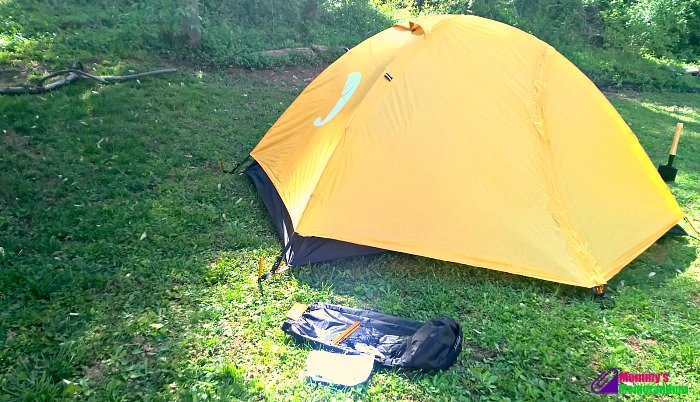 The Tribe Provisions Adventure Tent II also includes a rain fly made of 210T RS Polyester. It has an overhang that allows you to get in and out of the tent without getting gear wet. It features vents to keep the air circulating inside the tent so it doesn't get stuffy.
The Rain Fly is easy to install, we placed it over the tent, and then snapped it into place with locking clips.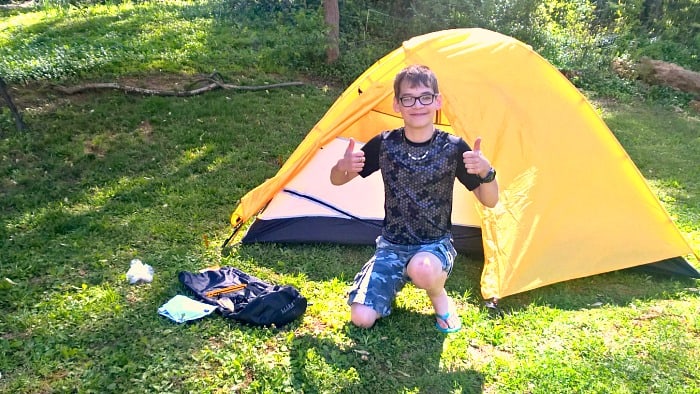 We all need a return to nature now and then. We need a break from our routines, a way to reset the clock. For my family, that time is sitting around a campfire under a clear sky, gazing up the stars and relaxing to the sounds that soothe us to sleep. It restores our spirits and when it's time to pack up, we all know we'll be back, perhaps not to this location, but out here, where our busy life fades and we call home, our tent.