Our house seems to have a rotating door for guests and a spare bed is something we pull out often. Whether it's family stopping by on their way to Florida or Pennsylvania or just random kiddos my children seem to bring home, having an extra bed is something we have struggled with making work.
Our own family occupies the rooms in our home and belongings seem to be spread wall to wall to accommodate passions and toy collections. Guests on the couch don't permit a great deal of privacy and we discovered storing a fold-up cot takes up a lot of space. The fine folks at
Corda-Roy's
sent us a full-size bed to review and share our experience in their
extra bed
option. Hold on to your hostess hats because it's a pretty amazing option.
When the box arrived it was smaller than expected.
With some gentle coaxing, we freed the Cordroy.
It came together easily and looks like this: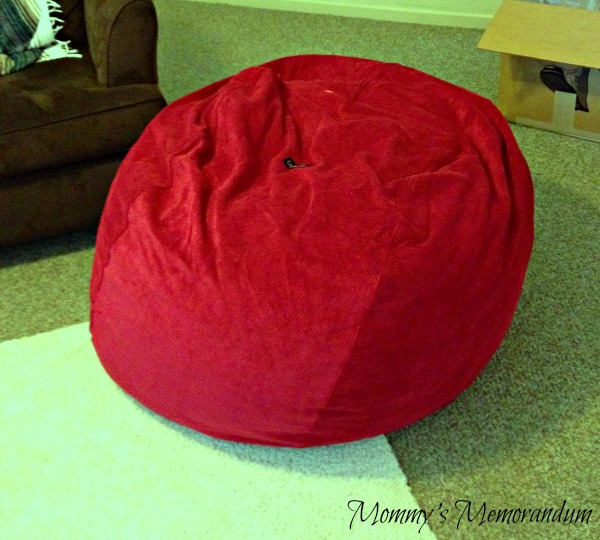 After 24 hours of "resting" it fills out to this: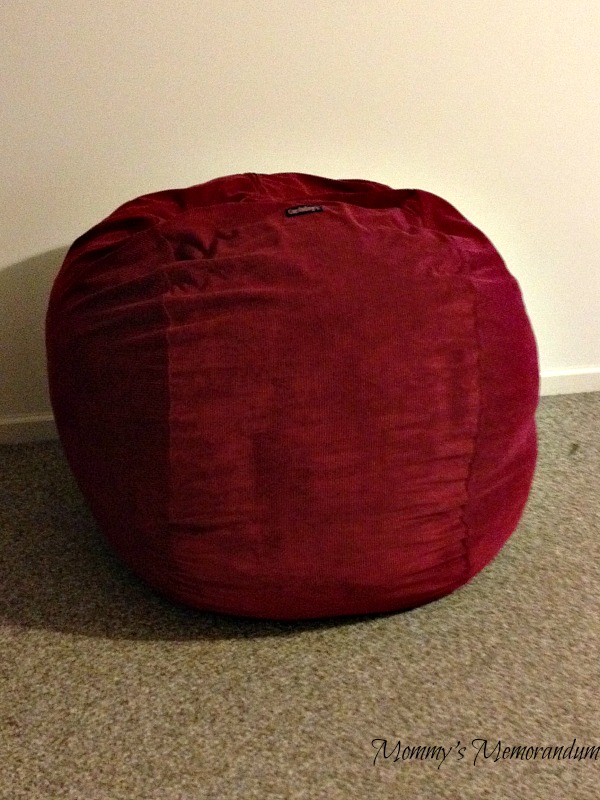 Sure, by all accounts, I'd call it a bean bag too.
Unlike those retro bean bags with the messy polystyrene beads and that cover that stuck to you instantly and squeaked and squawked with every move, Corda-Roy's bean bag is the most comfortable bean bag chair you'll ever own.
There's memory foam inside this bean bag.
Pick a room and find a Corda-Roy to match with 19 versatile colors and a variety of fabrics–ours is the wine corduroy.
It's great quality for a bean bag with sturdy double-stitched seamed cotton corduroy material.
It's a simple concept, but the wow doesn't end with just being the most comfortable bean bag, Corda-Roy's is also a bed–and it comes with a lifetime warranty.
Simply unzip the bean bag and pull back the cover and you're on your way to a great night's sleep.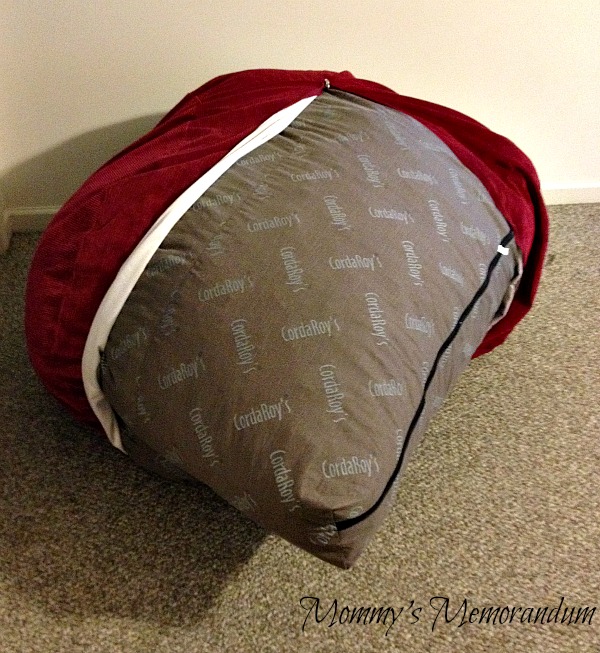 Corda-Roy's has been making these comfortable chairs/beds since 1998.
I was impressed by the quality.
The cover is a water-resistant cotton/poly liner.
It's actually made from three separate, and all replaceable, parts.
Once you have the inside of the chair out you've discovered the real gem!
Turn it a couple times and ta-da!
You have a luxurious mattress.
Ours is full size.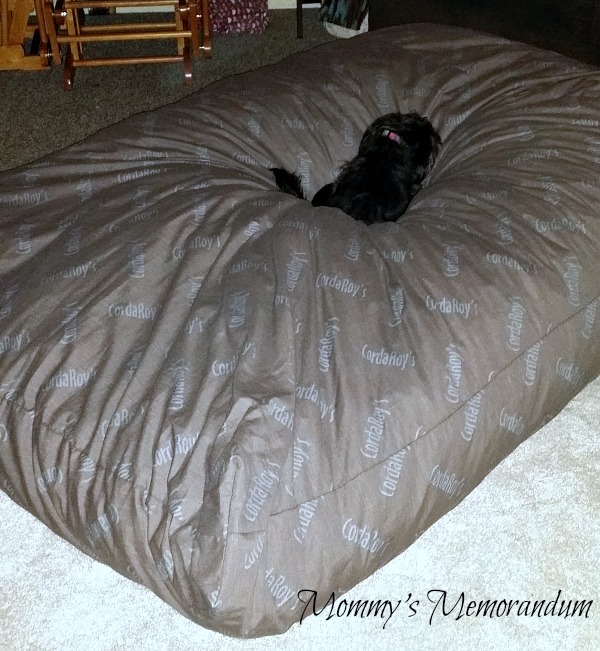 As you can see our dog,
Bailey Mae
, thinks this bed is hers.
In fact, as soon as she hears the zipper she comes running to claim it.
It must be common among pet owners as Corda-Roy's offers a Pet Bed as well.
The mattress inside is not skimpy.
Our measures a full 72″ long x 60″ wide x 8-10″ High.
Inside the mattress is soft, shredded polyurethane foam filling that holds its shape and offers incredible sleeping comfort.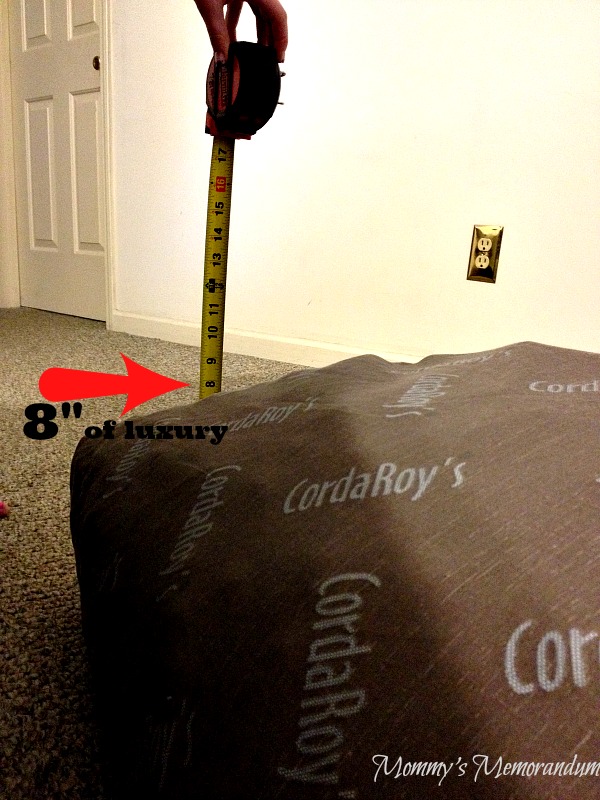 The picture above shows the mattress right out of the bean bag. It's a whopping 8″ thick!
We have seen it up to 10″, but this requires it to "rest" and at our house, we have someone on it–I think this is supporting the rule that 90% of possession is ownership!
The mattress works with any sheet set, making it truly convenient.
Putting it away takes moments. Fold the mattress like a taco and put it back in the bean bag.
Watch the CordaRoy video below to see just how easy and convenient the product is:
While our is perfect for use in full size, Corda-Roy's offers a variety of sizes: Twin, Full, King, Queen, Kids 2-seater and even sofas!
The bean bag cover is machine washable so keeping it fresh and clean for a company or everyday use is a cinch.
As the mom to many and being part of an extended family, I can tell you that CordaRoy's is the only guest bed that truly makes sense.
There is no "huffing and puffing" to blow up an air mattress…or trying to figure out where to stash the inflatable beast during the few days stay so it's out of way, but still accessible to your guests.
There's no worrying about punctures that deflate slowly/quickly.
No storage to take up precious closet or attic space and no need to shuffle beds when guests arrive.
It's a casual chair that offers support and comfort, that conveniently transforms into an extra bed–may be the MOST comfortable bed in the house!
CordaRoy's is perfect as a guest bed, for children going away to college, vacation homes, and everyday use.
Learn more about Corda-Roy's Bean Bag Chairs at
http://www.cordaroys.com/