Introducing the Ultimate in Comfort and Versatility: CordaRoy's Convertible Bean Bag Chair!
Are you tired of settling for ordinary furniture that lacks excitement and flexibility? Look no further! CordaRoy's has revolutionized relaxation with our Convertible Bean Bag Chair, the perfect combination of style, comfort, and functionality.
Imagine sinking into the softest, most luxurious bean bag chair you've ever experienced. Their premium materials and expert craftsmanship ensure unparalleled coziness, making it the ideal spot for lounging, reading, gaming, or simply unwinding after a long day.
But what sets CordaRoy's Convertible Bean Bag Chair apart from the rest is the ingenious design that effortlessly transforms it into a full-size bed! Yes, you heard that right – with a simple, easy-to-use system, your cozy chair converts into a spacious mattress in a matter of seconds. Perfect for unexpected guests, slumber parties, or a quick nap when you need it most.
No more hassle of dragging out bulky air mattresses or wrestling with clunky sofa beds. CordaRoy's Convertible Bean Bag Chair is the epitome of convenience. It's like having two furniture pieces in one, providing the ultimate space-saving solution without compromising on comfort.
Our convertible bean bag chairs come in a range of stylish colors and fabrics, ensuring that they seamlessly blend with any interior decor. Whether you prefer plush velvets, durable twills, or luxurious faux fur, CordaRoy's has the perfect option to match your taste and elevate your space.
Rest assured, quality is their utmost priority. Each CordaRoy's Convertible Bean Bag Chair is handcrafted with love and backed by our commitment to excellence. We use only the finest materials, ensuring durability and longevity that will withstand the test of time.
Discover the joy of versatility and relaxation like never before with CordaRoy's Convertible Bean Bag Chair. Don't settle for ordinary furniture when you can have extraordinary comfort and style at your fingertips.
Visit the Cordaroy website or visit one of their authorized retailers to experience the revolution of comfort today! CordaRoy's – Making life more comfortable, one bean bag chair at a time.
CordaRoy's BeanBag to Bed Review
Our house seems to have a rotating door for guests, and a spare bed is something we pull out often. Whether it's family stopping by on their way to Florida or Pennsylvania or just random kiddos my children seem to bring home, having an extra bed is something we have struggled with doing work.
Our family occupies our home's rooms, and belongings seem to be spread wall to wall to accommodate passions and toy collections. Guests on the couch don't permit a great deal of privacy and we discovered storing a fold-up cot takes up a lot of space. The fine folks at
CordaRoy's
sent us a full-size bed to review and share our experience in their
extra bed
option. Hold on to your hostess hats because it's a pretty amazing option.
When the box arrived, it was smaller than expected.
With some gentle coaxing, we freed the Cordaroy.
It came together easily and looks like this: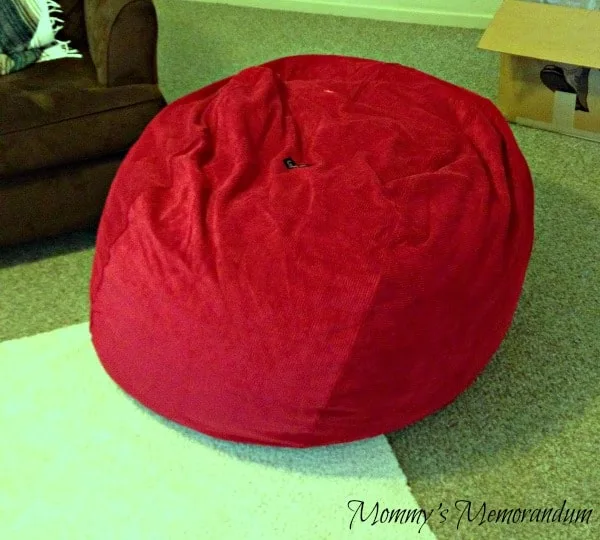 After 24 hours of "resting" it fills out to this: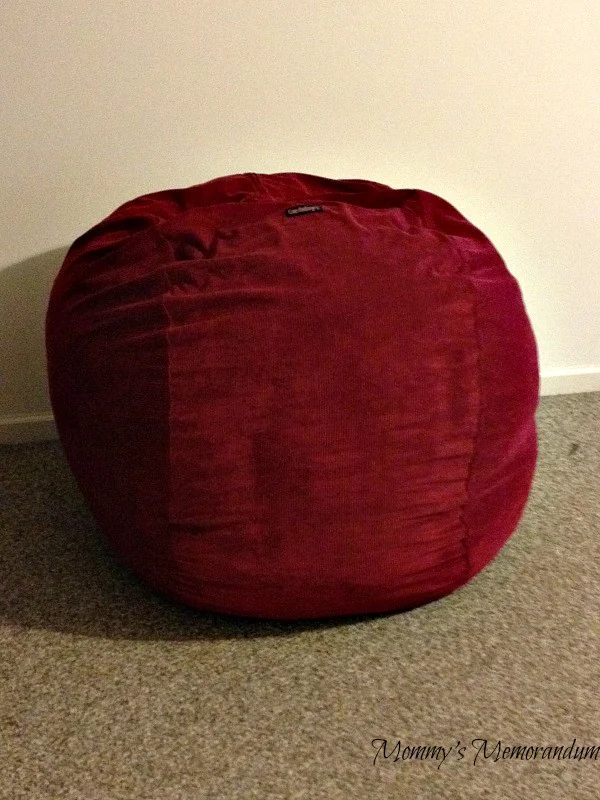 Sure, by all accounts, I'd call it a bean bag too.
Unlike those retro bean bags with the messy
polystyrene beads
and that cover that stuck to you instantly and squeaked and squawked with every move, Corda-Roy's bean bag is the most comfortable bean bag chair you'll ever own.
There's memory foam inside this bean bag.
Pick a room and find a Corda-Roy to match with 19 versatile colors and a variety of fabrics–ours is the wine corduroy.
It's great quality for a bean bag with sturdy double-stitched seamed cotton corduroy material.
It's a simple concept, but the wow doesn't end with just being the most comfortable bean bag, CordaaRoy's is also a bed–and it comes with a lifetime warranty.
Simply unzip the bean bag and pull back the cover and you're on your way to a great night's sleep.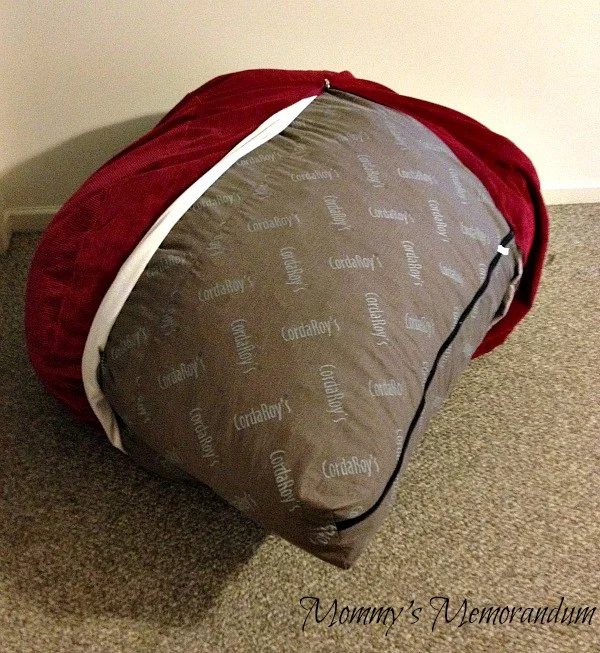 CordaRoy's has been making these comfortable chairs/beds since 1998.
I was impressed by the quality.
The cover is a water-resistant cotton/poly liner.
It's actually made from three separate, and all replaceable, parts.
Once you have the inside of the chair out you've discovered the real gem!
Turn it a couple of times and ta-da!
You have a luxurious mattress.
Ours is full size.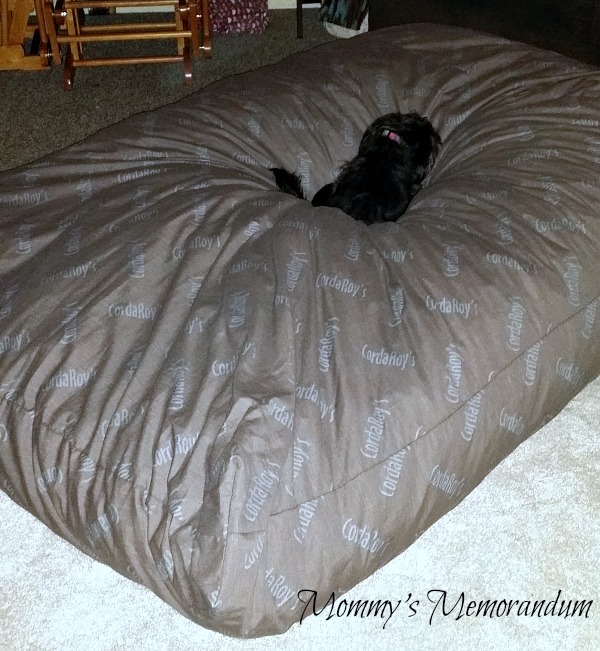 As you can see, our dog,
Bailey Mae
, thinks this bed is hers.
In fact, as soon as she hears the zipper she comes running to claim it.
It must be common among pet owners as Corda-Roy's also offers a Pet Bed.
The mattress inside is not skimpy.
Our measures a full 72″ long x 60″ wide x 8-10″ High.
Inside the mattress is soft, shredded polyurethane foam filling that holds its shape and offers incredible sleeping comfort.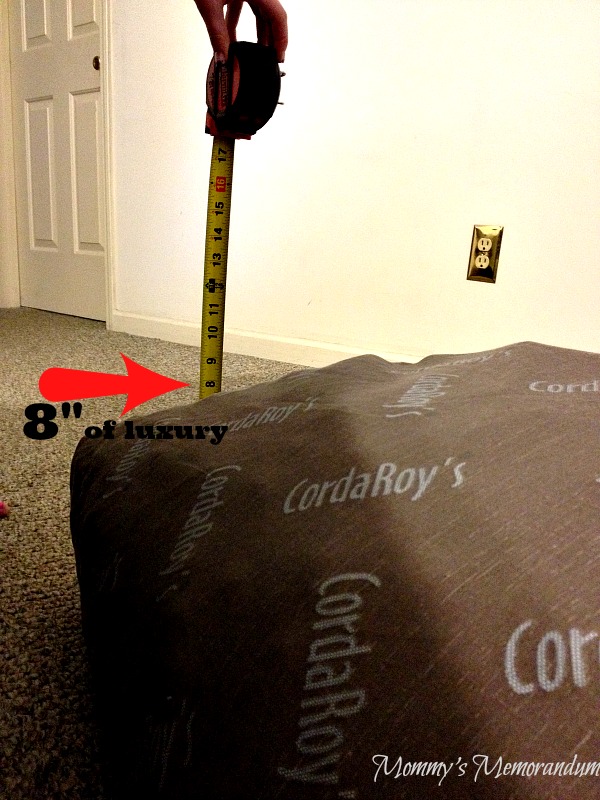 The picture above shows the mattress right out of the bean bag. It's a whopping 8″ thick!
We have seen it up to 10″, but this requires it to "rest," and at our house, we have someone on it–I think this is supporting the rule that 90% of possession is ownership!
The mattress works with any sheet set, making it truly convenient.
Putting it away takes moments. Fold the mattress like a taco and put it back in the bean bag.
Watch the CordaRoy video below to see just how easy and convenient the product is:
While our is perfect for use in full size, Corda-Roy's offers a variety of sizes: Twin, Full, King, Queen, Kids 2-seater and even sofas!
The bean bag cover is machine washable so keeping it fresh and clean for a company or everyday use is a cinch.
As the mom to many and being part of an extended family, I can tell you that CordaRoy's is the only guest bed that truly makes sense.
There is no "huffing and puffing" to blow up an air mattress…or trying to figure out where to stash the inflatable beast during the few days stay so it's out of way, but still accessible to your guests.
There's no worrying about punctures that deflate slowly/quickly.
No storage to take up precious closet or attic space and no need to shuffle beds when guests arrive.
It's a casual chair that offers support and comfort that conveniently transforms into an extra bed–may be the MOST comfortable bed in the house!
What Makes Cordaroy's Convertible Bean Bag a Must-Have?
CordaRoy's Convertible Bean Bag Chair is a must-have for several compelling reasons:
Unmatched Comfort: The level of comfort offered by CordaRoy's Convertible Bean Bag Chair is unparalleled. Sink into its plush, high-quality materials and experience a cozy, supportive embrace that will make you never want to leave. It's designed with relaxation in mind, providing a blissful seating or lounging experience.
Space-Saving Versatility: The convertible feature is what truly sets CordaRoy's apart from traditional furniture. With a simple, hassle-free conversion mechanism, it transforms from a comfortable chair into a spacious full-size bed. This dual functionality is perfect for optimizing space in small apartments, dorm rooms, or any area where flexibility is key.
Effortless Convenience: Say goodbye to cumbersome air mattresses and complicated sofa beds. CordaRoy's Convertible Bean Bag Chair offers an incredibly convenient solution. Whether you have surprise guests staying over or need an impromptu sleeping arrangement, the chair-to-bed conversion takes just seconds, making it incredibly easy to set up and put away.
Premium Quality Craftsmanship: CordaRoy's is renowned for its commitment to exceptional craftsmanship. Each Convertible Bean Bag Chair is meticulously handmade with attention to detail, ensuring the highest quality standards. From the sturdy inner foam to the durable, stylish outer fabric, every component is designed to withstand daily use and provide long-lasting comfort.
Stylish Designs to Suit Any Decor: CordaRoy's understands that style matters. Their Convertible Bean Bag Chairs come in a wide range of colors and fabric options, allowing you to select the perfect match for your existing decor. Whether you prefer a chic velvet finish, a timeless twill, or a luxurious faux fur, CordaRoy's covers you, ensuring that your furniture seamlessly blends with your style.
Customer Satisfaction and Trust: CordaRoy's has built a strong reputation for customer satisfaction. Countless happy customers have testified to the quality, comfort, and convenience of their Convertible Bean Bag Chairs. With a track record of delivering on their promises, CordaRoy's has earned the trust of furniture enthusiasts around the world.
Don't miss out on the opportunity to own a CordaRoy's Convertible Bean Bag Chair. It's the perfect combination of comfort, versatility, and style, making it a must-have addition to any living space. Upgrade your relaxation experience and embrace the convenience and luxury that CordaRoy's offers.
Final Thoughts:
CordaRoy's is perfect as a guest bed, for children going away to college, vacation homes, and everyday use.
Learn more about Corda-Roy's Bean Bag Chairs at
http://www.cordaroys.com/