We received a Solo: A Star Wars Story Family Game Night from Hasbro and Solo: A Star Wars Movie on Blu-Ray in exchange for this post. All opinions and our love for family game/movie night remain our own.
I remember watching the first Star Wars movie as a young girl. What I couldn't predict would be that my children would be super Star Wars fans. Our love affair with the Star Wars franchise continues with Solo: A Star Wars Story, now available on Digital HD, DVD and Blu-Ray 4K Ultra HD, and Blu-Ray.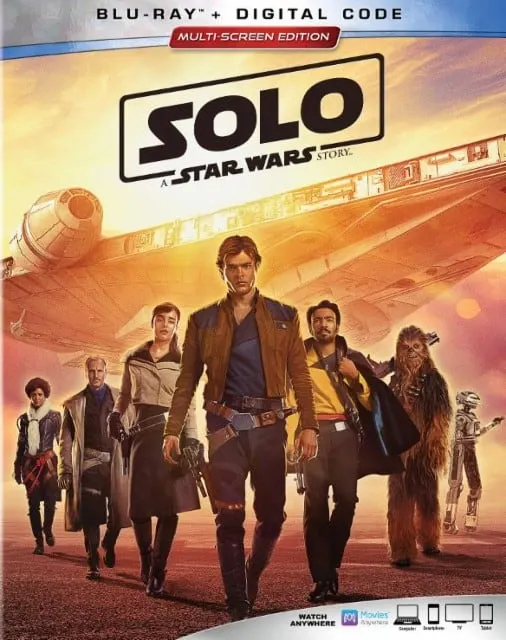 Let's start with the movie.
As someone who witnessed the unveiling of the very first Star Wars movie, I have found the prequels to be less than the originals. I think Solo: A Star Wars Movie changes this for me.
Perhaps it was the stand-alone aspect of the movie. It is a movie about a young Han Solo, revealing how he got his name and how he met the giant Wookie, Chewbacca (Joonas Suatamo), and Lando Calrissian (Donald Glover). It's years before he meets Luke and Leia and we gain insight into how the smuggler became captain of the Millennium Falcon.
Solo is probably one of my favorite Star Wars characters, and in spite of his inability to make morally good choices, this movie is touching with themes of teamwork, equal rights, communication, courage, and friendship.
Solo: A Star Wars Story bonus content takes fans behind the scenes to experience compelling discussions with the star-studded cast and screenwriters Jonathan Kasdan & Lawrence Kasdan (writer of Star Wars: The Empire Strikes Back and Star Wars: Return of the Jedi); a revealing feature on Chewie and his enduring friendship with Han; a close-up look at the original version of the Millennium Falcon and Han's first time piloting the infamous ship; the creation of the film's otherworldly settings and pulse-pounding action sequences; and eight never-before-seen deleted and extended scenes.
DIGITAL AND BLU-RAY BONUS MATERIAL (may vary by retailer):
Solo: The Director & Cast Roundtable
Sit down with director Ron Howard and the stars for an intimate and entertaining discussion of the film's making.
See what it takes to bring your favorite Wookiee to life in this lighthearted look behind the scenes.
Kasdan on Kasdan
Iconic Star Wars screenwriter Lawrence Kasdan and son Jonathan share what it was like to write the movie's script together.
Remaking the Millennium Falcon
Track the transformation of the most famous ship in the galaxy, from Lando's swank and impeccable pride and joy to Han's stripped-down hot-rod freighter with "special modifications."
Escape from Corellia
Get behind the wheel for the making of this high-octane chase through the streets of Corellia.
Explore the challenges and thrills of creating this action-packed sequence, including its remote location and spectacular effects.
Meet the newest droid—and the talented actor who helps bring her to life.
Scoundrels, Droids, Creatures, and Cards: Welcome to Fort Ypso
Take an in-depth tour of the rough-and-tumble bar where strangers mix and gamblers risk all in the legendary card game, Sabaac.
Into the Maelstrom: The Kessel Run
Join Han and Chewie at the controls of the Millennium Falcon to see how this legendary moment in Star Wars history unfolds.
We ended our night with an epic Solo: A Star Wars Story family game night.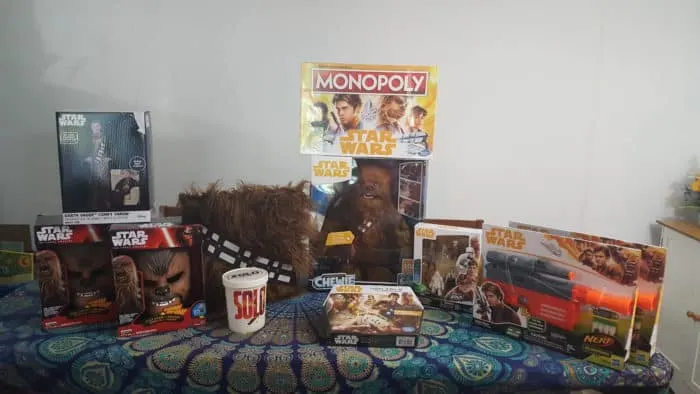 My husband now has a co-pilot. Meet The Star Wars Ultimate Co-Pilot CHEWIE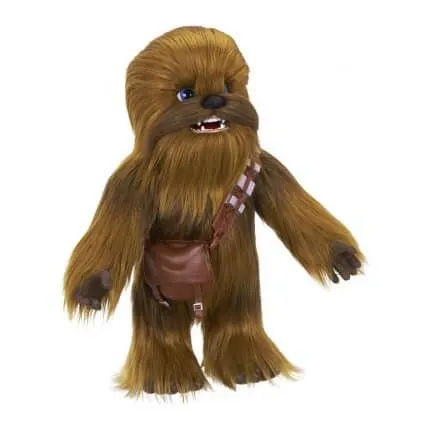 Is it Han and Chewbacca or Chewie and Han? Either way, this Ultimate Co-pilot Chewie Figure is sure to be your child's (or husband's) trusted companion in adventure.
The Chewie Co-Pilot is an interactive plush that features more than 100 sound-and-motion combinations.
He responds to the Wookiee language, reacts whenever he's in motion.
He has to fun facial expressions when he responds.
He laughs, roars, and even snores!
Go ahead, rock him to sleep!
STAR WARS FORCE LINK 2.0 MISSION ON VANDOR-1 3.75-INCH FIGURE 4-PACK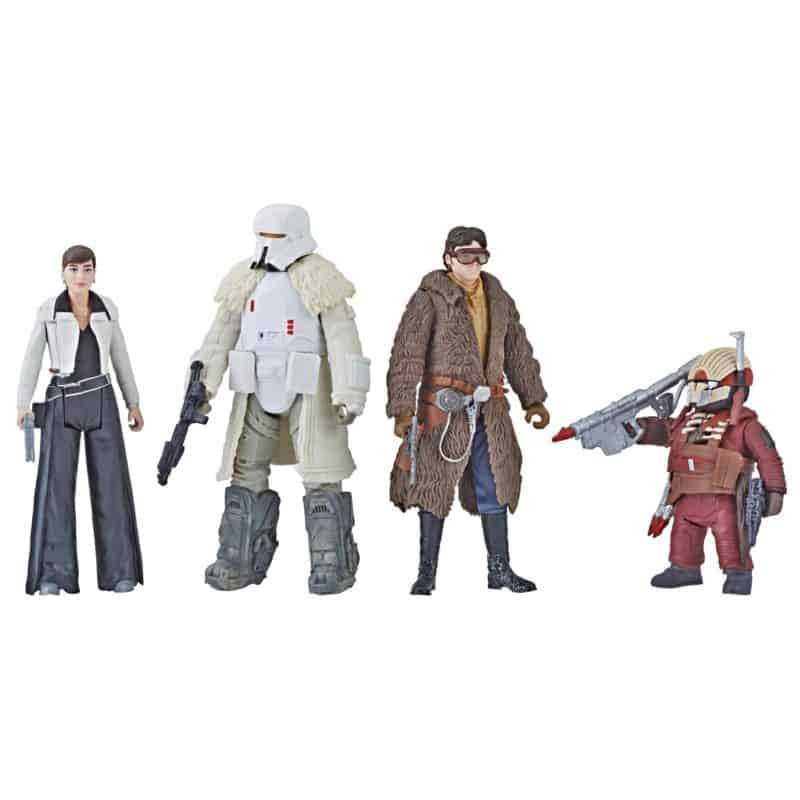 These Solo: A Star Wars Story figures bring the galaxy to life with Force Link!
They're perfect for recreating the adventures of the galaxy.
Force Link is an interactive play system from Hasbro that gives sound effects and phrases from Star Wars Movies!
Wearing Force Link wearable technology activates lights, sounds, and phrases in Force Link-activated figures, accessories, vehicles, and playsets!
It's perfect for bringing Star Wars adventures to life!
Star Wars Han Solo Card Game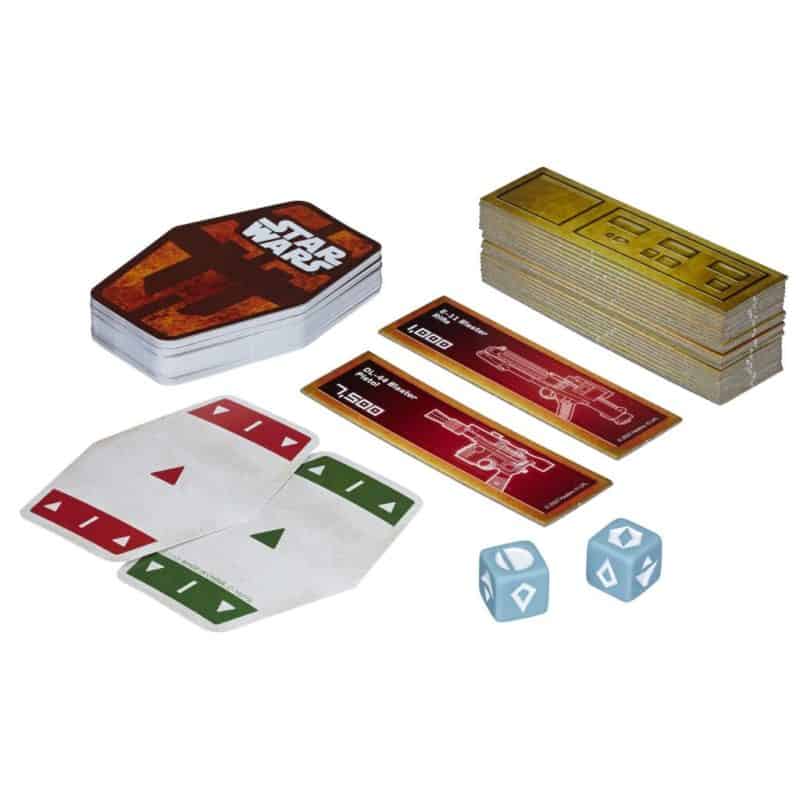 It didn't take my kids long to figure out that the Han Solo Card Game is inspired by a legendary card game from the movie Solo: A Star Wars Story.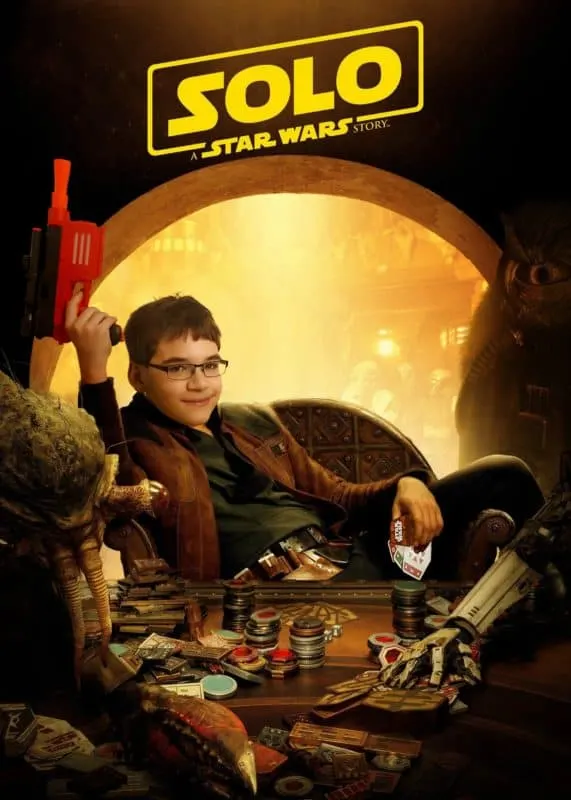 It's a fun game where players try to score as close to zero as they can with their cards.
Add or swap cards to improve your hand during each round.
Roll the dice and get doubles to shake things up!
At the end of the hand, the best score collects the most valuable bounty token.
Collect wisely to steal the Millennium Falcon–the highest valued token.
Monopoly: Star Wars Edition: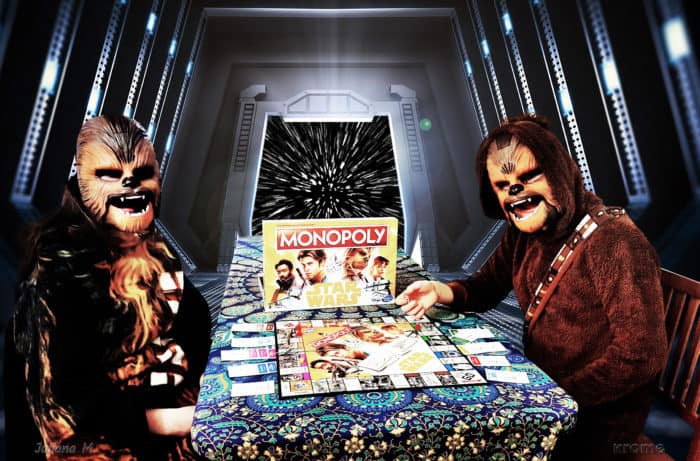 Enter a world of smugglers and adventure!
Explore the galaxy with Han Solo and his group of fellow scoundrels in this Solo: A Star Wars Story Monopoly game.
The journey from the Battlefield to the Spice Mines and beyond.
Take control of the Millennium Falcon and make it through the Kessel Run.
Players aim to buy as many Star Wars Locations, Vehicles, and Power Sources as possible and take risks with the Smuggler and Scoundrel cards.
The last player with money left when all other players have gone bankrupt wins!
You can find all these Star Wars Movie/ Game night products at many retails stores and also on the HasbroToys website.
Pick up your copy of Solo: A Star Wars Movie for your next movie night. It's available now!