As a long-time customer of Verizon, I was chosen as a blogger for the #VZWBuzz campaign. I have received the SOL Republic Relays in exchange for an honest review.
I love my music…I'm all about Bon Jovi and the music of the 1980s. As a mom on the go, our schedule can be challenging. I've tried headphones, but bringing the groceries in from the car, cleaning the house, and doing my day-to-day routine has found most headphones to be bulky or a constant struggle to keep on while moving around.
My favorite pair of headphones have been my Sol Republic Tokidoki headphones. They offer superb sound and comfort, but they are a little much when I'm walking or doing anything with extended physical prowess!
If you're like me and love your music but are tired of headphones falling out when you're lifting, walking, bending, squatting….who am I kidding? Headphones falling out when you're MOVING, you'll love SOL Republic Relays. You'll stay versatile without sacrificing sound!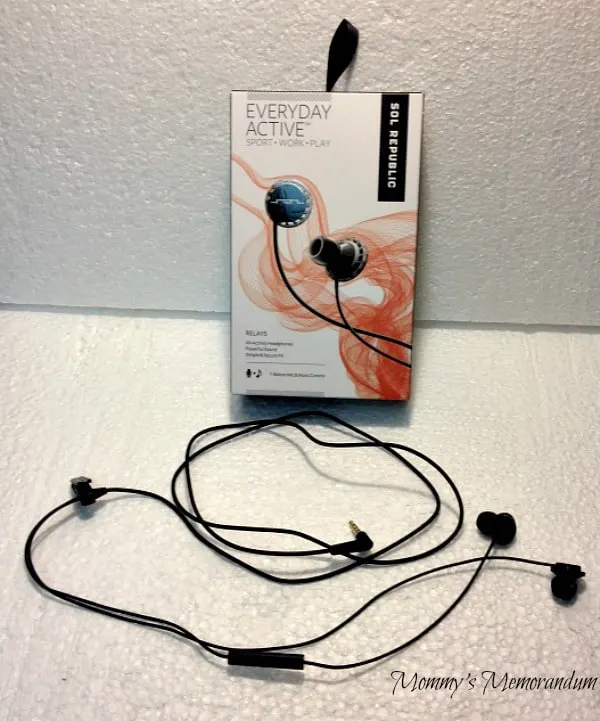 They also deliver thunderous bass response with no distortion, even at top volumes–I tried them out first with Sophia Grace and Rosie singing Nicki Minaj's SUPER BASS…sure. It's no Bon Jovi, but it's still good fun! Go ahead, pick your favorite song and listen to the bass come through with thunder and still the clarity of the lightning.
They are compact, and the i5 Sound Engines offer stellar sound, making your music as it should be..crystal clear! The SOL Republic Relays can outlast your physical activity with stay-put power, water, and sweat resistance for full sound with a compact design!
An impressive sound and compact design and still the 3-button mic and music control give the Relays excellent full feature compatibility with devices with a 3.5 mm jack, including recent generations of Apple devices. Your music, podcast, and conversation are yours to control from the volume, pause, and switching between music and phone call.
Those on the move will love the technology of the SOL Republic Relays with the seamless fit. Four sizes of earbud covers make these earbuds adaptable and easy to put in, take out, and the best part…stay in!
Whether your day takes you on a brisk walk or jog around the track, or moving constantly, SOL Republic Relays will put a little zip in your routine and keep the music in your ears….now, that's something to dance about; don't you agree?