THE ORIGINAL REUSABLE BAGS FOR SNACKS AND SANDWICHES Review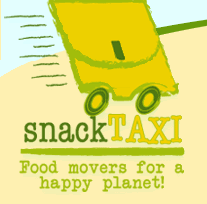 One of my resolutions this year was to be kinder to the environment.
We go through a lot of plastic baggies for lunches, snacks, and anything else we want to "contain".
I realize these bags don't biodegrade so I'm really not doing my part.
Recently I had the opportunity to review Snack Taxi.
They are the ORIGINAL Reusable Bags for snacks and sandwiches.
They've been featured on Oprah.
I really fell in love with them from the moment I pulled them out of the package.
When I reached into the envelope I discovered they are made of soft material– 100 percent cotton!
"The manufacturer from which they order most of their cotton has had their material tested and found that it is free of lead and phthalates."
Out of the envelope, the Snack Taxis reveal fun designs.
We received the Owls on Blue Sandwich bag, a brown with pink butterflies snack bag, a yellow bulk veggie bag, and the Night Owls Espresso "twice as nice" napkin.
The colors are vibrant on the fabric and my children thought they were "so cute".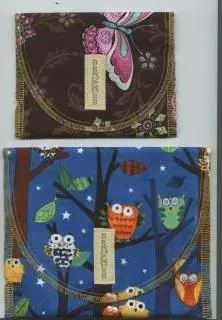 The bags are high quality in craftsmanship.
The 100 percent cotton outside is stitched with an applique type stitch for a very finished look.
The inside of the bags is lined with a waterproof material that consists of nylon with a polyurethane coating.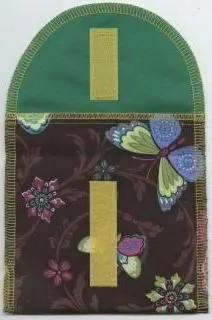 "After talking to many manufacturers of this product, we understand that this type of coated nylon is free of heavy metals and phthalates. We have found a supplier of this coated nylon who has had their product extensively tested. The tests revealed that the nylon is free of heavy metals (including lead), phthalates, PBBs, and PBDEs."
The lining is also coordinated with the outside material for a very fashionable look.
The bag closes with some very heavy hook and loop that is securely fastened.
I love that it is long so the bag is adjustable depending on how full you fill it.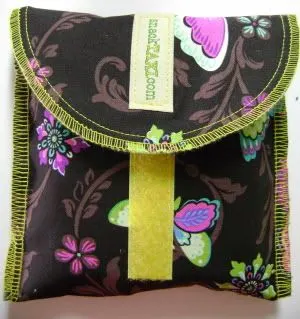 Both the Snack Taxi Sandwich and Snack bags are roomy:
♥ sandwich-sack 7.5″W x 6″H
♥ snack-sack 6″W x 4.5″H.
Retail on the Sandwich Bag is $8.95 and the Snack Sack is $6.95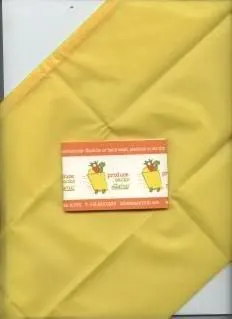 The Snack Taxi Bulk/Produce Bag (10″W (20″ circumference opening) x 18″ L) is made from silicone impregnated nylon, which is both durable and lightweight!
It feels like a very light windbreaker.
The Bulk/Product Bag retails for $5.95.
While this bag is practical, the one thing I do feel it is missing is a pull cord to "secure" the contents.
The "Twice as Nice" napkin is one of my new favorite things.
It is made of the same soft cotton as the Snack and Sandwich Bags.
They're also reversible which is really cool.
It's like two napkins in one–hence the name "Twice as Nice".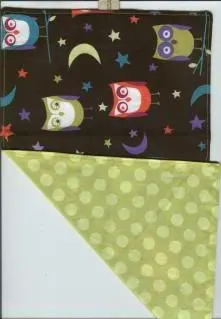 The "Twice as Nice" Napkins are also a great size.
They are large enough for eating at home, but they are small enough to tuck in a lunch box.
They measure: 8″W x 14″L
"Twice as Nice" Napkins retail for $3.95
We have tried out all of these items.
When packing Li'l Man's lunch, I initially put his sandwich in the snack bag.
It fits! That's one spacious snack bag (which we later filled with orange segments)!
One of my favorite things about the Snack Taxi, as I mentioned above, is the ability to adjust them.
Something small would utilize the entire strip and be held securely, while something larger (like the sandwich) occupies less, but is still held securely.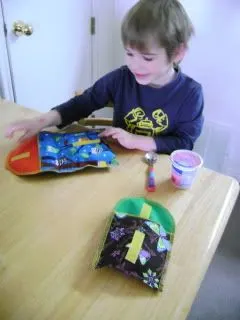 Li'l Man has used these each day for his lunch.
He loves opening them and seeing what is packed inside.
I love the convenience of them.
They are easily wiped down (inside and out) and for the "bigger" smudge, Snack Taxis can be washed in the washing machine!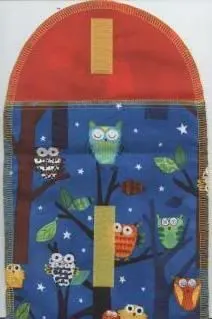 We also had the opportunity to try the Snack Taxi out as an ouchie bag.
When Li'l Man bonked his head on the table, we filled the Snack Sack with ice, secured it, and used it to soothe his "owie".
It worked perfectly. I was impressed!
Snack Taxi was created in 2003 by Erin Kelly-Dill "as a way to stem the tide of plastic ziplock bags that flowed from our house to the landfill when our 3 kids started school!
We pack over 500 lunches every year, and had definitely fallen prey to the easy appeal of the ziplock bag."
One of the best parts about this company is that not only are they creating an eco-friendly product but "They are made in our home-based workshop by talented (and fun!) local sewers- we are committed to keeping our business local, and will never outsource our labor. "
Disclosure: No monetary compensation was offered or accepted for this post. I did receive the above-mentioned items from the sponsor for review purposes. The opinions above are my own and were not in any way influenced by the sponsor. Other's experience may vary.
We appreciate your subscription to Mommy's Memorandum