I received a Ruby Snow Small Potato in exchange for this post. All opinions are my own.
Anyone who watches Disney Junior knows about the cuteness that's called Small Potatoes. The British series stars four potatoes: Ruby, Olaf, Chip, and Nate. The show is created and produced by Little Airplane Productions, which has partnered with FatRedCouch Media to entertain kiddos and help Santa with gift-giving.
Small Potatoes™ Magic Toy Maker App launches giving users the opportunity to personalize their very own plush character based on the wildly successful television show and movie, Small Potatoes. The playful app delivers more than just a digital experience providing users with the opportunity to create holiday-themed plush toys that are delivered directly to a customer's doorstep.
I love the app…it opens with lively music and a magical factory where we meet the cheery Small Potatoes who, like my own kiddos, love to play dress up. Then the fun begins:
Mix-and-match to customize hundreds of options with costume themes such as an Angel, Snowman, Santa, Santa's helper elf and fancy New Year's Eve attire

Design and Personalize the Small Potatoes hangtag

Order by early November 10, 2014, for an on-time holiday arrival
So the app is crazy fun…but the six-inch high characters are spud-tacular!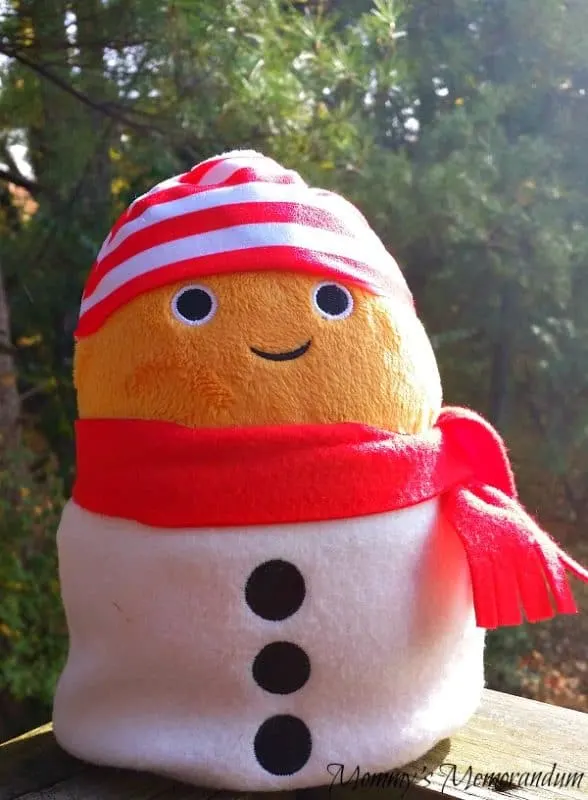 I know! Soooo Cute!
I wish you could touch our Small Potatoes character; the chenille-style fabric is incredibly soft.
With each Small Potatoes character, you know you are getting a high-quality toy as every personalized Small Potatoes Magic Toy Maker creation is manufactured by one of the most reputable global plush toy manufacturers, Animal Magic.
These adorable spuds retail for $19.99 which includes shipping!
The Small Potatoes Magic Toy Maker app, produced by Bay Area mobile publisher FatRedCouch, brings the magic of toy making to life and will celebrate key holidays throughout the year allowing fans to customize for special occasions.
Ruby, pictured above, is the first character FatRedCouch brings to life as a customized plush toy for fans.
My kiddos are older, but when our Small Potatoes Ruby arrived, they fell in love. She's a big hit at our house and I know would delight any child who receives their own customized version of Ruby!
The Magic Toy Maker app is free to download via Google Play or Apple iOS.

Delivery of toys is currently available within the United States only, with other countries to follow.

To learn more, please visit MagicToyMaker or FatRedCouch.
About FatRedCouch:
FatRedCouch blends brands and technologies to create innovative entertainment, publishing, and educational experiences using digital platforms and physical goods. In 2014, the company is launching multiple products based on Puff, the Magic Dragon and Appisodes for WordWorld, the long-running and award-winning PBS series. FatRedCouch is also slated to launch 12 new titles on at least six different distribution platforms covering: creative content, games, health, interactive TV, Appisodes, and interactive/connected toys.