Chia Pet Presents: The All-New Zombie Line of Fun!
Unleash the Undead in Your Garden!
Are you tired of the same old, boring garden decorations? Want to add a thrilling touch to your home and garden? Look no further! Chia Pet proudly unveils its spook-tacular new collection: The Zombie Line of Fun!
Grow Your Own Horde of Zombies!
That's right! With the Chia Zombie Line, you can grow your very own zombie horde in the comfort of your home. Watch in awe as these brain-craving creatures sprout vibrant, green hair, adding a wicked twist to the classic Chia Pet experience.
Meet the Terrifying Cast!
🔹 Chia Zombie "Zack" – The Leader: With a sinister grin and outstretched arms, Zack leads the pack and commands attention in any garden setting.
🔹 Chia Zombie "Zara" – The Creepy Crawler: Zara emerges from the soil with a chilling gaze, striking fear into anyone who dares to pass by.
🔹 Chia Zombie "Gus" – The Gruesome Headhunter: Gus's head has just emerged, leaving a spine-chilling sight that will have your visitors shrieking with delight.
How It Works
Planting your Chia Zombies is a breeze! Simply fill the planters with water, spread the included Chia seeds on the special grooves, and watch the undead take shape. In just a few days, you'll have your very own army of zombies sprouting from the soil!
Why Choose Chia Zombie Line?
Fun for All Ages: Whether you're 5 or 105, the Chia Zombie Line is the perfect activity to unleash your inner zombie fanatic.
Unique Gift Idea: Looking for a gift that's truly out-of-this-world? The Chia Zombie Line is a spooktacular choice for birthdays, holidays, or just because!
Indoor and Outdoor Décor: These undead beauties thrive both indoors and outdoors, adding a touch of creepy-cool to any space.
Easy-to-Follow Instructions: No green thumb is required! Our step-by-step guide ensures that you can grow your zombies with confidence.
Don't Miss Out!
Get your hands on the spine-chilling Chia Zombie Line now and experience the thrill of growing your very own horde of the undead. Limited stock is available, so hurry and place your order today! Embrace the zombie apocalypse with Chia Pet's Zombie Line of Fun!
Our Chia Pet Zombie Review
I'm a child of the 80s. I boast this because that decade rocked. Hair bands, neon clothing, big hair, The Breakfast Club, and Chia Pets. That's right, I said it, CHIA Pets–as Uncle Rico from Napoleon Dynamite often said, "Back in 82"! That's the year the ram Chia Pet original hit the shelves, and consumers couldn't get enough of.
While some of the 1980s classics have long since found their grave, Chia Pets is still growing strong.
Now, Chia Pet combines our obsession with Zombies. C'mon, I know you love 2010 to present for the The Walking Dead series. Which means I also know you're going to love the new terra cotta figures: Lifeless Lisa, Restless Arm and Creppy Holden.
We received the Restless Arm, and I am not sure who was more excited, me or the kiddos. I may have been a product of the 1980s, but I never had a Chia Pet!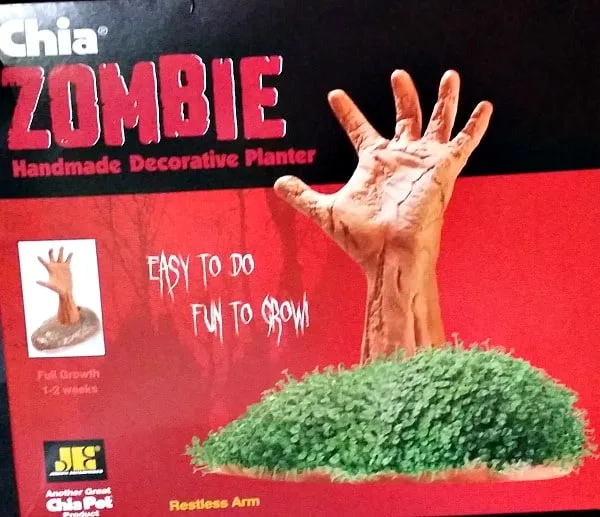 Out of the box, we all comment on how adorable it is…Each Chia Pet kit includes a handmade pottery planter, chia seeds for up to three plantings, a Drip tray, Planting and Care information, and fun Chia Zombie Facts!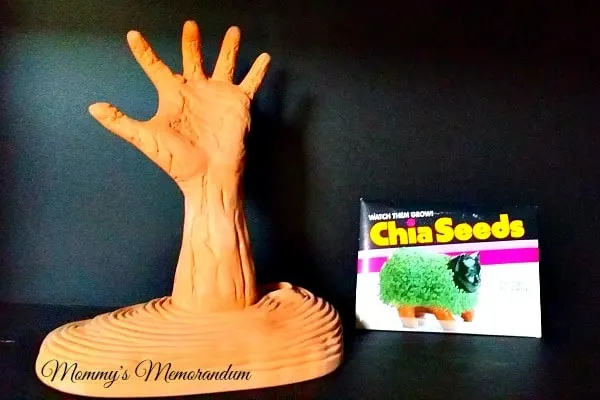 Then we soaked the terracotta arm in water for an hour.
We mixed water with the chia seeds per the instructions and let them soak.
Next, Miss M drew the straw to apply the seeds. She took her time and applied the chia seeds to the grooves of our planter. I helped her fill the planter with water.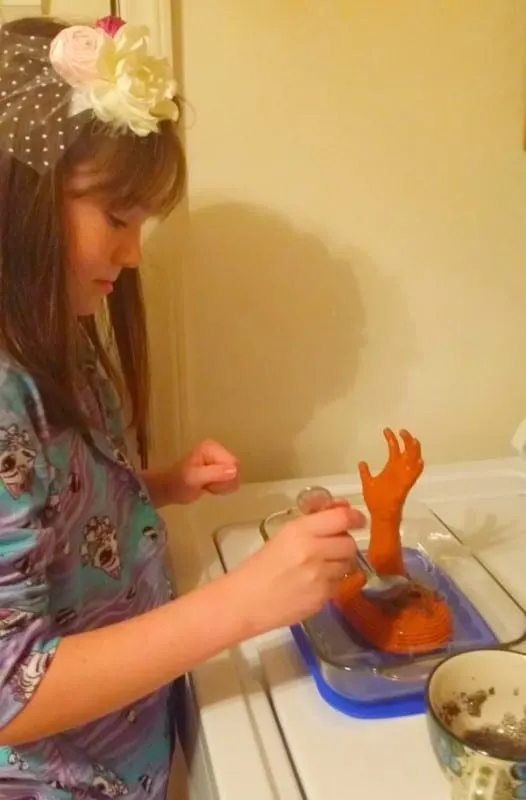 We all monitored the planter daily and added water when necessary.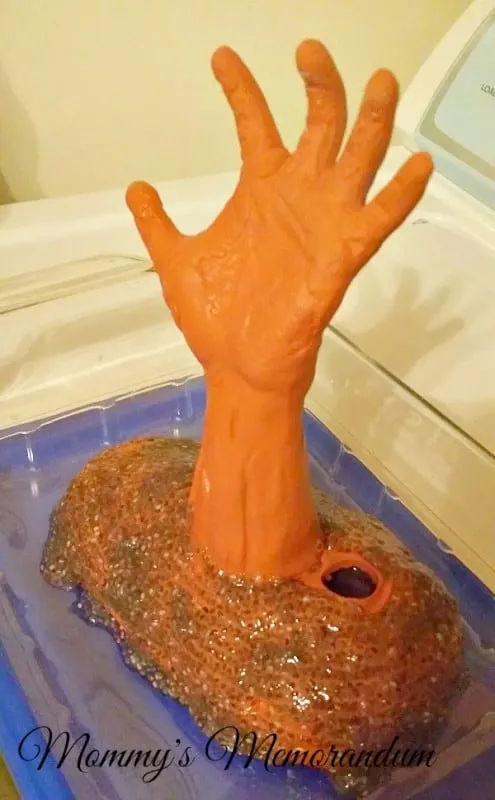 Within a few days, we had sprouts!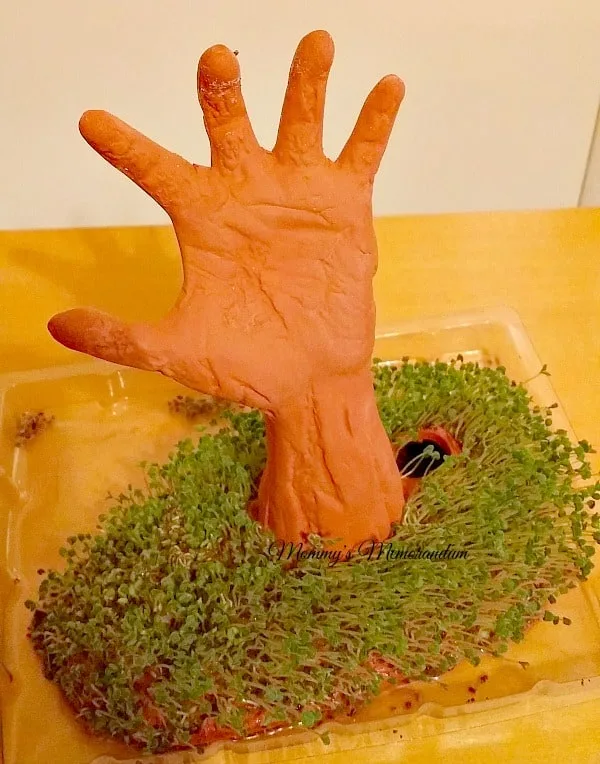 Six days later, our Restless Arm Chia looks like this: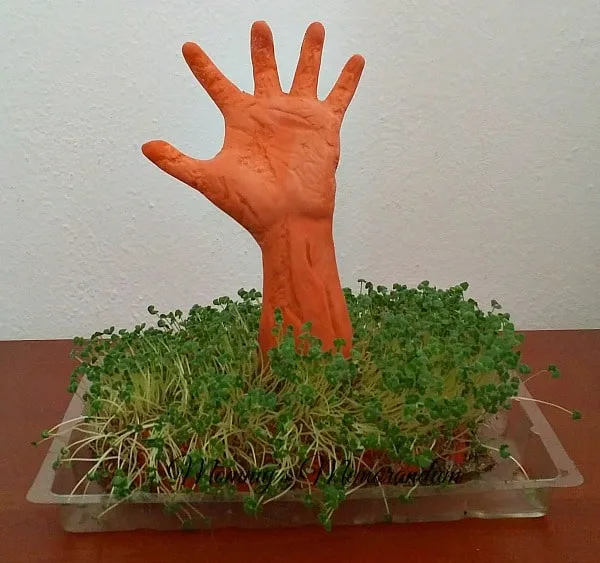 Pretty cool, right?
Chia Zombies are available at national retailers such as Home Depot, Amazon, CVS, Walgreens and more. Each Chia Pet retails for under $20, making it a great gift for your favorite Walking Dead fan or for the Zombie Apolcalypse stash!