Buying items for a new baby are exciting.
It's fun to pick out a bunch of outfits, crib slats, or choose one of the latest strollers for the new arrival.
It's fun to pick out outfits or selecting one of the latest strollers and baby gear for the new arrival.
It can even be fun to choose bedding for a baby; there are all sorts of cool and cute patterns available.
The problem is that many new parents spend ages choosing a crib and bedding but do not give much thought to the crib mattress, which directly supports the healthy growth of your child, says Well Worth Living.
The experts at Mattress Insider say that when you consider that a child under the age of three can spend up to sixteen hours each day sleeping, you can see how important it is that you choose the right mattress for them to sleep on.
A clever thing to do when looking for mattresses is research; this way, you make sure you're getting the best mattress for your baby's crib.
These crib mattresses should be designed for your baby to spend a good night's sleep, which will also let you rest at night.
The right mattress will help your baby nap too, we all know that sleeping is an essential part of your newborn or toddler's life because it enables them to develop, recharge energy for the next day, and wake up fresh, leaving you with a happy baby instead of a cranky one.
We will take a look at the different things you need to consider when choosing the best crib mattress for your baby's crib.
Why go for a superior quality crib mattress?
A crib mattress is one of the essential parts of a baby's nursery.
Acquiring a high-quality crib mattress comes with many perks.
The best crib mattress will enhance the comfort of your child as she or he sleeps.
The best mattress doesn't contain any scented aromas that can cause respiratory problems.
Moreover, a baby's skin is very delicate, hence the need for a quality mattress to avoid skin irritation.
With a high-quality mattress, your baby gets more quality and uninterrupted sleep and sleeps for long, which promotes better health.
According to CoolAndPortable.com, there are different cooler mattresses in the market, and all have distinct features and qualities.
On top of a quality mattress, you can as well acquire other cooling solutions like a mattress topper and cooling pad for a more comfortable sleep.
When your baby sleeps well, you allow the body and brain to generate the right hormones required for optimal bone development.
You'll also sleep better, and this improves your health.
If you're really concerned about everyone's overall well-being at home, particularly your baby, you'd also go beyond taking concern about the mattress and other things.
If you wish to improve the overall feel in your home, as you shop, you may also want to include other things like humidifiers and healing stones, among others.
For the latter, aquamarine is a good choice to have in your nursery or baby's room–learn about aquamarine meaning and what it can do for you.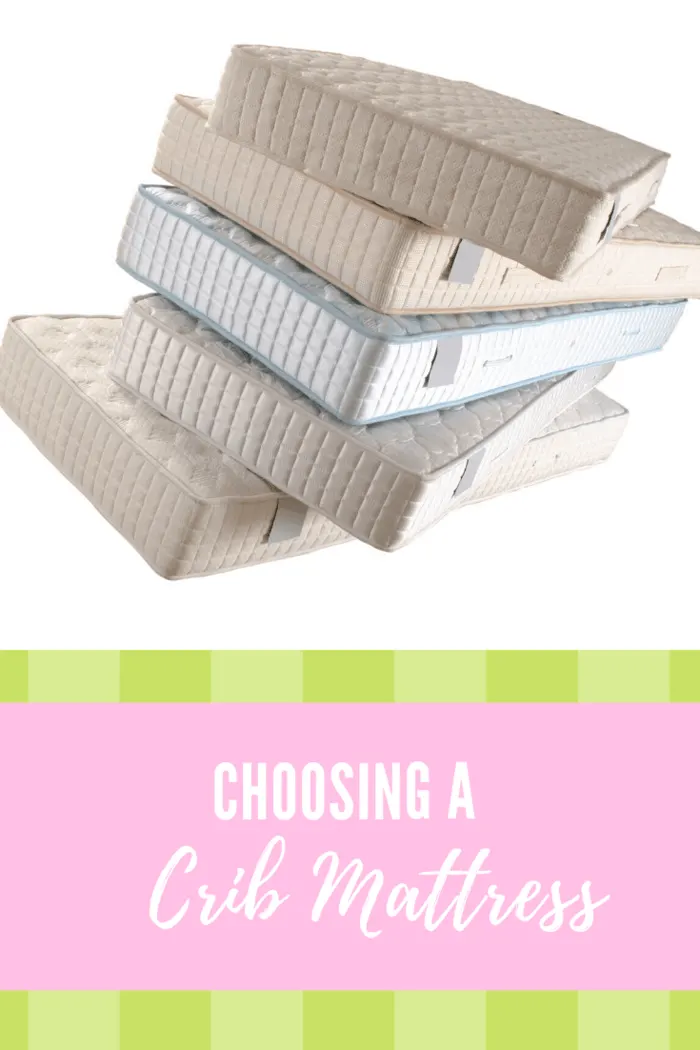 What Size is a Baby Crib Mattress? Are All Mattresses the Same?
What about the size of the mattress?
If you are worried about what size of crib mattress you will need, the good news is that you do not have much choice in the matter.
Some questions you may have while searching for a crib mattress are:
What is the length of a crib mattress?
What are the dimensions of a crib mattress?
What is the size of a standard crib mattress?
What is crib size?
The size of crib mattresses is regulated at the Federal Government level.
They must be a minimum size of 27 1/4-inches x 51 5/8-inches, and they must not be more than six inches deep.
The size of cribs is also regulated, so you should find that the mattress you buy fits well.
That being said, there is a little leeway in the question, "what are the dimensions of a crib mattress?" so you may find that the crib mattress you choose fits very snugly or just securely.
What else do you need to consider?
Although you do not have many options when it comes to asking, "What is the size of a standard crib mattress?"
You do have a choice regarding what type of mattress to choose.
Foam mattresses are often the most popular choice as they tend to be the most reasonable prices, and they are light in weight and therefore easy to handle and clean.
Innerspring mattresses are produced using coils, which means that they provide a high level of support.
Organic mattresses are made from completely organic products, which means that your baby is not exposed to chemicals or allergens that could potentially be harmful.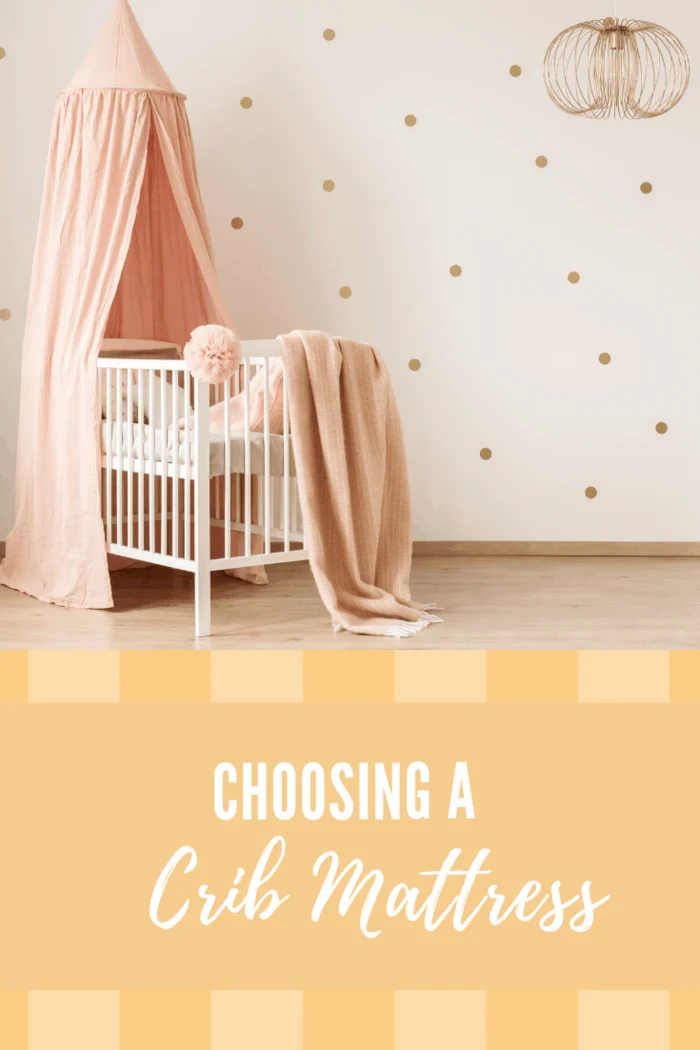 If you want a mattress that lasts, you may want to choose one with dual support levels so that one side is softer and can be used when your child is very young.
The other side is a little firmer and can be used as your child gets a little older.
Do not forget to take into account the ease of cleaning when you are choosing a crib mattress.
As with most things that come into contact with babies, they are likely to get dirty easily.
It's a good idea to choose a mattress with a surface you can easily wipe, and with a weight that you can easily manage when you are cleaning it.
You can see that crib mattresses' sizes are fairly uniform, but there is still plenty to think about when you are deciding on which mattress to buy.
Check out the best baby mattresses money can buy.
How To Choose A Crib Mattress
Now that you know the specifications of the different sizes and kinds of the crib mattress, it helps to close this article with some of the best tips when choosing a crib mattress.
Note that when you have a specific size based on the crib that you have at home, there are still many options out in the market.
If you don't know how to narrow down your options, you'll end up even more confused.
Choosing a crib mattress to suit you and your baby's needs can be difficult, especially if you're looking for a mattress that's not only comfortable and durable but also inexpensive.
The perfect choice is dependent on several factors–from budget to the support it provides.
Think about the comfort of your baby.
You must also understand that the mattress must be comfortable for the baby, just like her baby clothing.
Therefore, you must get the best mattress possible.
The first thing you need to do is get a good and reliable mattress review and check out the customers' mattress ratings.
Consider the firmness of the mattress.
You should ensure that it provides adequate support to the baby's back and neck.
The thickness of the mattress must be equal to or slightly greater than the width of the crib.
Another consideration is that a mattress should provide good circulation and comfort to the baby.
You should also look for the firmness rating that the mattress has.
Be particular about your mattress cover.
It's important that you ensure that you invest in the right mattress cover and safety features.
Look for a mattress cover that allows air to flow around the mattress and prevents the growth of dust mites and other allergens.
A good mattress cover should also allow proper absorption of any moisture that may occur from the mattress.
Also, check out what kind of security mechanism the mattress cover has.
Lastly, make sure that the mattress cover is also easy-to-clean and easy to remove from the crib.