We all want our children to be happy and successful. In a traditional sense, this means enrolling them in preschool and making sure they perform well academically. This can still be true, but life takes many twists and turns, and graduating from college with a degree isn't necessarily the best way to help them achieve happiness and success that truly means something to them.
By all means, enroll your child in that exclusive Montessori program and encourage extracurriculars to get into the college of their dreams, but there are other, more creative ways you can give your child a leg up in life too.
Teach Them a Second Language Early
Teaching your child a second language is one of the best things you can do, say the experts at Preply. As our world becomes more and more connected, knowing at least one other language and speaking it like a native speaker can make finding work easier, make traveling more fun, and open your child up to many opportunities that otherwise wouldn't be available.
It's never too late to start, but the earlier, the better. Young children pick up a new language extremely quickly, and when they learn it, they learn it right alongside English, essentially making them a native speakers.
If you have a family member who speaks another language, invite them over and encourage them to speak it around your child. You can learn a new language right alongside your child, or you can find a tutor.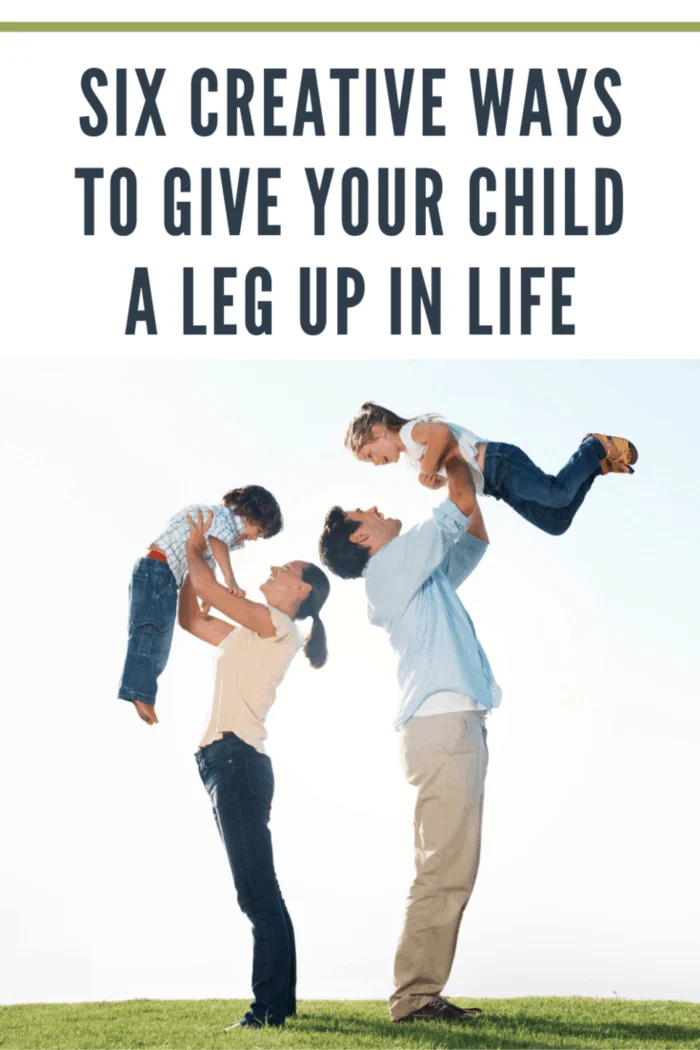 Travel Together
Travel is another way to give your kid a leg-up on life, says The Points Guy.
Kids of all ages enjoy the benefits of travel that include:
Becoming more aware of and accepting of other cultures
More intellectual curiosity, making them better in school
Learning skills like problem solving and adaptability in real-life situations
In addition, travel can bring your family closer together, strengthening bonds that will be there for a lifetime. Not to mention, it's a lot of fun!
Traveling halfway across the world and experiencing foreign cultures firsthand is great, but don't think you must travel so far from home. Traveling to a national park, like the Grand Canyon, can make history come alive, while visiting a huge metropolitan area, like Chicago, can open your child's eyes to city life.
Don't Give Them Every Advantage
It's normal to want to give your child every advantage you possibly can. That means getting them into the best school, enrolling them in as many extra-curricular activities as your schedule allows, and keeping track of their homework to ensure it's turned in on time.
Unfortunately, giving your kids everything only gives them a sense of entitlement which will not serve them well as adults, say QZ. Instead, step back and let your kids learn what it's like to fail. Don't bring their instrument to school when they forget it, don't finish their homework for them, and give them opportunities to be bored to develop their creativity.
Model Maintaining Positive Relationships
Friendships are important to young children, but they are important as we age (Mayo Clinic). Although making friends may come easily to your youngster, maintaining connections with people we care about becomes more difficult with age. Your child needs to see how to maintain those connections so they don't feel isolated later in life.
Go out to lunch with friends, head out of town for the weekend, leave your kids with their grandparents, and shut yourself in another room to have a long conversation with your sibling or cousin. It shows your child how to maintain relationships as they age, and it comes with the added benefit of giving you a life outside of your immediate family too!
Compliment Hard Work—Not Ability or Outcome
It turns out that complimenting a child isn't as easy as you think (Parents).
You may want to say, "Good job getting an A on that test!" or "I love your outfit!" Although saying these things is nice, it's much better if you compliment the process and hard work rather than their ability or the outcome.
For example, instead of complimenting them on getting a good grade, compliment them on all the hard work they put in studying to get that good grade. When they win the big game, compliment them on their ability to pass the ball, and instead of complimenting a child on their looks, tell them you like how they styled their hair. It enables them to learn how to get joy from the process instead of expecting it to come from a certain outcome.
Don't Automatically Say No.
It's normal to say no automatically when your child wants to do something. You may do it and not even know it! For example, do you tell your toddler not to play in the sandbox because you don't want to clean up the mess? Or maybe you tell your teen that they can't paint their room because you're not into the color they have chosen? Or your high school student wants to go on vacation with a friend, but them leaving home for so long makes you nervous?
Kids need to be able to make messes; shares Very Well Family! They have to make mistakes, and they have to learn that you trust them. If they aren't in any immediate danger, and your reason for saying no is because doing it would be an inconvenience, try saying yes instead. By demonstrating the power of yes, you can help your child be open to everything the world offers, and they'll be more likely to say yes to new things when they get older.
Education is important, but it doesn't guarantee happy adulthood! If you really want to give your child a leg up in life, you have to get a little more creative. With the tips on this list, you can help your child get the most out of their future personal and professional lives.