Unleash Your Imagination with "Serafina and the Splintered Heart"!
Embark on an unforgettable journey into a world of magic, mystery, and courage with the enchanting tale of "Serafina and the Splintered Heart." This thrilling adventure will captivate readers of all ages, taking them on a wondrous ride through the realms of fantasy.
Immerse Yourself in a World of Wonder: Step into the shoes of Serafina, a courageous and resourceful young girl with a destiny like no other. As she unravels the secrets of the mysterious splintered heart, she will encounter magical creatures, face daunting challenges, and discover the true power that lies within her.
A Captivating Storyline: Written by acclaimed author Robert Beatty, "Serafina and the Splintered Heart" weaves together a tapestry of imagination, friendship, and bravery. Each page is filled with heart-pounding action, unexpected twists, and a story that will keep you turning the pages late into the night.
Unforgettable Characters: Join Serafina as she forges deep friendships with a cast of diverse and memorable characters. From courageous allies to formidable foes, each individual adds depth and emotion to the story, making "Serafina and the Splintered Heart" a truly immersive reading experience.
Magic at Every Turn: Prepare to be enchanted by the richly detailed world crafted within the pages. From hidden underground passages to ethereal forests, from dark secrets to the sparkle of ancient magic, "Serafina and the Splintered Heart" will transport you to a realm where the extraordinary becomes possible.
A Must-Read for Fantasy Lovers: Whether you're an avid fantasy reader or just dipping your toes into the genre, "Serafina and the Splintered Heart" promises to be an enthralling addition to your bookshelf. With its lyrical prose, vivid imagery, and a story that will touch your heart, this book is destined to become a cherished favorite.
Join the Adventure Today! Indulge in the captivating world of "Serafina and the Splintered Heart" and embark on a quest that will ignite your imagination, challenge your beliefs, and leave you yearning for more. Don't miss out on this extraordinary journey – order your copy now and get ready for an unforgettable reading experience!
Serafina and the Splintered Heart – Where Magic and Destiny Collide!
Our Serafina and the Splintered Heart Review
Sometimes Summer means curling up to a great book; it's my daughter's plan anyway. She's discovered an enchanting series that takes place not far from us, in the magical Blue Ridge Mountains of North Carolina, the Serafina series is perfect for middle-school readers. Our first introduction to Serafina is this Serafina and the Splintered Heart book review.
Written by New York Times Best-Selling author Robert Beatty, the Serafina series stars the fierce, resilient character of Serafina, a wild girl longing for kinship and struggling to understand her place in the world.
This timeless story of finding one's true family and best self chronicles an epic battle between good and evil and rewrites the rules of who can be a hero.
Book 1: Serafina and the Black Cloak
Book 2: Serafina and the Twisted Staff
Book 3: Serafina and the Splintered Heart
Book 4: Serafina and the Seven Stars
Just in time for the lazy dog-days of summer, the third book in the series, SERAFINA AND THE SPLINTERED HEART.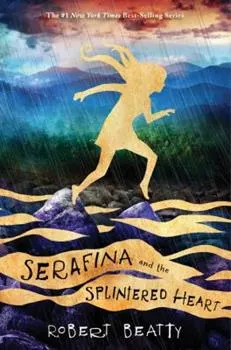 The storms are coming…

Something has happened to Serafina. She has awoken into a darkness she does not understand, scarred from a terrible battle, only to find that life at Biltmore Estate has changed in unimaginable ways. Old friends do unthinkable things and enemies seem all around.

A mysterious threat moves towards Biltmore, a force without a name, bringing with it violent storms and flooding that stands to uproot everything in its path. Serafina must uncover the truth about what has happened to her and find a way to harness her strange new powers before it's too late.

With only days to achieve the impossible, Serafina fights to reclaim herself as the Guardian of Biltmore, friend of Braeden, daughter of her Pa, and heroine of the Blue Ridge Mountains and all the folk and creatures that call it home.
In the epic third installment of Robert Beatty's #1 bestselling series, Serafina takes her rightful place among literary champions as she battles fiercely to defend everything she loves and become everything she is meant to be.
Our car rides to school are filled with speculation as to what is going to happen next, and I've never had my children, who love books, pay such close attention to a book before and truly understand what was just read.
We are savoring the pages.
There is no doubt we will going back to the first book and coming to know Serafina better through the first two books in the series.
My children LOVE this story.
The story feels like it is reaching out to them.
They are engaged and have been since the first page.
It's a magical tale, that takes place at the Biltmore Estate, a place my children have visited.
I absolutely love this book and its ability to share the magic.
ABOUT THE AUTHOR
Robert Beatty lives in the mountains of Asheville, North Carolina, with his wife and three daughters. He writes full-time now, but in his past lives, he was one of the pioneers of cloud computing, the founder/CEO of Plex Systems, the co-founder of Beatty Robotics, and the CTO and chairman of Narrative magazine. Visit him online at www.robert-beatty.com.