I remember my first pair of leggings. I was promoted to storefront manager, needed something comfortable, and stayed close to my body. I picked out a pink pair of leggings and have been a fan ever since. They are comfortable. Add a blouse, and you have an outfit.
Then, I attended a Bon Jovi concert a decade or so ago. The women hadn't left the decade we call the 80s. Like many of these women, I realized I was no longer in the body I was when leggings became my apparel of choice. That concert ended my wearing leggings until about four years ago. It was winter; I had a cozy baggie sweater, and paired with jeans, I looked like a blob. I put on leggings, added some boots, and I had my look.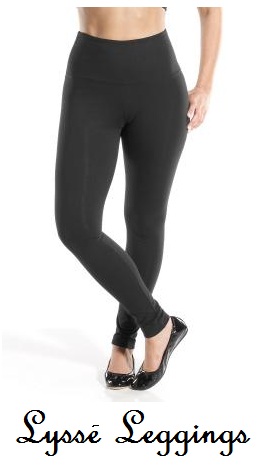 Lyssé Leggings Review
Now, I have a new reason to love my favorite fashion. It's
Lyssé Leggings
. This company, created by Beth Gold-Cohen, had been in a wardrobe dilemma in the same situation we all have. Leggings that we love seemed to be missing something. It wasn't the blouse; it was that no matter what leggings she put on, those women I saw all had it, the "muffin top" by the waistband.
She added a girdle underneath the leggings, and voilà! Muffin-Top solved. She stitched the leggings to a high-waisted control top undergarment, and the result was stunning! It banished the roll! With experience as an avid shopper and former buyer for Macy's New York, she found no such product on the market, so she created them herself, and Lyssé Leggings, pronounced Li-SAY, was created!
Lyssé Leggings featured in InStyle Magazine!
I reviewed the Tight Ankle Lysse in black. The very Lysse Leggings featured in InStyle Magazine!
To begin with, let's talk about them right out of the bag. They are quite possibly the softest pair of pants on the planet. Their outer shell is made of 86% cotton and 14% spandex. I like that…more cotton than spandex. The inner control panel is 86% polyester and just 14% spandex.
These are miracle workers to my middle. Their hidden control top is revolutionary, and while they didn't make me look like a size 7 or 9, they did make my tummy smooth and firm. I love a product that disguises my flaws!
There are many choices, from style to color, so Lysse can be a part of any woman's wardrobe; they even offer plus sizing! To discover the Lysee that fits you, best refer to the Size Chart.
I'm so happy that leggings are again a part of my wardrobe. Lysse Leggings are comfortable and stylish without making me look like I never left the 1980s. I love that they are made right here in the USA!
Pamper yourself and discover why Lysse is a must-have. I promise you'll want more than one pair!
Disclosure of Material Connection: I received one or more of the products or services mentioned above for free hoping to say it on my blog. Regardless, I only recommend products or services I use personally and believe will be good for my readers. I am disclosing this per the Federal Trade Commission's 16 CFR, Part 255: "Guides Concerning the Use of Endorsements and Testimonials in Advertising.".