Roasted Umami Brussels Sprouts – A Flavorful Delight for Your Taste Buds
Are you looking to elevate the humble Brussels sprouts to a whole new level of culinary excellence? Look no further than our delectable Roasted Umami Brussels Sprouts recipe! Bursting with savory flavors, this dish is a guaranteed crowd-pleaser that will convert even the staunchest Brussels sprouts skeptics into enthusiastic fans.
Tender and caramelized, these little green gems are transformed into a mouthwatering delight through the magic of roasting. But what sets this recipe apart is the infusion of umami, the elusive fifth taste that adds depth and richness to any dish. We've carefully curated a combination of umami-rich ingredients that will have you savoring every bite.
With just a handful of simple yet impactful ingredients, you can turn these cruciferous wonders into a side dish that complements any main course or stands tall on its own as a scrumptious snack. Whether you're preparing a family dinner, entertaining guests, or just treating yourself to a flavorful indulgence, our Roasted Umami Brussels Sprouts will steal the show.
In this recipe, we'll guide you through easy-to-follow steps, ensuring a hassle-free cooking experience. Plus, you'll learn the secrets of coaxing out the best flavors from Brussels sprouts, making them tender on the inside and delightfully crispy on the outside.
So, let your culinary adventure begin as you embark on a journey of taste and texture with our Roasted Umami Brussels Sprouts recipe. Get ready to wow your taste buds and impress everyone at the table with this extraordinary dish that turns Brussels sprouts into a culinary masterpiece!
This roasted umami Brussel Sprouts recipe is a game changer. On New Year's Eve, we ate at Pieces in Charlotte. It's a sushi place. We ordered Brussel sprouts as an appetizer and for the first time, my kiddos like Brussel sprouts. That motivated me to try and duplicate the recipe. This Roasted Umami Brussel Sprouts Recipe is relatively close to the dish. Not exact. It still has an incredible flavor and my kiddos will eat it!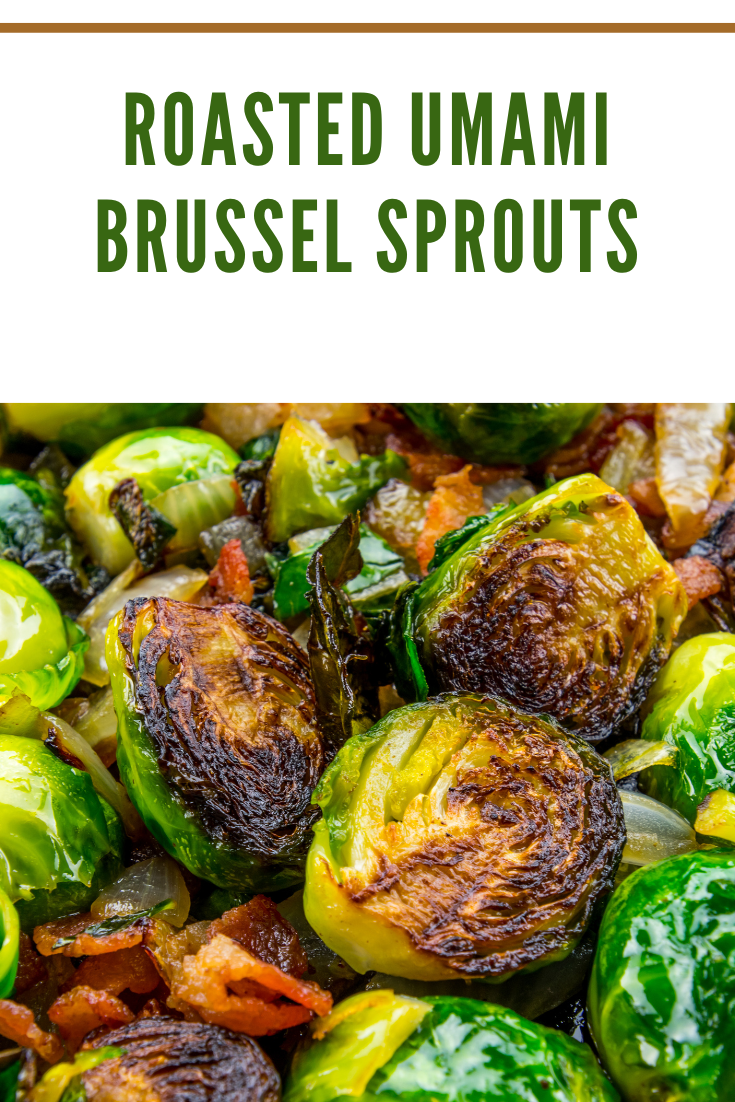 Roasted Umami Brussels Sprouts
Servings: 4-6
Prep Time: 15 minutes
Cooking Time: 50 minutes
Ingredients:
2 pounds Brussels sprouts, stems cut off and cut in half
1 tablespoon butter, melted
1 Anaheim pepper, chopped
3 tablespoons honey
2 teaspoons freshly grated ginger
3 garlic cloves, minced
2 teaspoons apple cider vinegar
1 teaspoon tomato paste
3 tablespoons lemon juice
3 tablespoons fish sauce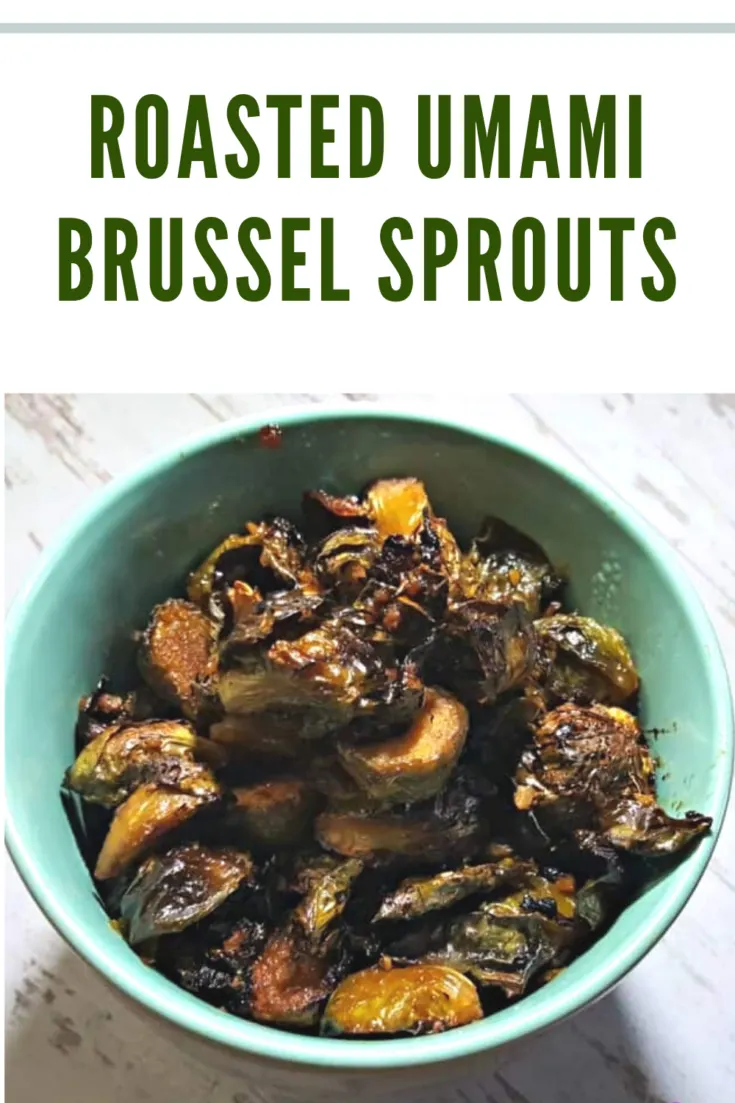 How to Make Roasted Umami Brussel Sprouts:
Preparation:
Preheat the oven to 400 degrees Fahrenheit (200 degrees Celsius).
Line a rimmed baking sheet with aluminum foil to avoid ruining the pan.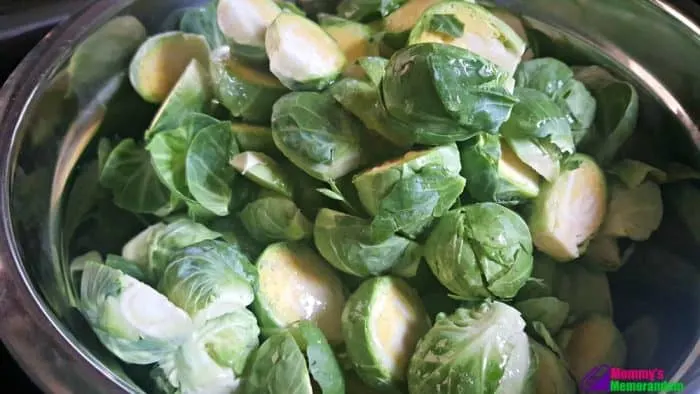 Roasting the Brussels Sprouts:
In a large bowl, toss the prepared Brussels sprouts with melted butter, ensuring they are evenly coated.
Place the buttered Brussels sprouts on the lined baking sheet, spreading them out in a single layer.
Put the baking sheet with Brussels sprouts on the center rack of the preheated oven and roast for 20 minutes.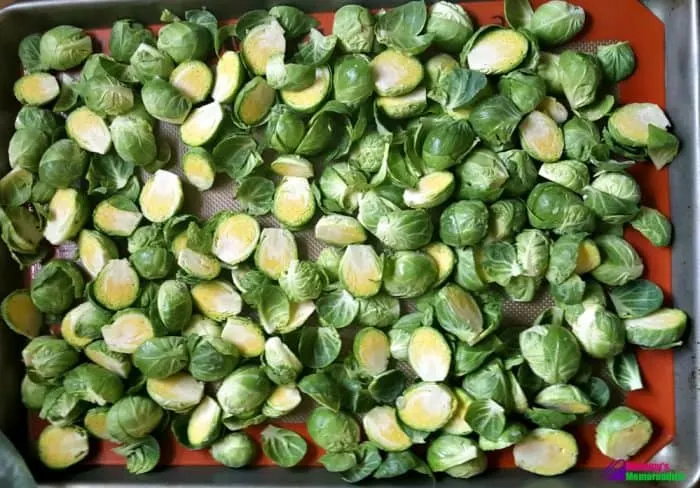 Preparing the Umami Sauce:
In a separate bowl, combine the chopped Anaheim pepper, honey, freshly grated ginger, minced garlic cloves, apple cider vinegar, tomato paste, lemon juice, and fish sauce.
Mix the ingredients until the honey is fully dissolved, creating a delectable umami sauce.
Coating the Brussels Sprouts:
After the initial 20 minutes of roasting, take the Brussels sprouts out of the oven.
Pour the prepared umami sauce over the roasted Brussels sprouts, ensuring they are thoroughly coated.
Toss the Brussels sprouts gently to evenly distribute the sauce.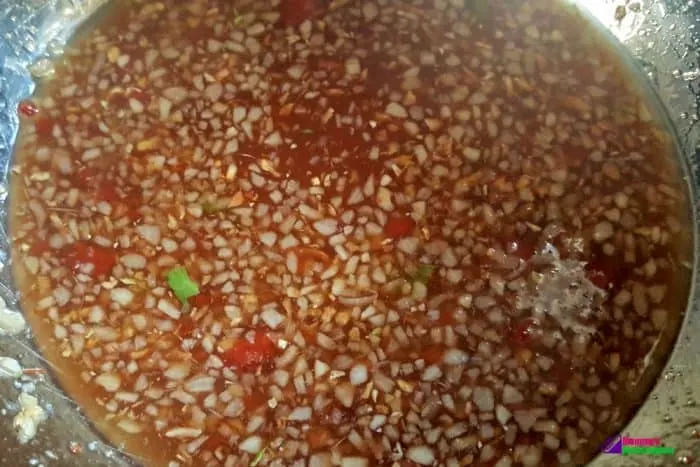 Continuing the Roasting Process:
Place the coated Brussels sprouts back in the oven and continue roasting for another 15 minutes.
Remove the baking sheet from the oven and stir the Brussels sprouts to prevent sticking and ensure even browning.
Return the baking sheet to the oven for a final 15 minutes or until the edges of the Brussels sprouts become crispy and golden.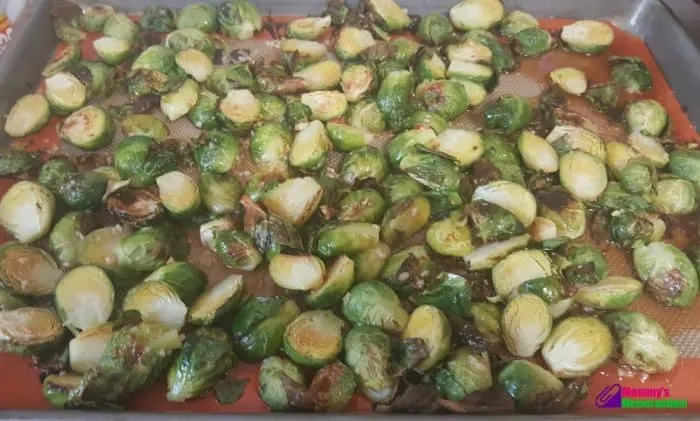 Serving:
Once the Roasted Umami Brussels Sprouts are done, transfer them to a serving bowl.
Serve the Brussels sprouts as a delightful and flavorful side dish or enjoy them right from the pan as a delicious snack.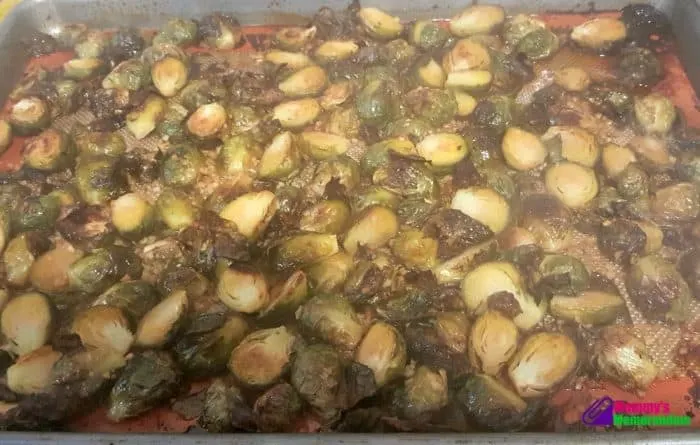 Place in a bowl and serve.
They are a delicious snack right from the pan or you can share and choose to serve them as a side.
Note: These Roasted Umami Brussels Sprouts are not only a fantastic side dish but also a healthy and tasty snack option. Savor the rich umami flavors that complement the caramelized Brussels sprouts, making this recipe a surefire hit for any occasion!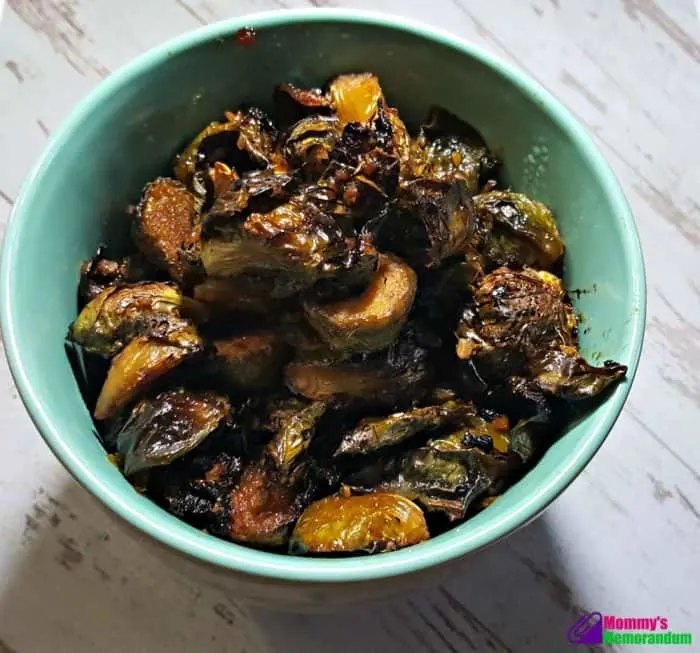 Frequently Asked Questions (FAQs) about Roasted Umami Brussels Sprouts Recipe:
1. Can I use frozen Brussels sprouts instead of fresh ones? Yes, you can use frozen Brussels sprouts if fresh ones are not available. However, keep in mind that frozen Brussels sprouts may have a slightly different texture after roasting.
2. Can I substitute the Anaheim pepper with another type of chili? Absolutely! If you can't find Anaheim peppers, you can use other mild chili varieties like poblano or Cubanelle peppers. Adjust the amount according to your desired level of spiciness.
3. Is there a vegan alternative for the butter in this recipe? Yes, you can replace the butter with a plant-based oil like olive oil or melted coconut oil for a vegan-friendly version of the recipe.
4. I'm not a fan of fish sauce; can I use something else instead? If you prefer not to use fish sauce, you can substitute it with soy sauce or tamari for a vegetarian option. Alternatively, you can use a vegan fish sauce alternative made from ingredients like seaweed or mushrooms.
5. Can I prepare the umami sauce ahead of time? Yes, you can prepare the umami sauce ahead of time and store it in an airtight container in the refrigerator for up to a week. When you're ready to roast the Brussels sprouts, simply take the sauce out of the fridge, give it a good stir, and proceed with the recipe.
6. Can I add other vegetables to the Brussels sprouts for variety? Absolutely! Feel free to experiment and add other vegetables like carrots, bell peppers, or onions to the Brussels sprouts before roasting. Just make sure to adjust the roasting time accordingly, as different vegetables may cook at different rates.
7. What can I serve these roasted Brussels sprouts with? These Roasted Umami Brussels Sprouts pair well with a variety of main dishes. They make a delightful side dish for roasted chicken, grilled steak, or baked fish. You can also serve them alongside rice or quinoa for a complete and satisfying meal.
8. Can I make this recipe ahead of time and reheat it later? While the Brussels sprouts are best enjoyed fresh from the oven, you can make them ahead of time and reheat them in the oven at a lower temperature (around 300 degrees Fahrenheit) for about 10-15 minutes. This will help retain their texture and flavor.
9. How do I store leftover roasted Brussels sprouts? If you have any leftovers, store them in an airtight container in the refrigerator for up to 3-4 days. To reheat, you can use the oven or a microwave.
10. Can I freeze the roasted Brussels sprouts? It's not recommended to freeze roasted Brussels sprouts, as their texture may change significantly upon thawing and reheating. It's best to enjoy them fresh or within a few days of preparing them.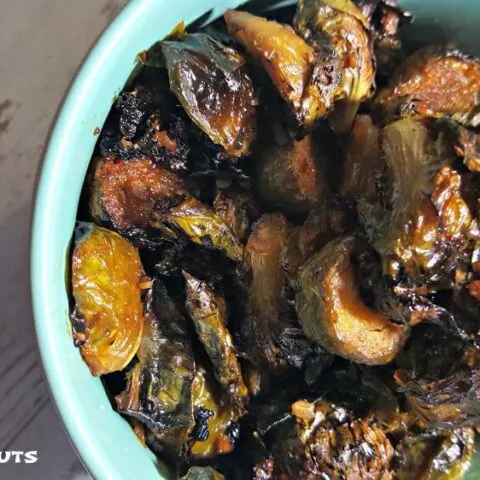 Roasted Umami Brussel Sprouts Recipe
This Roasted Umami Brussel Sprouts recipe makes brussel sprouts my kiddos will eat. It's big on flavor and has a bit of a crunch.
Ingredients
Umami Brussel Sprouts Recipe Ingredients:
2 pounds Brussel sprouts, stems cut off and cut in half
1 Tablespoon butter, melted
1 anaheim pepper, chopped
3 Tablespoons honey
2 teaspoons freshly grated ginger
3 garlic cloves
2 tsp apple cider vinegar
1 tsp tomato paste
3 Tablespoons lemon juice
3 Tablespoons fish sauce
Instructions
Preheat oven to 400-degrees.
Line a rimmed baking sheet with aluminum foil. Trust me. Do this. It will ruin your pan if you don't.
Brussel Sprouts prepared with stems cut off and cut in half, toss with melted butter.
Place Brussel Sprouts on a lined cooking sheet.
Place in preheated oven for 20 minutes.
Place remaining ingredients into a bowl and mix until honey is dissolved.
When Brussel Sprouts are done, remove from oven and pour sauce over top, toss Brussel Sprouts to coat.
Place Brussel Sprouts back in oven and cook for another 15-minutes.
Remove from oven and stir Brussel Sprouts.
Place back in the oven for another 15-minutes until edges are crispy.
Place in a bowl and serve.
Nutrition Information:
Yield:

8
Serving Size:

1
Amount Per Serving:
Calories:

93
Total Fat:

2g
Saturated Fat:

1g
Trans Fat:

0g
Unsaturated Fat:

1g
Cholesterol:

4mg
Sodium:

572mg
Carbohydrates:

18g
Fiber:

4g
Sugar:

9g
Protein:

4g
The Nutritional Information may not be accurate.