Logic Puzzles Hours of Brain-Challenging Fun!
Prepare yourself. I'm about to confess. I am NOT logical. Ask my husband. It drives him bonkers. He says, "You couldn't find your way out of a wet paper sack." Thankfully, I am creative and while I probably won't get out like everyone else, I know I will get out!
Then I read an article about puzzles, Stave Off Alzheimer's and Improve Mental Acuity–Puzzle and Word Games Are Good for Your Mind!
It's true, I want to be an eccentric old lady, like my Great-Grandmother, Dorothy, but I also want all my "marbles" to work!
My kiddos do puzzles and once were obsessed with Sudoku so I thought I could benefit from Puzzle Baron's Logic Puzzles by Stephen P. Ryder (Alpha Publishers).
I'm looking to exercise my brain, and author Stephen P. Ryder knows a thing or two about this, after all, his nickname is "The Puzzle Barron."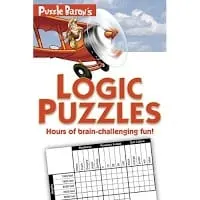 Logic Puzzles contains 200 grid-based puzzles, and then there are the 10,000 unique puzzles to compliment the book online.
So Puzzle Baron's Logic Puzzles arrived, and I got started right away.
I started on page one (yup, it's a logical start) with the grid puzzle titled, "Passport Pandemonium."
I read the instructions and got started.
I was an hour into this and still hadn't solved anything.
I had X's, and O's in the grid, but I still couldn't conclude whose passport belonged to whom.
I asked for help.
I know! soo uncool.
It turns out logical folks at my house aren't too creative in their helping.
Instead, they pointed out the "logical"–y'know, "Logic Grid puzzles are solvable through logical deduction alone."
My eyes rolled back so far in my head that I swear I could see yesterday.
Then, the logical Smarty Pants pointed out that each puzzle in the book has a completion rate (the average time it took thousands to complete the puzzle) as well as "best time."
(Guess who wasn't included in THIS study!)
So on "Passport Pandemonium," the solve rate was 69%, with 12 minutes, 18 seconds as the average solve time and some smarty-pants which goes by Supergirl scored the best time at 2 minutes, 57 seconds.
(Yeah, now we know why she goes by SUPERGirl)
My husband solved it in around 10-minutes with NO paper ticks–"Show Off!" that's what I have to say about that!
For the record, I'm still trying to solve it even though hubby blew it and gave me the answer!
Puzzle Baron's Logic Puzzles is organized according to its online completion rate.
Starting with the easy puzzles and getting tougher.
(Good Grief! I can't imagine!)
In spite of my not being a scholar in solving puzzles, I love this book.
It's like a mystery, and I'm determined to solve it (I'm more the Shaggy/Scooby-Doo type than the Velma and Freddie type).
I like the story the precedes the puzzle and gives hints and then using those clues to mark the x or the o appropriately.
My husband won't admit it, but he likes it too.
I see him sneak a glance at the pages.
Someone dog-eared page 143 "The Dart Toss," maybe he couldn't figure that one out in his mega-mind!
My dad tried to explain it to me; he too can solve these puzzles.
He puts on his glasses and sits on my couch with a notebook and cup of coffee and the x and o process begins.
It would be unfair to time him because he seems to be able to carry on multiple conversations and watch Nascar while working it all out. *sigh*
The Logical Thinking folks at my house like Puzzle Baron's Logic Puzzles, available through Amazon.com, and even I, who is still working page one, enjoy the challenge.
It's a great way to work your brain and show off your mad skills in problem-solving!
Think it might be for you?
Check out Logic Puzzles online and give a puzzle or two a whirl!
Don't worry; there's a tutorial!


I received a copy of Puzzle Baron's Logic Puzzles to facilitate an honest review. No other compensation was received. The opinions expressed are my own and in no way were influenced by the sponsor. Others experience may vary.
We appreciate your subscription to Mommy's Memorandum