Pop Art Creativity Coloring Kit Review
While it's true, as a mom, I try and encourage my children not to play with their food. Sometimes, it's just too tempting. Take Pop Art Creativity Coloring Kit, for example. It's FUN.
We've been reviewing the Pop Art Creativity Coloring Kit for the past couple of weeks at our house. It's cleverly disguised as a TOASTER! We were sent the Pop Art Toaster in a sleek black that looks impeccable on our counter. It is also available in white.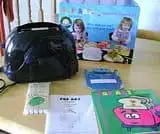 Don't let the ordinary toaster fool you. Pop Art Creativity Coloring Kit is so much more than that boring appliance. This toaster comes with six image plates that transform your standard toast into pieces of edible art! The selection of image plates in this kit is great. Whether you're wishing someone a Happy Birthday, whispering LUV U, or putting a smile on the side of toast to start the day, there's a grin waiting!
The six image plates included with the Creativity Coloring Kit are Double Hearts, Flower Pot, Luv U, snowflake, smile face, and Happy Birthday. M children LOVE the Smile Face and Double Hearts the best, but enjoy changing it up!
The possibilities are endless, and changing the image plate is easy peasy. T e plate clips inside without difficulty, and a hook is included to remove them without incident.
We have experimented with Pop-Tarts, English Muffins, and waffles, and the result has been giggling galore!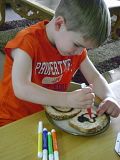 The fun, however, does not stop with the image on the toast. M kiddos favorite part of the Pop Art Creativity Coloring Kit is the COLORING! T is toaster comes with five FDA-approved, flavored, and edible MARKERS. W en I gave them their first plate of toast and said, "Here are some markers, have fun!" They looked at me like I had lost my mind. I encouraged them to draw on their toast and show them that it wouldn't kill them if they ate it. No, I've created toast marker monsters!
They LOVE coloring. Th y love getting to "break the rules" and play with their food. Every slice of toast has been a fantastic masterpiece! There's even a 24-page coloring book to give them ideas!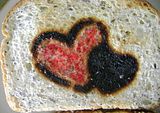 Features:
–Removable Crumb Tray
— Defrost Option
— Adjustable Browning Levels
— Cancel Option
— Reheat Option
– Appliance Capabilities: Defrost
– Safety and Security Features: Cool Touch Exterior
— Care and Cleaning: Wipe Clean
– Warranty Description: 1 Year Limited Manufacturer Warranty
– Dimensions: Length: 12.0 "; Width: 7.5 "; Depth: 7.5
Manufacturer's Suggested Retail Price: $34.99 ( may vary depending on retailer )
We'll never have a boring breakfast or snack again with Pop Art's Creative Coloring Kit and Toaster!
You can visit the Pop Art Toaster Website and discover other great products and find fun and creative recipes.