Build 10 different models, including a cool fire engine, and bring them to life with the spring motor! Packed with 127 parts plus step-by-step instructions and building ideas for 10 unique models. The convenient storage box is a great place to store your parts and makes it easy for you to take the fun with you. For ages 5+.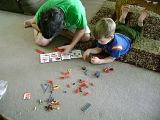 This was the first set we put together. Jake was here. He is my original K'NEX child. It was a walk down memory lane as we recalled the K'NEX sets he had. They all required assembly with straight pieces, nuts, bolts and tools. It was a good time then, but when he saw the modern K'NEX he was impressed!
Jake and Li'l Man set out to create one of the Fire Rescue 10 Model Sets.
Li'l Man lost interest, or perhaps it was that Jake took over. Either way the set was making progress and the finished piece had Li'l Man's eyes wide in amazement. He sat at the table and admired it. He played with it. He loved it.
The Fire Rescue 10 set has 127-pieces. Some of them tiny.
The set comes with an instruction booklet and a reusable storage case.
This set appealed to both Li'l Man and Jake–a sixteen year age gap. It gave them some great brotherly bonding time and was a productive use of time.
Disclosure: I received no monetary compensation for this post. I received the product mentioned in this post from the sponsor to facilitate my review. The opinions are my own and were in no way influenced by the sponsor.