Starting 2013 with the #IHeartOmron fitness challenge to find a better me.
Let's go, go, go on an adventure!
2012. Wow. Reflections have looking pools that fill my soul with joy and deep, dark abysses that, if I linger long enough in those thoughts, pull me in and are toxic to my well-being. December was a time of learning to stand. Being stronger than I imagined I could be and fighting for the core values that somewhere became lost.
2013. It's about Julee. It's about rising above the toxic negativity. It's about throwing down all that burdens me and keeps me hostage from my only resolution…to be happy.
If you've followed this blog for any length of time, you probably already know my life has revolved around being a caregiver. That caregiving ended when it came to Julee. Let's face it, with kids, a husband, a grandmother, a neighbor there hasn't been a whole lot of time for me.
I remember looking in the mirror many times and seeing a hollow person. Numb on the inside and exhausted on the outside. Somewhere, I think I gave up. I didn't have the energy. I didn't feel I deserved it.
It's all about to change.
I've been selected to participate, with 24 other amazing bloggers, in the #IHeartOmron Fitness Challenge. We're seven days into the New Year and I've been committed. I'm thrilled to have been chosen to motivate me to push myself. To torture myself to the point that slowly I morph into the woman I was destined to be. No more hiding inside these layers of fat. No more excuses. I'm ready to unveil and new me. I'm not doing this for Omron Fitness, or anyone else. This. This is about ME!
Here is where I am starting. I'm the fat chic in this picture.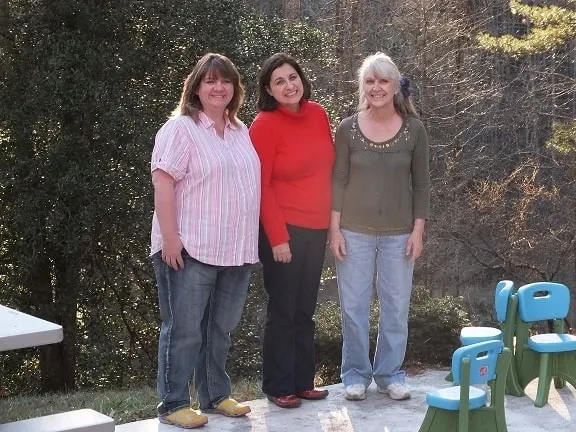 The other two are my sister, who just had a baby in March and my mother who is in her mid-sixties. I think that says it all…a post-partum gal and a woman in her mid-sixties are in better shape than me. I know. It disgusts me too.
The definition of insanity is doing the same thing over and over again and expecting a different result. ~Albert Einstein
For those that are in disbelief that I just called myself fat. Don't be haters. It's time I see myself for what I am. I AM fat, but I am also beautiful, confident, loyal and downright AH-mazing! Unfortunately, the reality is that because I can't disguise FAT, others often don't give me the chance to show them just how awesome I am!
If you don't like your past performance, find out what you can do differently right now to alter the trajectory of your outcome. The smallest change can make a big difference.
I'm doing it. I'm talking about me. My challenges. The ones I've struggled with for a very long time–perhaps my entire adult life. No more excuses. I'm stepping up with the understanding that Past performance does not guarantee future results.
So…here we go….onwards and upwards.
This post is sponsored Omron Fitness as a collaboration with Bookieboo Blogging Network and Mamavation – a community dedicated to weight loss for women and obesity prevention for families. I was provided with product and compensation for my time and honest opinions.