Here we are. Another week. Another weigh in. This weigh-in in my last for the #IHeartOmron Fitness Challenge. In reflecting on my goals, I fell short. Missed my goal number by seven pounds. I'm sure I didn't claim the title of champion, some bloggers lost an LOT of weight, up to 30 pounds!
This challenge wasn't about anyone but me. It was about pushing myself, establishing healthy habits and reaching for a goal. It was about continuing to better myself.
I did all of those things…and more.
I pushed myself. I remember when I first started this journey, just walking up the stairs took my breath away.
I remember jogging with my sister and proclaiming, "I walk faster than I can run!"
I remember my body hurting. Who am I kidding? My body was screaming from finding muscles I hadn't been using for years! I hurt for the first three weeks of the challenge.
I remember crying because I couldn't do a push-up.
My sister can still out jog me. My body still hurts when I use muscles I don't typically call upon. I broke down last week in an exercise class.
The difference is I have found strength in my failures.
I have grown stronger physically and mentally.
My thinking has changed. We spent the weekend in hotels and this girl, I, made it a point to get on the elliptical or treadmill. My kiddos were shocked and proud.
I eat differently. I still have a passion for cupcakes, refined sugar, and Coca-Cola. I still indulge but it's in moderation.
I approach exercise differently. I still don't like it. I still struggle to get started, but I commit and I push myself until my muscles fail me.
I can win Just Dance, not because I can dance, but because I was smart enough to realize we were doing everything in patterns of 4, 6 or 8. I took the same approach to exercise. I learned in an exercise class that I work harder when I am challenged to step away from the rhythm and push myself hard for 20-second intervals. I push myself so hard that my body is tired at the end of the 2o seconds. I welcome the ten-second break before we push again for twenty seconds until we have completed six circuits.
I still can't run an entire mile all at once, but I am taking this and I signed up for a 5K. I figure I just have to finish–I don't have to come in first. The important thing is I am doing it. I will get better at it, but for now, I just want to be there, working towards a better me.
I am thankful to Mamavation and the workouts created by @MrBookieBoo
So? How did I do in the #IHeartOmron Fitness Challenge?
I lost a total of 13.8 pounds.
But it's better than a number on the scale…Take a look at these before and after measurements!
Waist: Before 45.5″ After: 42.75″
Hips: Before: 54.5″ After: 52″
Right Thigh: Before: 26″ After: 25″
Left Thigh: Before: 26″ After: 25.5″
Chest: Before: 49″ After 46″
Rt. Arm: Before 14.75″ After 13.5″
Left Arm: Before: 14″ AFter: 14″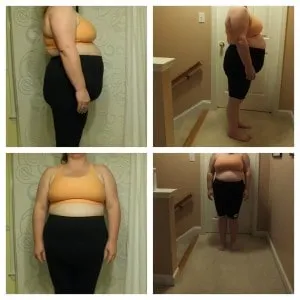 I can tell you I am almost down two pant sizes. That's an incredible feeling.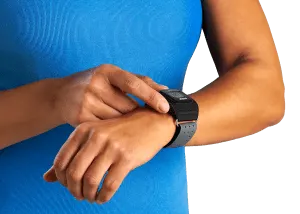 I'm starting a new plan and I'll be using the Omron HR-500U Strapless and Continuous wrist Heart Rate Monitor. I've tried heart rate monitors in the past, but Omron makes it simple by eliminating the chest strap. The HR-500U is worn on the wrist for continuous and accurate monitoring.
Features:
No Chest Strap— Just put it on your wrist and you're ready to go
Heart rate—Receive continuous monitoring of your heart rate
Pace & Distance—Accurately tracks pace & distance during a run or walk
Calories—Tracks calories burned during your workout
Color LCD Heart Rate Zone Alert—Programmable zones warn you if you're too high or too low with a simple, easy to read color
Software – Upload data to your personal dashboard on www.OmronFitness.com with a USB cable
Clock—Automatically resets; start with a clean slate each day
Timer
Backlight
Water Resistant
Rechargeable Battery
Washable/Breathable wrist strap—Lightweight strap for added comfort
I'm excited to learn how to better perfect my body and become the person I was intended to be with the help of Omron. I'll still be weighing in weekly and training for my first 5K the end of February.
Here are some tips from Bob Greene on how to use the Strapless Heart Rate Monitor.
Join me and the #iheartOmron Fitness ambassadors and Mamavation on February 20th at 8:00 p.m – 10:00 p.m. EST for the #iheartOmron Twitter Party! I'm still working out strong and I hope to see more of difference by the 20th!
This post is sponsored Omron Fitness as a collaboration with Bookieboo Blogging Network and Mamavation – a community dedicated to weight loss for women and obesity prevention for families. I was provided with product and compensation for my time and honest opinions.