It's summer and we're livin' it up with ice cream! It is a tasty cool treat in these dog days of summer. I can't deny it, I LOVE ice cream. Actually, I love anything made with sugar…ice cream, chocoate, cake, brownies, pudding, etc. Now, I'm doing it a little more sensibly with the new C&H Light:Sugar & Stevia Blend.
C&H Light is an all natural pure cane sugar and stevia blend with half the calories of sugar. It's a 350-calorie savings in each cup! It allows me to indulge a little more and not feel the guilt. I'm not a fan of artificial sweetners and C&H Light doesn't add artificial ingredients. It's the perfect sweet taste and just half the calories of sugar.
We made Raspberry Ice Cream and it was creamy and tasty without the added calories of the sugar. I substituted the C&H Light for regular sugar and it still delivered great taste and creamy texture.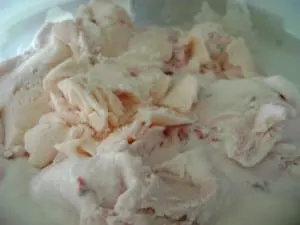 Fresh Raspberry Ice Cream
Ingredients:
3 cups fresh, ripe raspberries, washed
4 T freshly squeezed lemon juice
1 1/2 cups C&H Light Sugar, divided
1 1/2 cups whole milk
2 3/4 cups heavy cream
1 1/2 tsp. pure vanilla extract
Instructions:
In a small bowl, combine the raspberries with the lemon juice and 1/2 cup of the C&H Light sugar. Stir gently and allow the raspberries to macerate in the juices for 2 hours. Strain the berries, reserving the juices. Mash or puree half the berries.
In a medium mixing bowl, use a hand mixer on low speed to combine the milk and remaining C&H Light sugar until the sugar is dissolved, about 2 minutes. Stir in the heavy cream, reserved raspberry juice, mashed raspberries and vanilla. Turn the automatic ice cream machine on; pour the mixture into the freezer bowl and let mix until thickened (about 20-25 minutes)
Five minutes before mixing is completed, add the reserved whole rasperries and let mix in completely. The ice cream will have a soft creamy textures. If a firmer consistency is desired, transfer the ice cream to an airtight container and place in freezer for about 2 hours. Remove from freezer about 15 minutes before serving.
Get Socail with C&HSugar through their Facebook page. Be sure to click on the coupon tab to download a coupon to try the new product.
Disclosure of Material Connection: I received one or more of the products or services mentioned above for free and the post was sponsored by C&H Sugar. Regardless, I only recommend products or services I use personally and believe will be good for my readers. I am disclosing this in accordance with the Federal Trade Commission's 16 CFR, Part 255: "Guides Concerning the Use of Endorsements and Testimonials in Advertising."