Food has always been the glue in my life. It's forged friendships, seen me through the tough times and been there when there's been a cause to celebrate. Friends have come and gone and family has moved away, food has always been the focus.
I've had many jobs and journeyed many paths and the one thing that has always been wherever I am is the chocolate chip. It seems to be a staple that goes with so many foundations from cookies to brownies, hot cocoa to just out of the bag.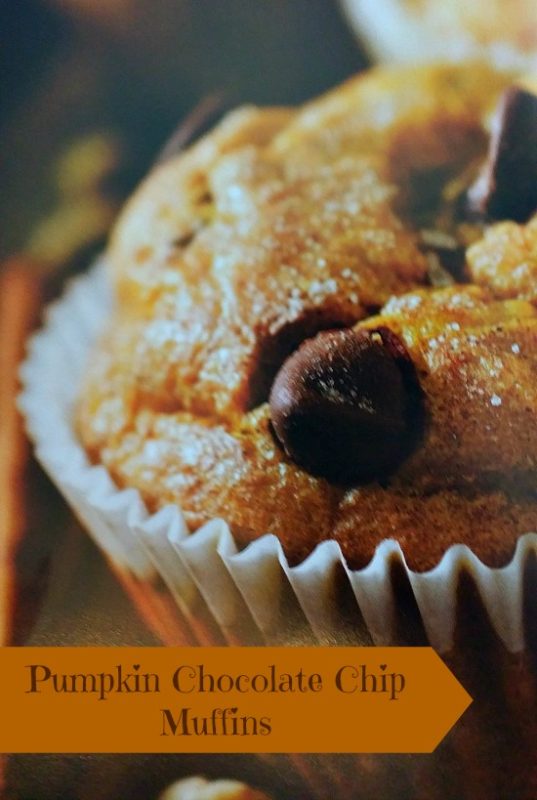 As we head into my favorite season, fall, the chocolate chip pairs well with pumpkin. These Pumpkin Chocolate Chip Muffins make the home smell like love and tuck nicely into a lunch bag. They're a great grab and go in the morning and make a scrumptious snack anytime.
Pumpkin Chocolate Chip Muffin #Recipe
Author:
Delicious and high in beta-carotene this is a muffin you'll love.
Ingredients
2 cups all-purpose flour
3/4 cup semi-sweet chocolate chips
2 tsp baking powder
1-1/2 tsp ground cinnamon
3/4 tsp ground allspice
3/4 cup ground nutmet
1/4 tsp salt
1-1/4 cups sugar
2 eggs
3/4 canned pumpkin puree (not the pie filling)
1/2 cup oil
1/4 cup milk
1 tsp vanilla
Instructions
Preheat oven to 375 degrees F.
Grease muffin pan, or line with paper liners.
In medium bowl, combine flour, chocolate chips, baking powder, cinnamon, allspice, nutmeg and salt.
In a large bowl, whisk together 1 cup of the sugar, eggs, pumpkin, oil, milk and vanilla.
Stir in flour mixture just until combined. Don't over mix.
Spoon batter into prepared muffin cups.
Sprinkle evenly with remaining sugar
Bake for 20-24 minutes or until golden and tester inserted into center comes out clean.
Let cool in pan for 5 minutes
Remove from pan and let cool completely.