There are countless reasons to get a divorce. You and your spouse might be separating due to irreconcilable differences, infidelity, or a simple lack of love in the relationship.
Regardless, you need to think about the effects of divorce on your children. Despite your differences, you and your spouse must work together to mitigate the negative ways your divorce will impact the kids.
However, not all effects of divorce on children are adverse. There are plenty of ways to divorce is the best thing for your children.
Want to see where we're coming from? Keep reading to learn about all the positive reasons to divorce.
Happier and Healthier Home Environment
Simple arguments can turn into loud, aggressive, and animated fights when a married couple doesn't get along. While this is relatively normal in relationships (as passion runs both ways), it can be not very comforting for your children to witness.
Excessive fighting puts unnecessary stress on your kids, especially if you fight passionately and loudly. Children of divorce can benefit from their parents separating because it cuts down on the amount of trauma they experience during fights.
This is especially beneficial if you and your spouse can't communicate without fighting, have significant differences, or argue frequently. In this case, divorcing for the kids is one of the kindest things you can do.
Better Conflict Resolution Skills
One of the essential benefits of divorce is that it teaches your children to solve problems amicably. As long as you and your spouse maintain self-control and keep things civil, your kids will benefit.
Not only does this allow you to avoid the adverse psychological effects of divorce on children, but they will also learn and grow. You can use it as a teaching experience.
You can explain that you no longer want to be husband and wife, but you will always want to be Mommy and Daddy. Show them the importance of working together to find the best solution for everyone involved.
Increased One-On-One Time
In many marriages, one parent is more actively involved than the other.
It could be because one parent works while the other stays home or parenting styles.
Regardless, one parent tends to fade into the background if the other is more authoritative and particular about rules, penalties, etc.
One of the most positive effects of divorce is shared child custody.
Most parents who have parted amicably will try to figure out how to get a joint custody arrangement.
It gives both parents a chance to have one-on-one time with their kids. You can get to know your children on a deeper, more individual level, and vice versa.
However, it's a good idea to maintain a similar parenting style with your spouse. Otherwise, it's easy to confuse your kids and create unnecessary problems for them.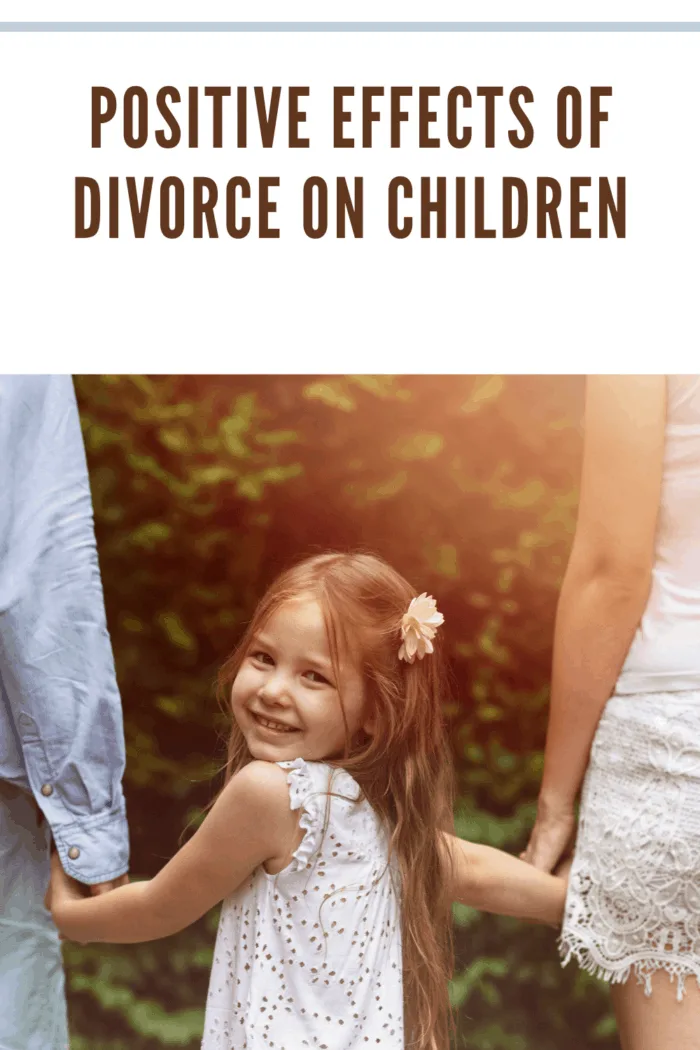 Improved Coping Skills
WebMD reminds that teaching children how to cope with divorce healthily and productively is essential for ensuring their mental and emotional well-being during and after the separation.
In this way, children of divorce can learn valuable life skills early in their lifetime.
If you can teach them how to cope with something as painful as a divorce effectively, they'll be able to apply those skills to other adverse situations in their life.
Focus on teaching them that the divorce is neither their fault nor their responsibility to fix.
Just as importantly, show them how to look at the positive aspect of any given situation.
While they may be too young to understand the concept, situations are neither good nor bad, and it's all about our perception and mindset.
Instill Realistic Expectations
Some of the most painful experiences in our life affect us so gravely because we weren't expecting them.
Children of divorce will learn that life doesn't always turn out the way we expect or want it to.
As such, they won't have unrealistic expectations about life that will ultimately crush them.
While this learning experience can be painful, it also leads to one of the most beneficial effects of divorce.
Your children will gain real-life experience in dealing with "failure."
They'll learn that life always goes on.
They'll learn how to be resilient.
Adaptability
While it's easy to see the negative side of sharing custody and having your kids carted back and forth from one house to the other, it's not all bad.
Children of divorce learn how to adapt to new environments and circumstances, a valuable life lesson.
Children who grow up with the same routine have a more consistent and predictable home life.
However, they don't know how to handle things when things change (expectedly or unexpectedly).
This can lead to temper tantrums, meltdowns, anxiety, and depression.
Blended Families
It might not be a thought on your mind yet, but eventually, you'll find someone else to share your life with. It might be a difficult transition for your kids initially, but blended families can enrich your children's lives.
Through your new relationship, they'll gain access to another loving adult and possibly, new brothers and sisters. This is one of the most positive and exciting effects of divorce.
If you ask most people about growing up in blended families, they wouldn't have had it any other way.
Double Holiday Celebrations
Though it's a bit of a cop-out, double holidays are one of the best perks of having divorced parents. It means children get two birthdays, two Christmases, two Thanksgiving, and so on.
While it sounds materialistic, celebrating holidays with our families plays a significant role in our lives. In some ways, our holiday traditions shape our values and beliefs. If your kids are given access to twice as many holidays as traditional families, it's only a benefit to their happiness.
Worried About the Effects of Divorce On Your Kids?
If you and your spouse are considering a divorce, it's only natural to worry about your kids. While this time will be difficult, there are also positive effects of divorce. Hopefully, we've given you a few things to look forward to in this challenging transition.