I was selected as a Moms Meet Blogger to try and review Organic India's Moringa Leaf Powder and Capsules.
I take supplements regularly. I'm working on eating more ORGANIC, including my supplements. The better you put in your body, the better it will give you.
ORGANIC INDIA Certified Moringa products are organic and a powerhouse supplement. They make their products from powdered leaves of the Moringa oleifera tree, a native tree to India. Moringa is a nutritionally complex whole food that is used worldwide to help combat malnutrition. It helps restore the nutritional imbalance.
Moringa is one of the most complete, nutrient-dense plants on planet Earth, containing over 90 nutrients, 46 antioxidants, and abundant minerals. The Moringa leaves have been consumed for thousands of years as a superfood nutritional supplement. As a concentrated superfood, Moringa is both alkalizing and energizing. At the same time, it is abundant in vitamins, minerals, and complex amino acids.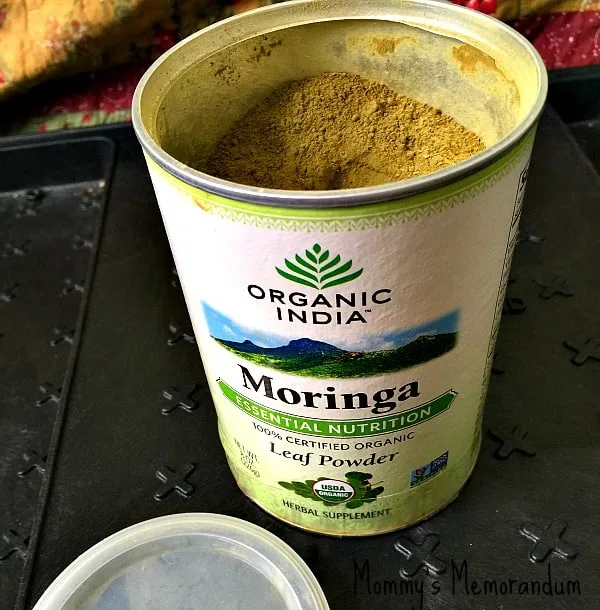 As a powder, I found it easy to add to smoothies, soup, and sprinkle over my dinner.
ORGANIC India seeks to provide true wellness for everyone, creating 100 percent organic, pure, and natural products. They are a company doing good. Working closely with India's family farmers on thousands of certified organic farmlands. The company promotes sustainable agriculture and pays a premium price to the farmers for their crops.
As I was reading about Moringa and Organic India, I indulged in Holy Basil or Tulsi tea. It is the trademark for ORGANIC INDIA, with more than 20 flavors. My luxury is sitting on the porch, enjoying the sun, reading, and sipping on a cup of tea. It calms me and soothes me. My favorite right now is the Tulsi Cinnamon Rose tea. It is so good!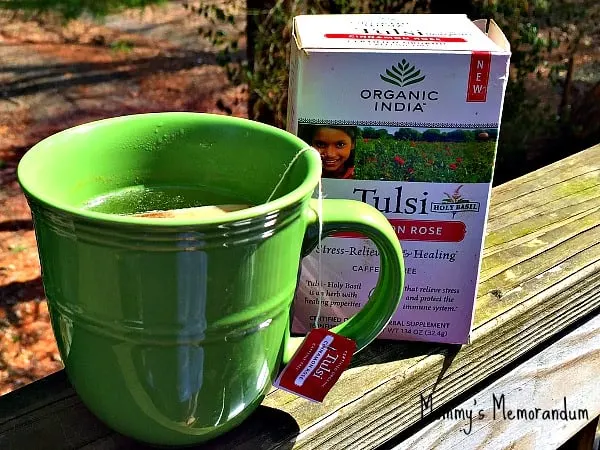 My first cup of Organic India's Tulsi tea was a great introduction to this company. They also offer organically grown herbal supplements, including Tumeric and Moringa Leaf Powder–both I have been using.
One 8 oz. canister of Moringa Leaf Powder retails for $22.99, and 90 capsules of Moringa retails for $19.99.
Always check with your physician before starting any supplement product, specifically Organic India Moringa Leaf Powder and Capsules. The FDA has not evaluated these statements. This product is not intended to diagnose, treat, cure, or prevent any disease. Consult your healthcare professional before use if you are pregnant, nursing, taking any medication, or have a medical condition. Keep out of reach of children.
**I received this product for free from the sponsor of the Moms Meet program, May Media Group LLC, who received it directly from the manufacturer. As a Moms Meet blogger, I agreed to use this product and post my opinion. My opinions do not necessarily reflect the opinions of May Media Group LLC or the manufacturer of this product.**