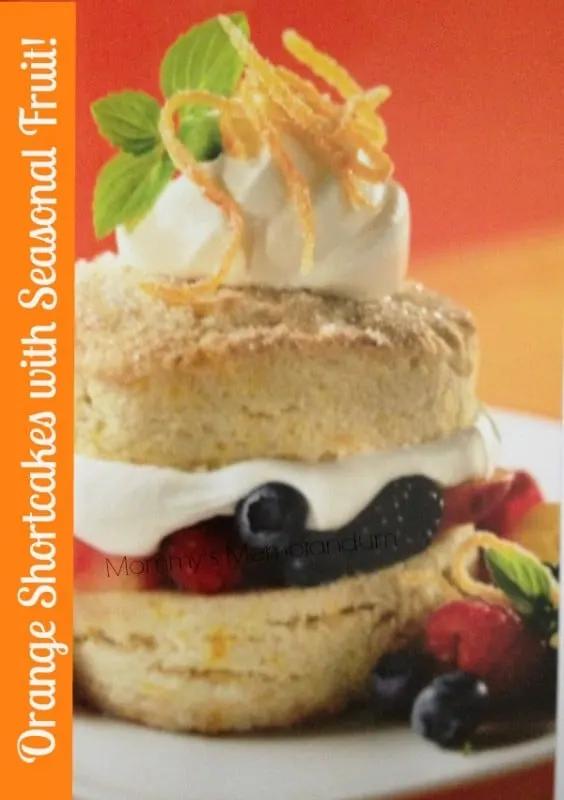 Stack 'em high, fill them and enjoy them. Repeat.
Orange Shortcakes Ingredients:
1-1.2 c. all-purpose flour
1/4 c. granulated sugar
2-1/2 tsp baking powder
1/2 tsp salt
6 Tbsp cold unsalted butter, cut into 1/4″ pieces
Grated zest of 1 orange
1/2 c whipping cream
2 tbsp unsalted butter, melted
2 Tbsp coarse sugar (optional)
Seasonal fruit, chopped and lightly sweetened
Lightly whipped cream
Orange Shortcakes Directions:
Place flour, granulated sugar, baking powder and salt in the mixer bowl.
Mix until well combined. Beat in cold butter and orange zest until butter is the size of peas.
Stir and mix in whipping cream until dough forms.
Turn dough out onto a floured work surface and roll out to 1/2 inch thickness.
Cut out six 3″ rounds and place 2″ apart on prepared baking sheet.
Reroll scraps. Brush with melted butter and sprinkle with coarse sugar, if using.
Bake in middle of preheated oven until golden, about 20 minutes.
Transfer to wire rack and let cool completely
Slice shortcakes in half horizontally.
Place seasonal fruit and whipped cream on bottom half and cover with top half.
Appears on page 391, The Mixer Bible
© 2013 Robert Rose Inc. www.robertrose.ca May not be reprinted without publisher permission.