Triple the pleasure, triple the fun–but who's counting calories? These fudgy morsels are worth every bite!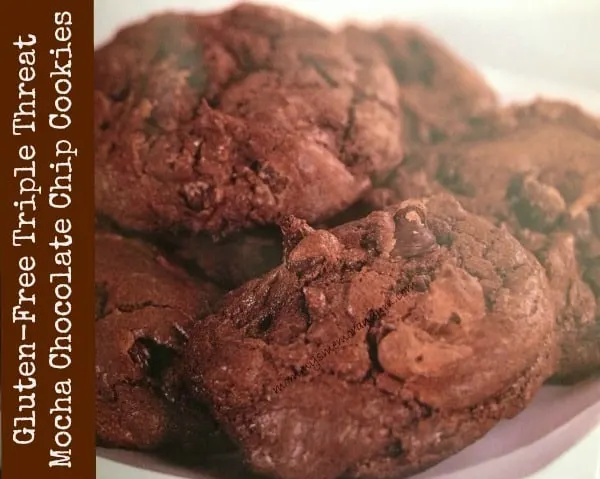 Gluten-Free Triple Threat Mocha Chocolate Chip Cookies Ingredients
1 cup sorghum flour
2/3 c. whole bean flour
1/2 cup tapioca starch
1 tsp baking soda
2 tsp xanthan gum
1/2 tsp salt
1/3 c unsweetened cocoa powder
4 oz. semi-sweet chocolate
1/3 c butter
1/3 c shortening
2 Tbsp water
1 Tbsp instant coffee granules
2 eggs
2/3 c granulated sugar
2/3 c packed brown sugar
1-1/2 tsp vanilla
1 cup semi-sweet chocolate chips
Gluten-Free Triple Threat Mocha Chocolate Chip Cookies Directions
1. In a large bowl combing flour, tapioca starch, baking soda, xanthan gum, salt, and cocoa. Mix well and set aside.
2. In a medium microwave-safe bowl, microwave chocolate, butter, shortening, water, and coffee granules, uncovered on medium for 2 minutes. Stir until completely melted. Set aside to cool.
3. In a large bowl, using an electric mixer, beat eggs, sugar, and brown sugar for 3 minutes, until smooth. Add vanilla and cooled melted chocolate mixture. Slowly beat in the dry ingredients until combined. Stir in chocolate chips. Drop dough by rounded spoonfuls 2″ apart on a lightly greased cooking sheet. Let stand for 30 minutes. Meanwhile, preheat the oven to 350 degrees.
4. Bake in preheated oven for 10-12 minutes or until set. Transfer immediately to the cooling rack.
Appears on page 332, Easy Everyday Gluten-Free Cooking
© 2013 Robert Rose Inc. www.robertrose.ca May not be reprinted without publisher permission.