Indulge in the irresistible flavors of our Today's Best Recipe—One Pot Rigatoni with Gorgonzola and Sausage. This quick and easy one-pot pasta dish combines tender rigatoni noodles, savory Italian sausage, vibrant grape tomatoes, and the creamy richness of gorgonzola cheese, all in just 30 minutes. Whether you're navigating a busy weeknight or embracing a leisurely weekend, this recipe promises a deliciously satisfying meal.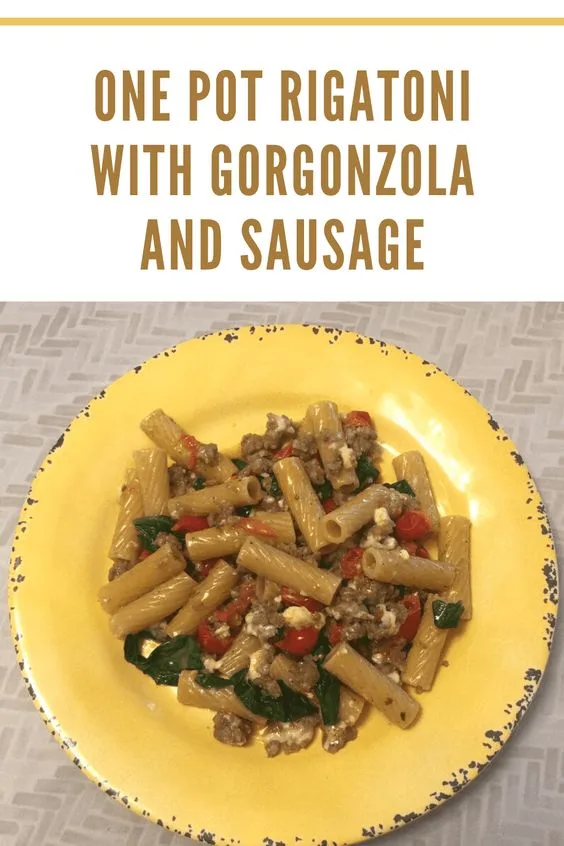 One Pot Rigatoni with Gorgonzola and Sausage
Prep Time: 10 minutes
Cooking Time: 20 minutes
Servings: 4
Ingredients:
4 tablespoons garlic-herb butter
1/2 pound Italian sausage
1 pint grape tomatoes
4 cups low-sodium chicken broth
3 cups rigatoni pasta
6 ounces of crumbled gorgonzola cheese
4 cups baby spinach
Garlic-Herb Butter:
1/4 cup softened butter
3/4 teaspoon lemon juice
1/4 teaspoon salt (or to taste)
1/2 clove garlic, minced
1 1/2 tablespoons fresh parsley, chopped
3/4 tablespoon fresh basil
3/4 tablespoon fresh oregano
3/4 tablespoon rosemary
1/8 teaspoon black pepper
How to Make One-Pot Rigatoni with Gorgonzola and Sausage:
Cube butter.
Preheat a 4-quart stockpot on medium-high heat for 2-3 minutes.
Add sausage to the pot and cook for 7-8 minutes, stirring to crumble meat until it reaches 160 degrees and no pink remains.
Once the sausage is browned, add tomatoes and cook for 3-4 minutes until tomatoes soften.
Remove the sausage mixture set aside.
Return the pot to medium heat; deglaze by adding broth and bring to a boil.
Add pasta and cook for 10-12 minutes until al dente (do not drain).
Add sausage mixture, butter, gorgonzola, and spinach to the pot.
Remove from heat; stir until butter melts and spinach wilts.
Expert Tips:
Place paper towels at the bottom of a large bowl and use a colander to drain grease after cooking the meat.
Make your own herbed butter for extra flavor. Allow one hour of refrigeration before use.
Recipe FAQs:
Q: How long can I store leftovers? A: Store any leftovers in an airtight container in the refrigerator for up to two days.
Q: Can I make substitutions? A: Yes, consider using hot Italian sausage or penne pasta, and try cherry tomatoes cut in half.
Q: Any additional add-ins for extra flavor? A: Experiment with 1/4 teaspoon red pepper flakes, 1/4 cup pepper jack cheese, or deglaze the pan with 1/4 cup white wine before adding broth. Garnish with lemon zest or parmesan cheese.
Conclusion:
Mommy's Memorandum offers a delightful journey into the world of comfort food with our One Pot Rigatoni with Gorgonzola and Sausage. Perfect for busy schedules, this 30-minute pasta dish on a vibrant yellow plate will satisfy your cravings with its fusion of flavors and textures. Explore more culinary delights on our Pinterest Dinner Board for an endless array of delicious recipes.