Move over Avocado Toast because Guacamole Toast is here to steal the show. While Avocado Toast has its own charm, this Guacamole Toast recipe takes the classic to a whole new level. This delightful combination of creamy avocado, onion, jalapeno, and flavorful spices, generously spread over golden toasted bread, is a quick and indulgent meal that's sure to become a favorite. Say goodbye to basic and hello to the next-level goodness of Guacamole Toast!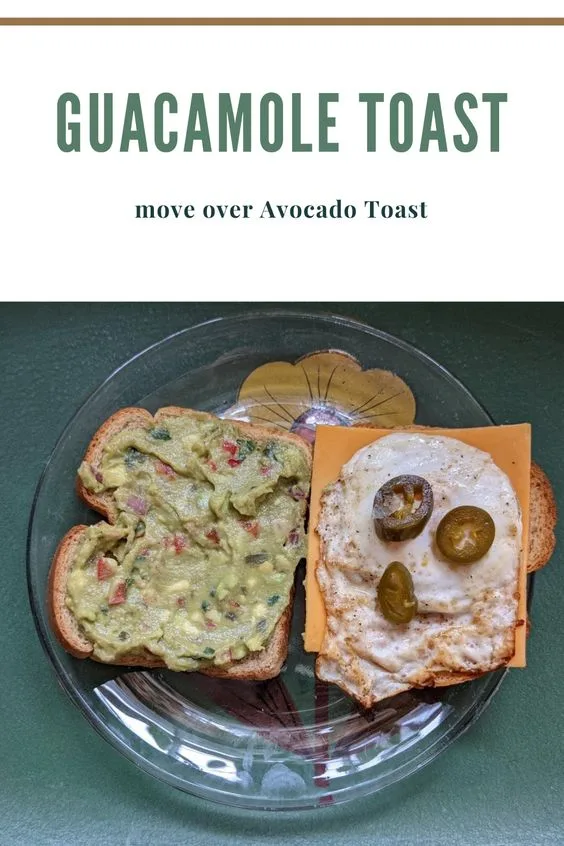 Guacamole Toast
Prep Time: 6 minutes
Cook Time: 3 minutes
Total Time: 9 minutes
Servings: 1
Ingredients:
Bread of Choice
(1) Large Egg
5-6 Ripe Avocados
1 Small Lime
1 Tablespoon Fresh Cilantro (adjust to taste)
1/4 teaspoon Salt
1/4 teaspoon Black Pepper
1/2 Small Red Onion, diced
1/2 Small Red Pepper, diced
1 Large Jalapeno, seeded and sliced
1/4 teaspoon Garlic
1/4 teaspoon Cumin
How to Make Guacamole Toast:
Fry the Egg:

Heat a non-stick frying pan over medium-high heat and melt butter.
Crack the egg into the pan, reduce heat to low, and cook until whites are set but the yolk is still slightly runny (about 2 minutes).
Flip the egg gently and cook to desired doneness (about 30 seconds).
Season with salt and pepper.

Make the Guacamole:

Cut avocados in half, remove pits, and scoop the flesh into a bowl. Mash with a fork.
Add salt, pepper, cumin, garlic, red onion, and red peppers. Mash and mix until well combined.

Toast the Bread:

Toast slices of your preferred bread to your desired crispiness.

Assemble:

Spread guacamole over the toasted bread slice.
Top with jalapenos and a pinch of salt.
Squeeze fresh lime juice over the top.
Add-Ins:
Enhance your guacamole toast by adding:
Sliced Tomatoes
Fresh Herbs: Basil, Dill, Parsley
Sauces and Seasonings: Pesto, Sriracha, Balsamic Glaze, Everything Bagel Seasoning, Red Pepper Flakes, Chili Flakes
Cheeses: Cream Cheese, Crumbled Goat Cheese
Expert Tips:
Always cook the egg on low heat to avoid browning around the edges, ensuring a tender and flavorful outcome.
Recipe FAQs:
Q: What type of bread is recommended for Guacamole Toast?
A: Thick-sliced whole grain or whole wheat bread works well, but feel free to use your bread of choice for a sturdy base.
Q: How can I tell if an avocado is ripe?
A: A ripe avocado yields slightly to a gentle press, and you should scoop out any brown or bruised spots.
Q: Can I customize the spice level of the guacamole?
A: Absolutely! Adjust the amount of jalapeno and other spices according to your taste preferences.
Enjoy your elevated Guacamole Toast experience with these simple steps and creative add-ins!