As I get older, I'm more in tune with nutrition. Maybe it's taking care of my family. While we have a variety diet, sometimes I'm certain we fall short of the amount of Omega-3 our bodies need. It isn't easy to incorporate everything into daily food consumption. These days I'm relying on
OMAX3 Ultra-Pure™ Omega-3 Supplement
. This pharmaceutical-grade Omega is an easy-to-swallow soft-gel dietary supplement that delivers
the highest omega-3 purity levels available
.
Omega 3 is one of the supplements I rely on it. It aids in inflammation, which offers relief to my aging bodies joints.
Omax3 Review
I read a lot about the various Omegas. While sometimes it is overwhelming, I understand that I want purity and concentration for the best health benefit. OMAX3 provides 100 percent of the daily requirements of omega-3, as the American Heart Association recommends. We're talking a single dose (two soft gels) being the equivalent of eating…are you ready?…eight and a half egg yolks or 90 walnuts! Wow!
Omax3 has been developed by Yale University-affiliated physicians and tested twice for purity. It's free of contaminants, like Omega-6 fatty acids, lead, PCBs, and mercury commonly found in fish oil supplements. Omax3 is more than 91 percent pure omega-3 per soft gel–most omega-3 brands contain mostly fillers and are only 30-50 percent pure.
Omax3 is gluten-free and balanced to optimally support the body's normal inflammation response to achieve a balance of EPA and DHA (4:1)
I've taken various omegas, and the one thing I have complained about often is the aftertaste left in the mouth after burping. I have not experienced this side effect with the omax3.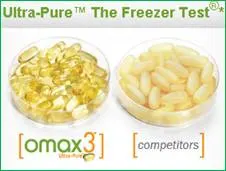 Still not convinced? Take the omax3® Ultra-Pure™ Freezer Test®. Low-purity omega-3 products will often turn white and cloudy when placed in the freezer for 24 hours, but omax3 remains clear. That's because there are no saturated fats or other impurities in omax3.
Undesirable fats = impurities. Take the challenge!
Disclosure of Material Connection: I received one or more of the products or services mentioned above for free in the hope that I would mention it on my blog. Regardless, I only recommend products or services I use personally and believe will be good for my readers. I am disclosing this in accordance with the Federal Trade Commission's 16 CFR, Part 255: "Guides Concerning the Use of Endorsements and Testimonials in Advertising.".