We're Tiny House Nation fans. My ten-year-old actually started our addiction, which has carried over to Grandpa getting ready to embark on building his own tiny house. I joke this proves our loyalty to the show as Grandpa is six-foot-eight in height.
This weekend, while one child was dreaming of slides and dips at King Dominion's Soak City, Li'l Man was focused on our lodging. It was all he had talked to me about for two weeks.
We received a one-night complimentary stay at King Dominion's Camp Wilderness in a Deluxe Cabin.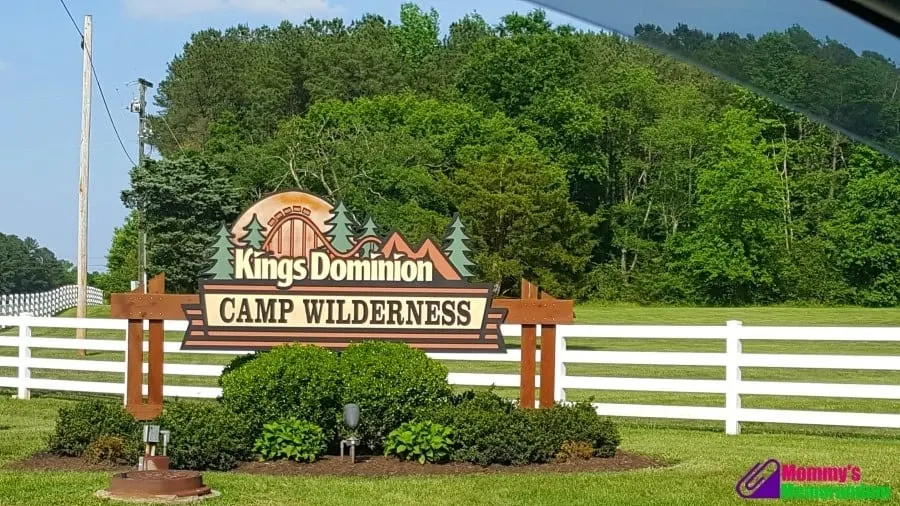 Last time we stayed in a well-known chain hotel's suite.
After a few hours at the park, we took a break and checked in at the Camp Store. Abigail greeted me with a friendly smile, took the time to show me on the campground map where to go and gave me two keys as she said, "Enjoy your stay. Let me know if you need anything."
We drove down the main road, through the Good Sam RV sites and a few tents, and turned on to Carousel. Li'l Man noticed that all the streets in the campground are named after rides at Kings Dominion Amusement Park.
When the cabins were in view, my son squealed…until we pulled into our parking space in front of C-35.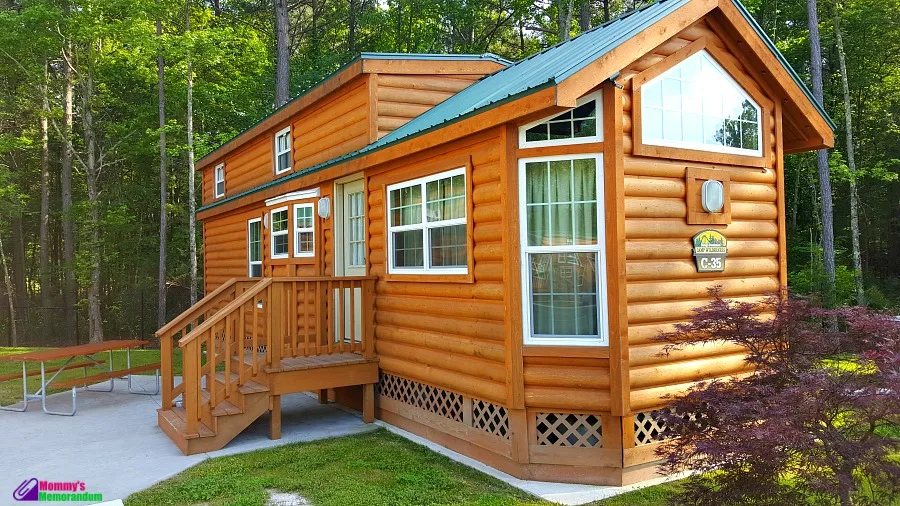 For the night, this was our Tiny House.
We couldn't wait to step through the door.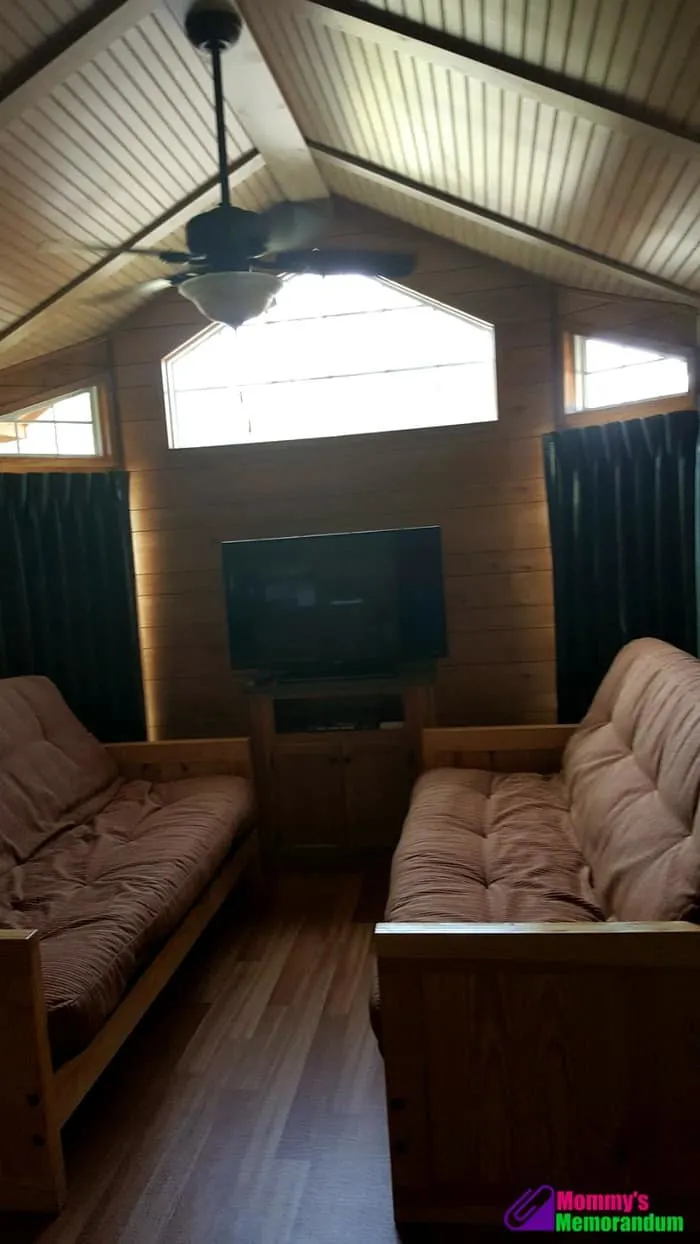 We were greeted by vaulted ceilings and large windows.
Two super comfortable futons faced each other, making conversation easy.
The futons also share accessibility to the kitchen.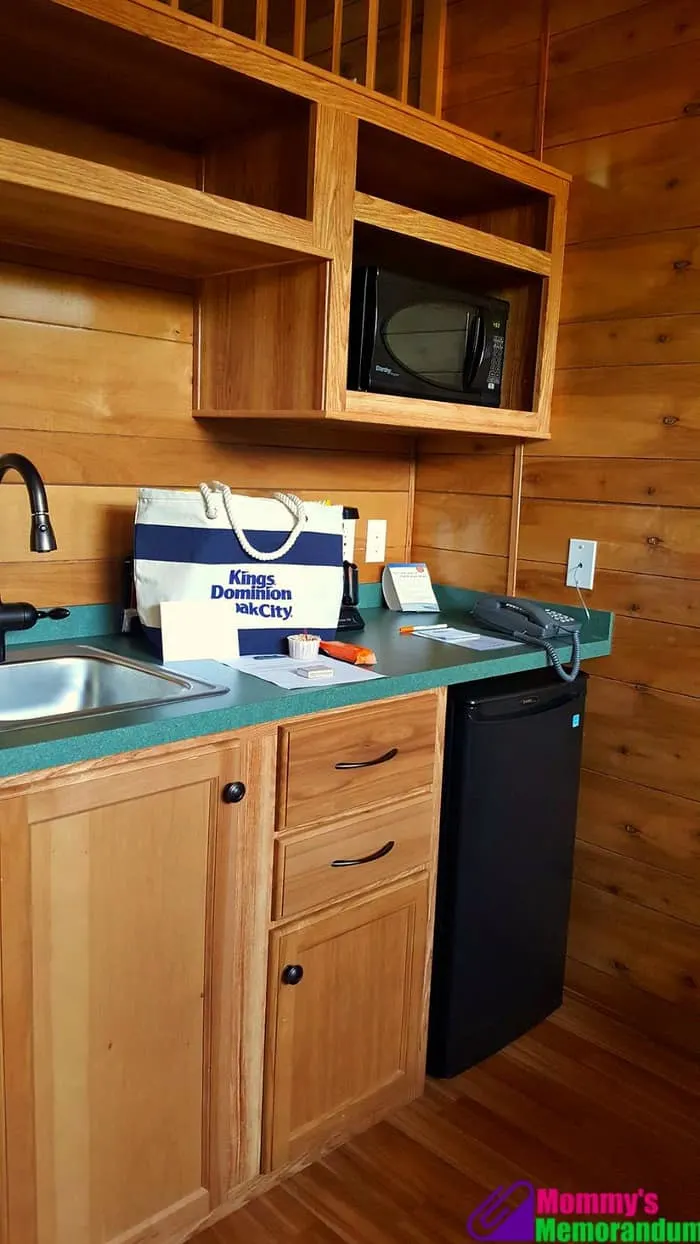 The kitchen was petite but had everything we needed–a sink, microwave, counter space and mini-fridge.
Li'l Man couldn't wait to unload the cooler and see just how much the refrigerator would hold!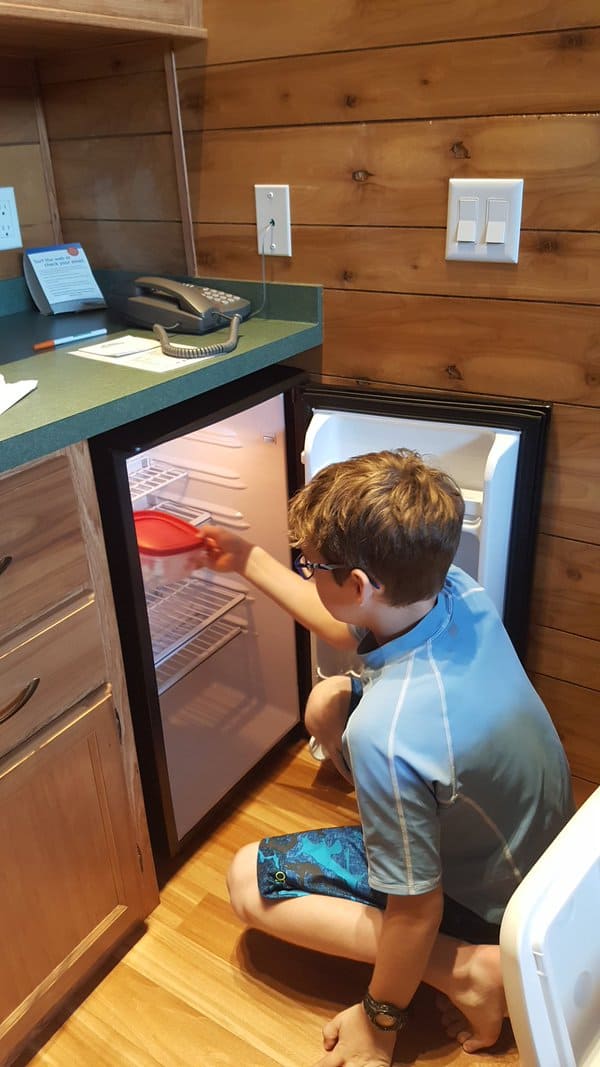 Once the fridge was loaded, he was off to explore more with his sister.
There was plenty more to this cabin.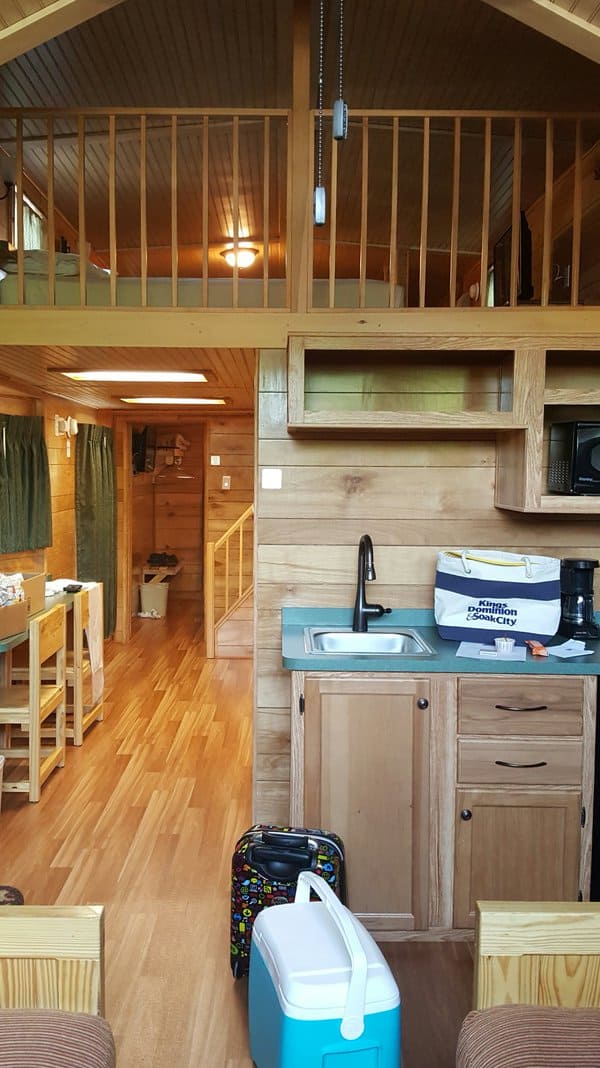 Excuse the suitcase and cooler in this picture, my kiddos are still a work in progress.
Down the hallway they ran!
"Mom! There's STAIRS!" they both shouted.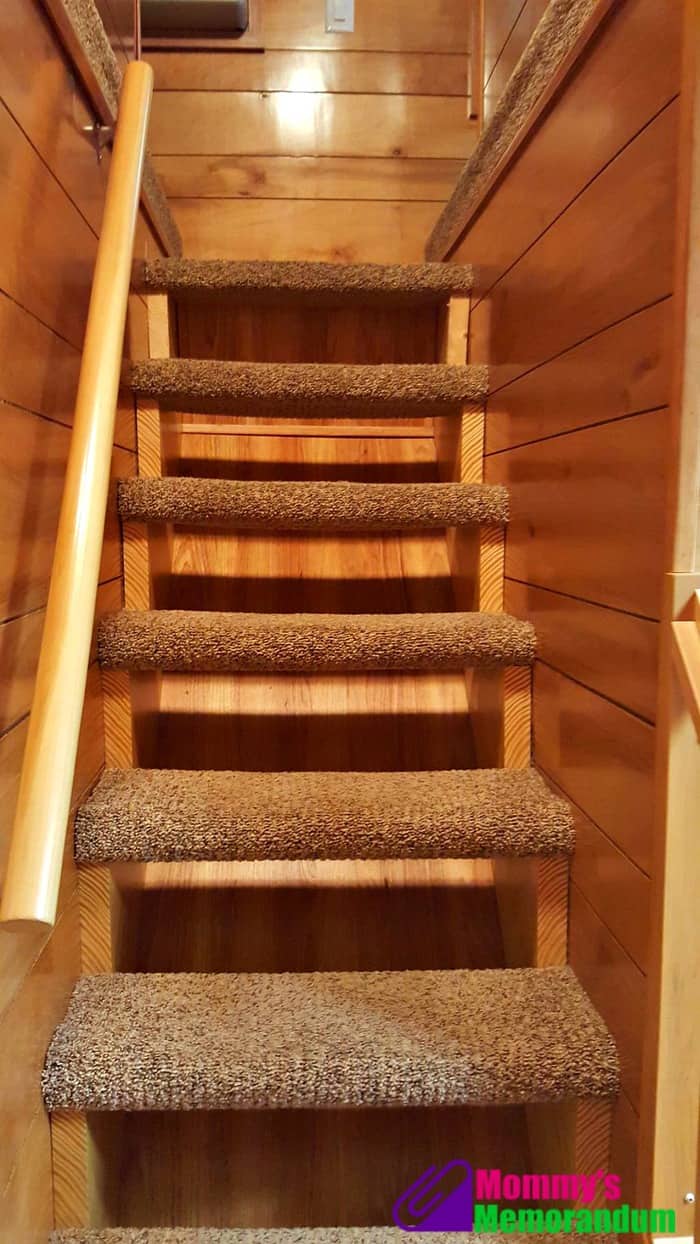 Okay, so they aren't spectacular to look at, but you know what? they lead to a magical loft.
A loft that has a queen size bed.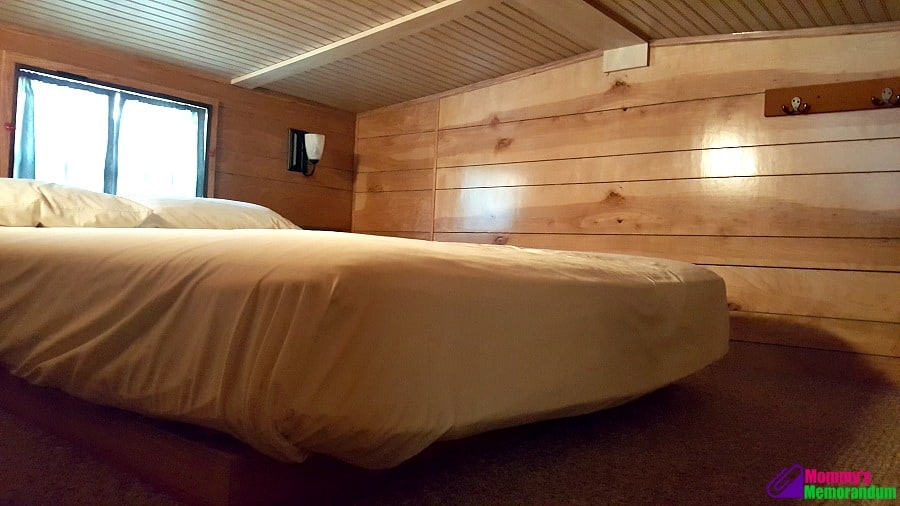 And if you look in the other direction, towards the living room, you'll find ANOTHER Queen bed.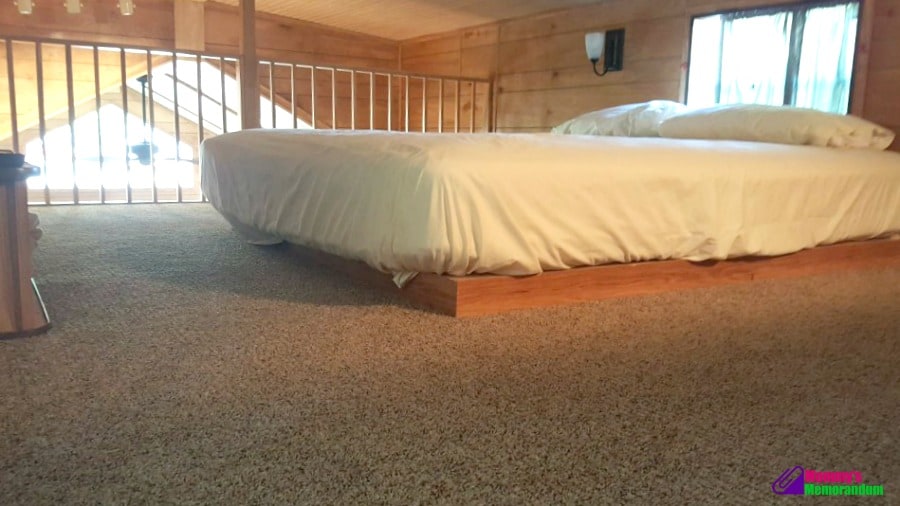 The second queen bed sits in a larger room, both rooms have a flat-screen television, remote and built in lamps and end tables. This room has an open railing view that overlooks the living room.
I heard the children talking about which room they hoped Mom and Dad would take because they liked the space in the larger room better.
So? I called them over to the overlook railing.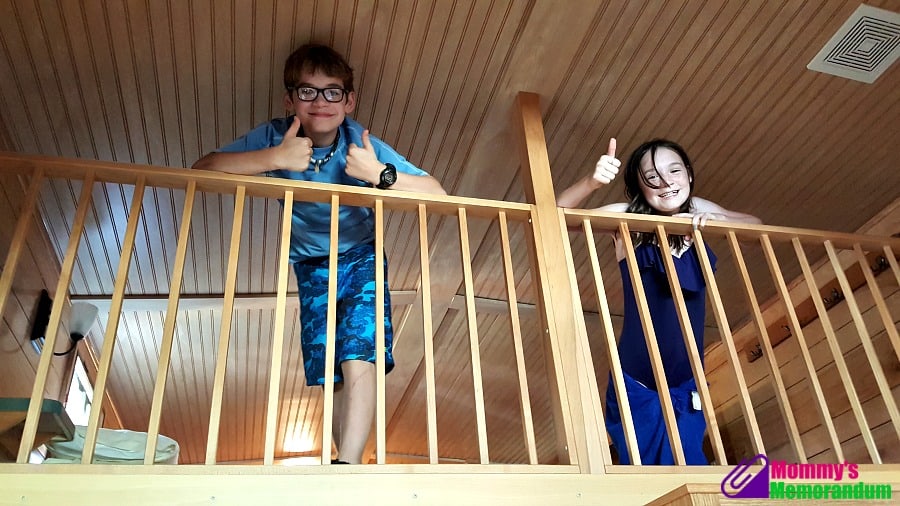 "Kiddos. Why don't we let Li'l Man have the room you're standing in and Miss M can have the other bed."
They asked, "Where will you and Dad sleep?"
I shrugged and said, "I guess in the Queen bed down here."
And with that, they were dashing down the stairs to find the room at the end of the hall.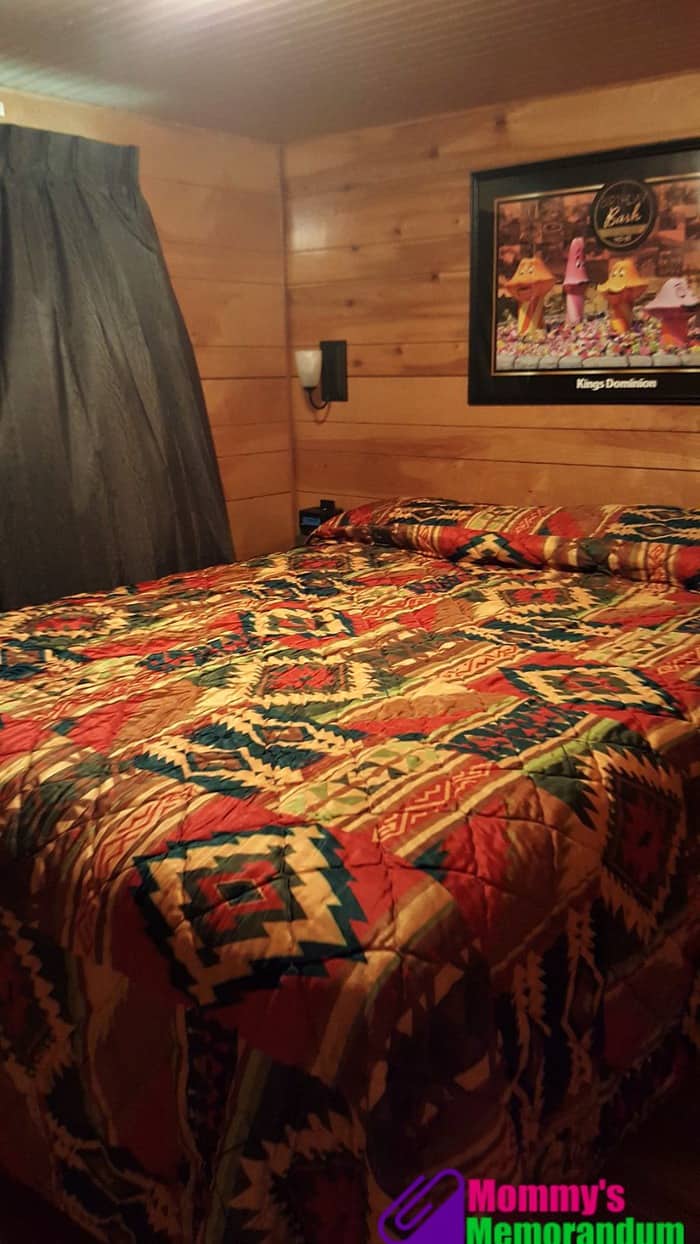 This room also features built-in nightstands, a mounted flat screen television with remote, a small closet area and a built-in bench.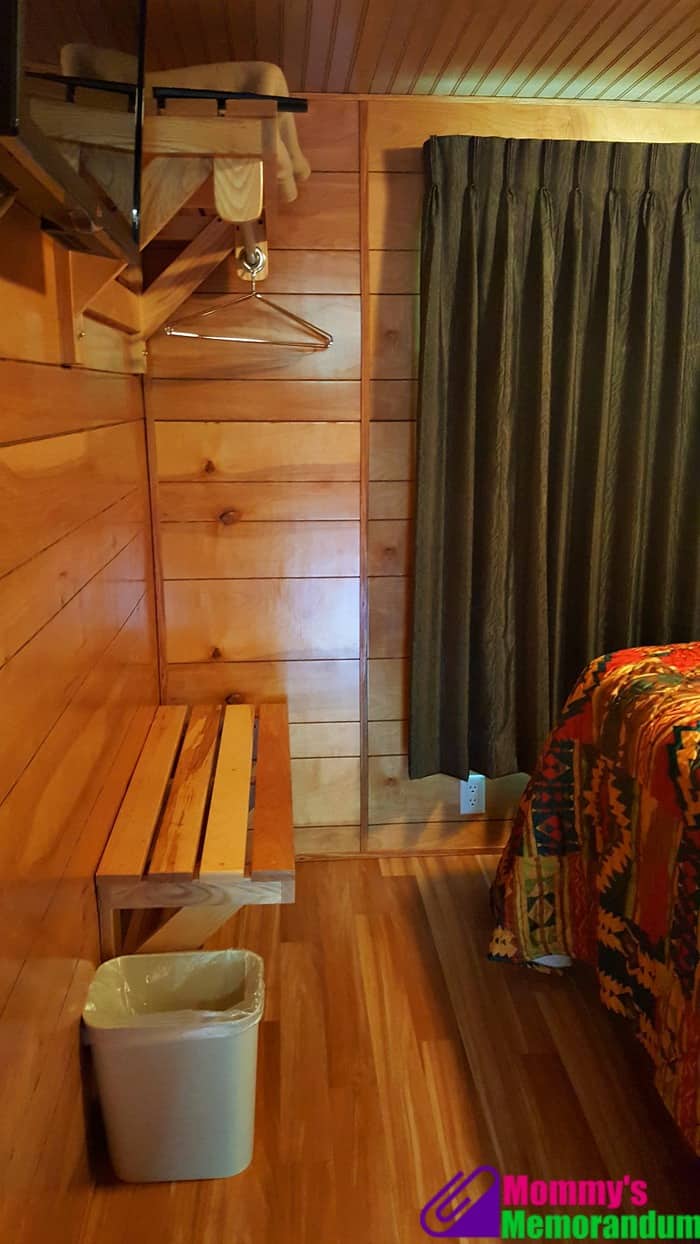 So? If you're keeping track, we have three queen beds and two futons–this deluxe cabin will easily sleep ten!
As the kiddos soon discovered, if you're sleeping ten or even a family of four, you're not going to want to stand around waiting for a turn to tinkle, which is what makes the TWO full baths an amazing thing!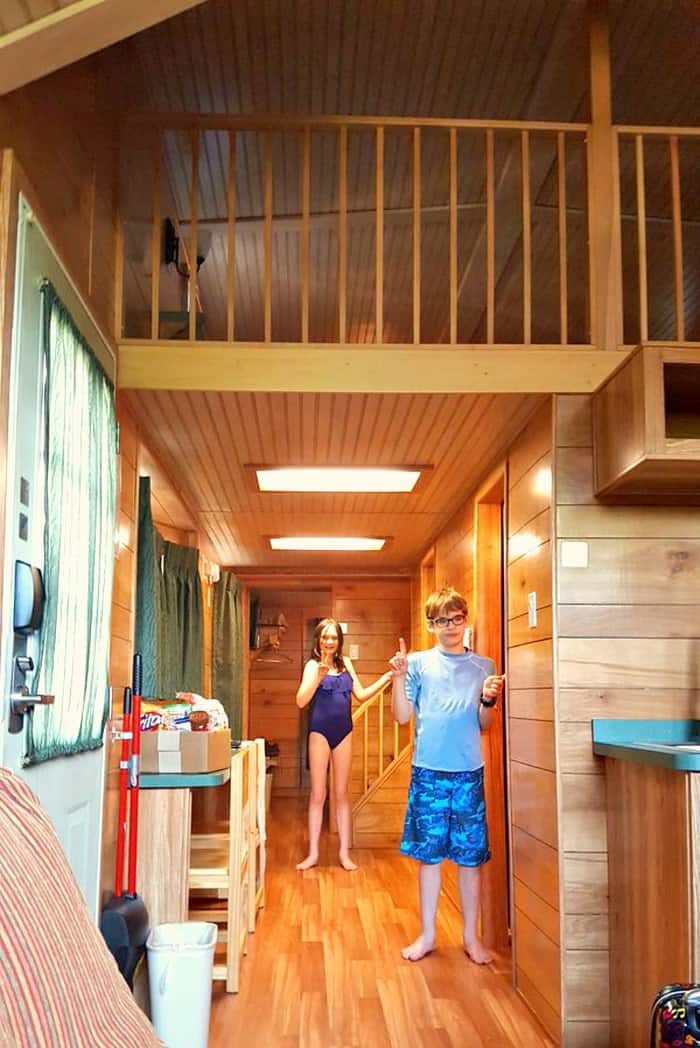 This is the part of the Tiny House adventure where everything was put aside because, "Mom! You have to see this!" was shouted.
I went down the hall to see my son's discovery.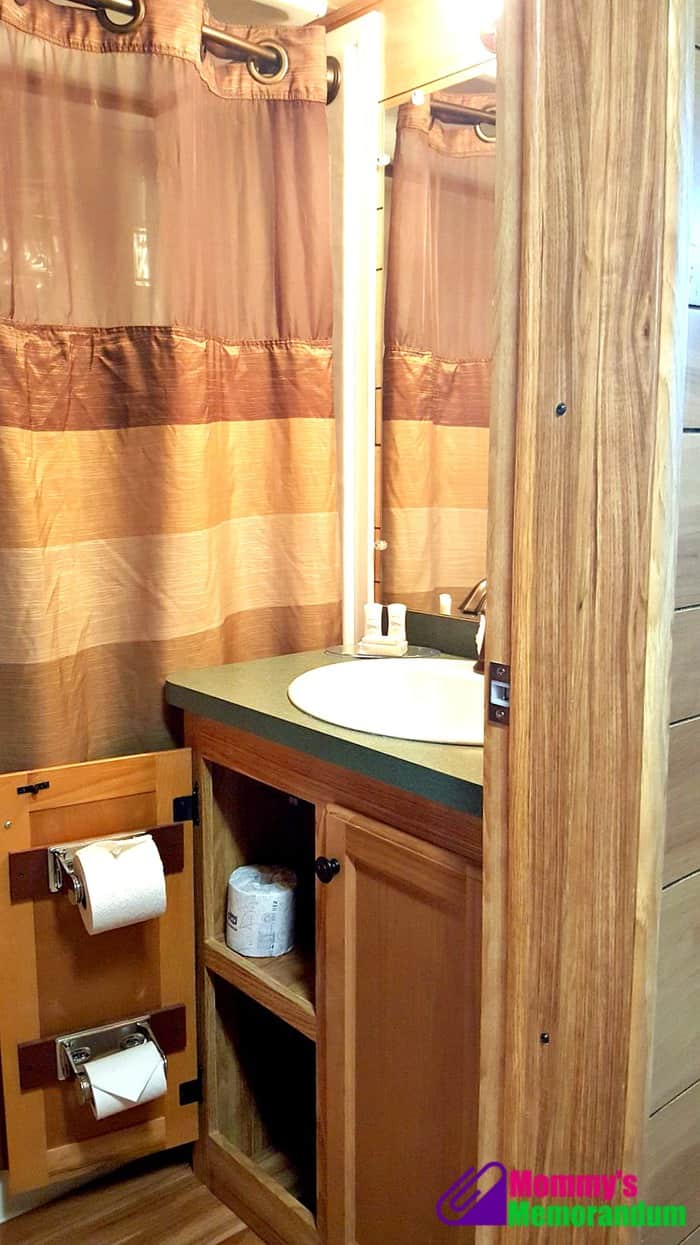 "This is where you find the toilet paper," he shared.
All I could say was, "Well, now; isn't that clever?!"
There are plenty of towels, and soaps and shampoos are provided (hotel sized).
I also want to point out that this deluxe cabin features Moen fixtures in the bathrooms and kitchen. It's a nice touch and one that makes it feel a step above.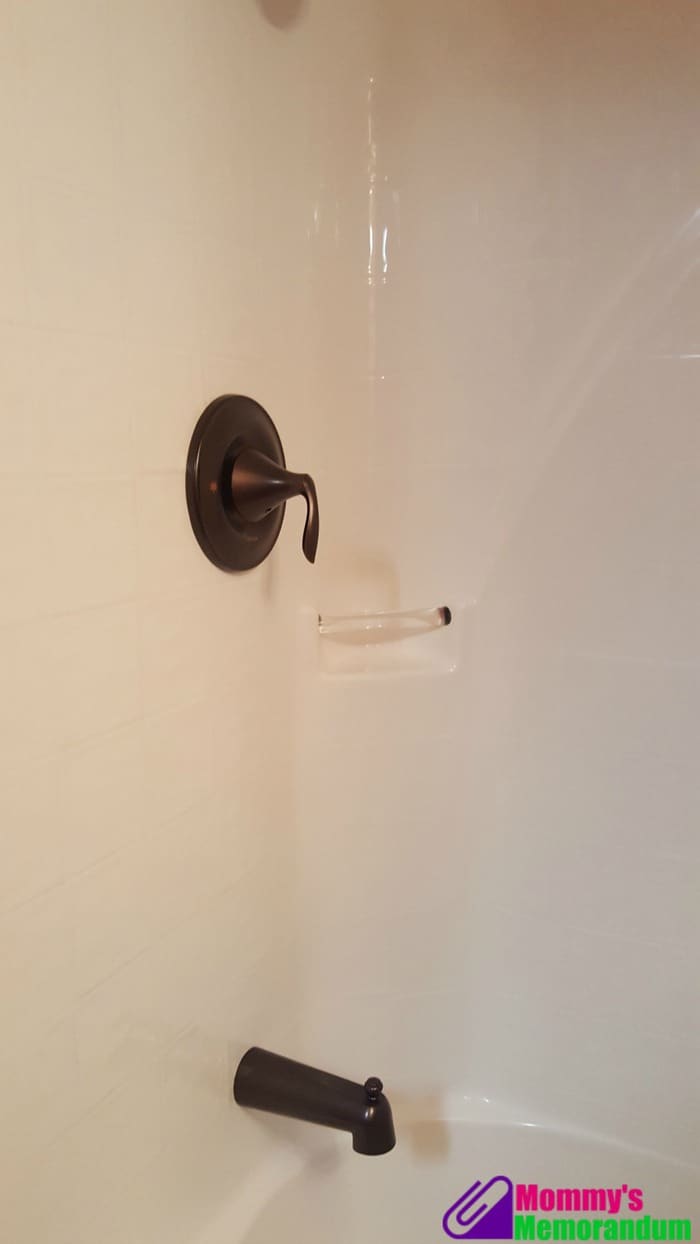 The cabin features wood laminate floors, paneling, and a decor of earth tones. The curtains are an evergreen.
On the other side of the bathroom, across the hallway is a dining nook that overlooks a patio. My kiddos wanted to forgo dining out and eat at the nook.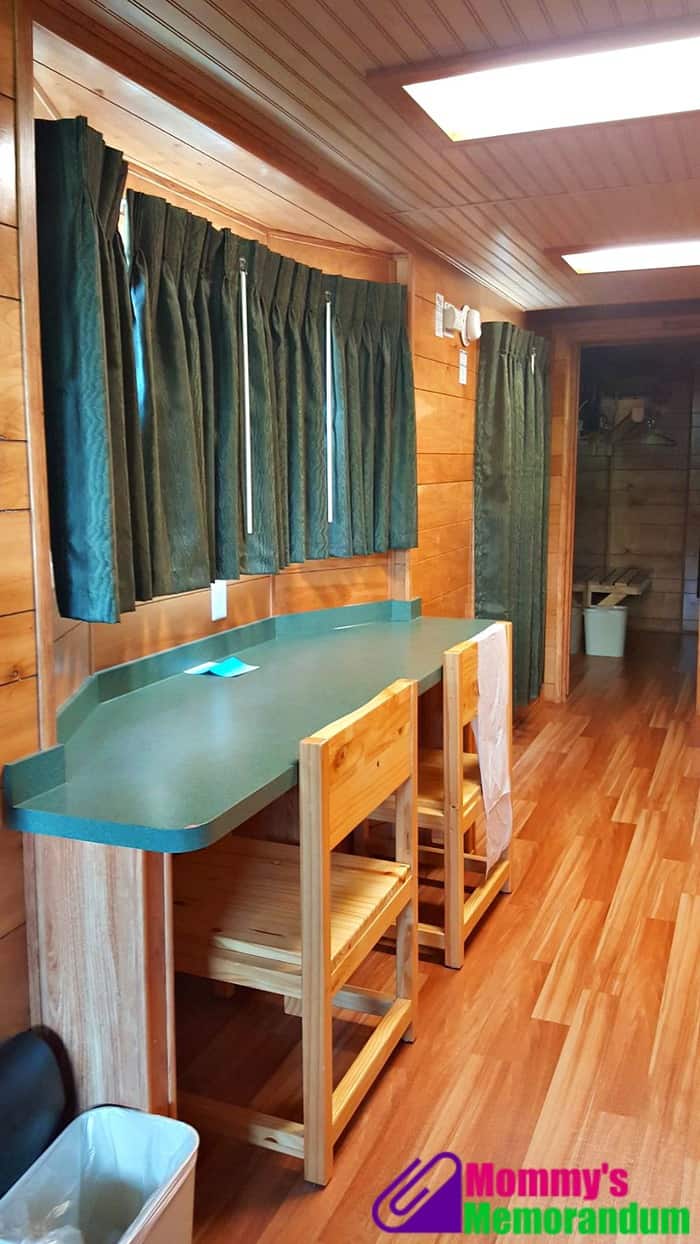 Kings Dominion Deluxe Cabins are so much more than just a place to lay down and sleep.
Each cabin has a small grassy yard, a patio, and a fire pit. It's the perfect way to end an evening. You can make s'mores, tell ghost stories, or just share the adventures of a day at the amusement park.

If you're feeling more adventurous, each cabin also has a grill.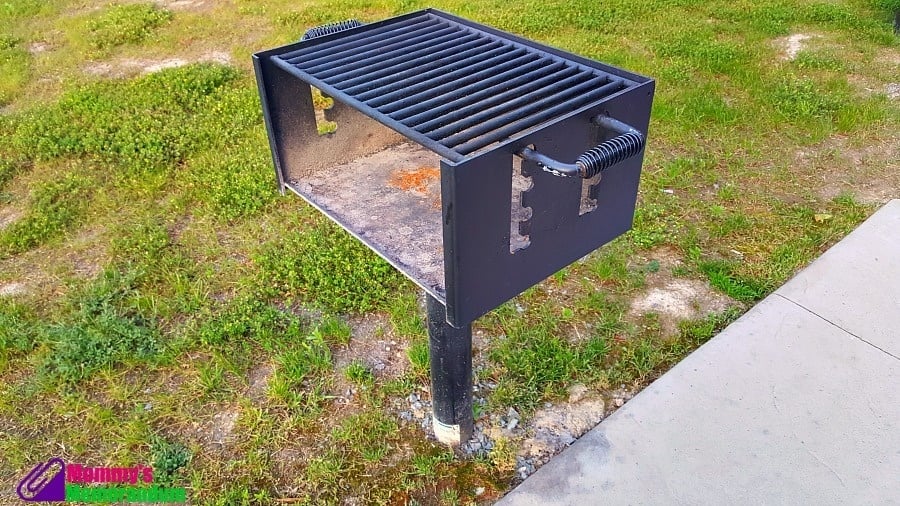 For us, this is the perfect lodging.
We had our own space to be a family.
We didn't have to fret over our children making too much noise, or sharing a wall on each side with others. The campground is quite and feels like a community. There were families barbecuing, children playing ball, riding bikes and we met wonderful people as we walked the loop after dinner.
Kings Dominion Camp Wilderness felt like our home.
The campground is surrounded by tall, beautiful pine trees giving us the feeling of being out of the city and the hustle of our everyday life and more like a place of tranquility and relaxation.
The cost is about the same as the chain hotel's suite we stayed at last time. The hotel was a fifteen-minute drive from the park, the cabins are a mere four minutes, which makes a difference when you're tired, or just want to take a break and relax before going back to the Amusement park.
The only thing that would make the cabin more perfect would be if we could bring our dogs.
We plan on staying at Kings Dominion's Camp Wilderness Deluxe Cabins again. We will be requesting C-35.
There's no place like home, but this cabin at Kings Dominion was pretty darn close.