Nurturing Harmony: The Benefits of Raising Your Baby with a Canine Companion
As a new mom who adores pets, you might find yourself in a delightful but perplexing situation – introducing a furry friend into your baby's life. Balancing the roles of a loving parent and a responsible pet owner can seem like an arduous task, fraught with concerns for your child's safety.
But fear not, for there's a heartwarming solution. Certain dog breeds are not just man's best friend; they're also the perfect companion for your little one's journey through infancy and beyond. These child-friendly dog breeds promise a harmonious coexistence, offering your baby not just safety but also the joys of canine companionship as they grow.
In this guide, we'll explore the numerous advantages of raising your baby alongside a four-legged friend. From fostering a strong bond between your child and their furry sibling to instilling important life lessons, we'll delve into the heartwarming world of parenting with pets. Discover how this unique dynamic can enrich your child's life and yours, making those precious early years even more memorable.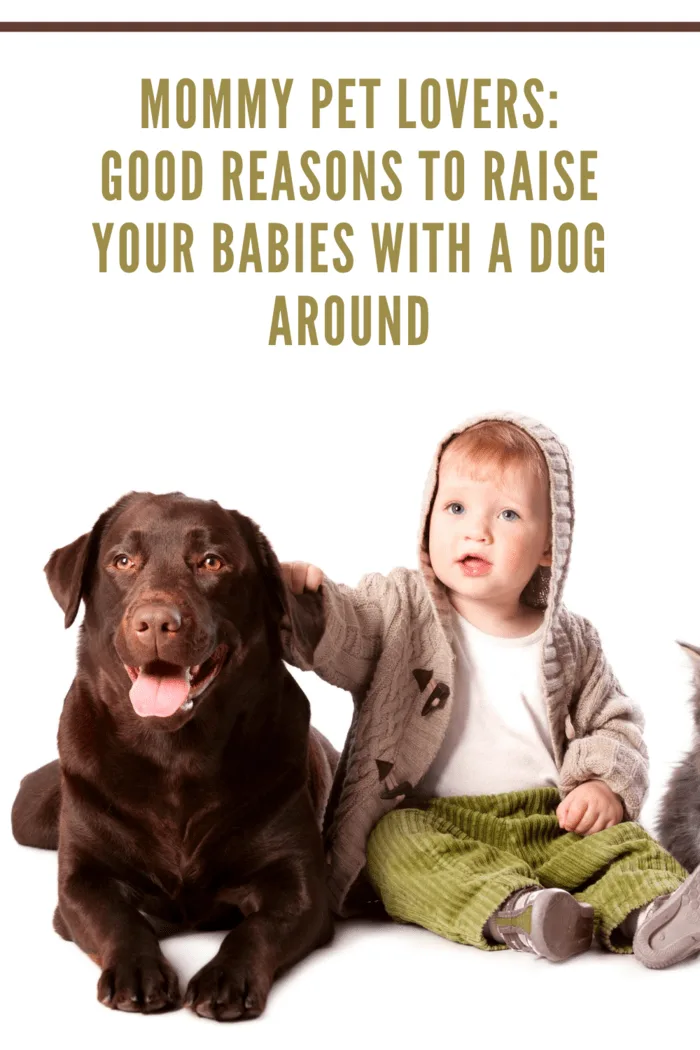 7 Compelling Reasons to Raise Your Baby with a Canine Companion
More play and fun
If you are a busy mom, having a dog is a great idea to give good companionship to your kids.
While the older ones will have lesser screen time with the pet around, babies can have their share of fun with it during the initial years.
More play and fun means more exercise for the kids, which surely makes them more active and energetic (Healthline).
This ends up saving them from childhood obesity as well.
Better emotional intelligence
Apart from being physically active, babies who grow with a dog in the house are also more emotionally intelligent as compared to the ones who don't have pets around.
Proximity to animals develops good qualities like compassion and selfless love in the little ones.
Kids learn to care about others and be responsive to their needs as well, just as they do with their furry companions.
Protection against allergies
As a new mom, you may be apprehensive about allergies when thinking about raising a baby and dog together.
Having a dog in homes with kids who are predisposed to respiratory allergies or asthma, such as the ones with at least one parent suffering from such issues, is actually a good idea.
But you need to be a little selective about the breed in this context.
Breeds such as GoldenDoodle are perfect for people and children with allergies.
Scientific studies indicate that early exposure is the key to warding off allergic conditions in young children.
Stronger immunity
Besides protecting your kid against allergies, a canine company can bolster their immune system as well.
Recent research in pediatric health shows that kids who live with pets, specifically dogs, during the first year of their life have a stronger immunity as compared to others (WebMD).
This is because exposure to dogs may boost the maturation of their immune systems right during early infancy.
Speech development
Having a dog at home is particularly beneficial for children with a developmental delay, such as late speech.
These companions may help with speech development kids often try to imitate parents and try to give simple commands to the animal.
Gradually, the child will master the linguistic skills and gain confidence, all with the good company of the pet.
This is all the important if the little one has no siblings.
For mommy pet lovers struggling with the idea of having a dog at home, there is much that favors your decision.
So go ahead with some research on child-friendly breeds and bring the best one to be your baby's best friend.