Embracing Simplicity in a Complex World
Welcome to "The Modern-Day Pioneer: Simple Living in the 21st Century." In a world filled with constant hustle and digital chaos, the idea of embracing a simpler, more mindful way of life might seem like a distant dream. Yet, the call of the pioneer spirit, which once drove individuals to carve out a life from the untamed wilderness, still resonates today.
This book is your guide to rediscovering the beauty of simplicity in our modern age. It's a journey that will take you from the digital noise of the 21st century to the serene, soul-nourishing embrace of a simpler existence. As we embark on this adventure together, we'll explore practical ways to reconnect with nature, preserve time-honored traditions, and find joy in the everyday.
Throughout these pages, you'll discover tips, stories, and inspiration from individuals who have successfully merged the wisdom of the past with the conveniences of the present. We'll delve into everything from sustainable living practices and time management strategies to DIY projects and culinary adventures that celebrate the bounty of the earth.
So, whether you're a city dweller yearning for a taste of the countryside, a homesteader seeking fresh ideas, or simply someone who believes that a simpler life is a richer life, "The Modern-Day Pioneer" is your passport to embracing the values of our pioneering ancestors while navigating the complexities of today's world. Let's embark on this journey together and learn how to thrive by simplifying.
The Modern-Day Pioneer: Simple Living in the 21st Century Book Review.
Looking back on my life, it seems the simpler it was, the more happiness filled our home. Don't get me wrong; I appreciate the conveniences of the modern day, but I aspire to a simpler, more pioneer way of living. I know I am not alone in my thinking. In fact, Charlotte Denholtz has just authored the book, "The Modern-Day Pioneer: Simple Living in the 21st Century, and I love it!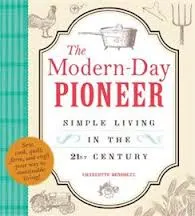 Denholtz lives in Vermont with her family and while I found the book was, in some areas, colloquial to New Englanders, the majority of the information is something that can be easily applied to my everyday life. There is a chapter on gardening. I loved the practicality of container and raised bed gardening offered. It's something new to me that will provide great options this spring.
I have canned in the past and as I see my sister's cabinets am reminded of the beauty of this practice. It not only looks lovely in the jars but it offers sustainability and a longer living harvest. With The Modern Day Pioneer, I can also expand on canning to incorporate pickling and drying.
Growing up, my mother made bread every night. Until recently it was a practice at our home. I found it to be an excellent way to stretch the budget, know what was going into my children's bodies and offering a little love as a side dish. Denholtz shares recipes for Buttermilk Potato Bread and a 3-Grain Bread I'm eager to try and get back into my bread making routine!
Recipes aren't just limited to bread. This book will share recipes and tips for making your own soap, candles, beer and cleaning supplies. It touches on herbs for healing, sewing basics like hemming pants, adding buttons and fixing holes as well as how to sew quilts.
As my third grader comes home with homework, I'm finding the standard US/Metric measurement conversion to be a valuable resource!
This book offers many options for anyone who wants to learn new skills or practice a more sustainable lifestyle. It's a great read, and I am finding myself opening again and again to learn something new.
Julee is a quirky, dorky, North Carolina Transplant with an appetite to taste the world, meets its desserts and blog about them. When she's not behind the computer you can find her playing with her family, reading a good book and celebrating the little things.
Disclosure of Material Connection: I received one or more of the products or services mentioned above for free in the hope that I would mention it on my blog. Regardless, I only recommend products or services I use personally and believe will be good for my readers. I am disclosing this in accordance with the Federal Trade Commission's 16 CFR, Part 255: "Guides Concerning the Use of Endorsements and Testimonials in Advertising.".Julee Morrison